The Waste Management Committee (WMC) at Kalyan Nagar is struggling for survival due to lack of funds from the Bruhat Bengaluru Mahanagara Palike(BBMP).
Bengaluru: All workers of a Waste Management Committee (WMC) have gone on strike because the Bruhat Bengaluru Mahanagara Palike (BBMP) is not funding the Kalyan Nagar Residents' Welfare Association (KRWA) which pays their salary.
Pushpa, 38, Senior Supervisor, WMC said, "All the 16 waste management workers at Kalyan Nagar are on strike for two months now. They went on strike on August 5, 2021 as they received only Rs. 6,800 against Rs. 18,050 (minimum wage) for July and August, 2021."
"We (WMC staff) as well received only half of our salaries due to lack of funds," she added.
The wages of the workers have been delayed for months. C M Subbaiah, 84, the president of the KRWA which runs the WMC, said, "BBMP sent a proposal saying they can continue employment of only seven to eight workers out of the 16 that already work there."
He added, "BBMP wants the workers to go under contractors but they fear exploitation. These workers belong to the Scheduled Caste and Scheduled Tribe communities, so they are vulnerable and we cannot just leave them, they are our responsibility."
Narayan Swami, a WMC worker said, "I'm working under WMC for past 23 years and they take good care of me. Therefore, I don't wish to leave them and go under contractors. I don't trust them."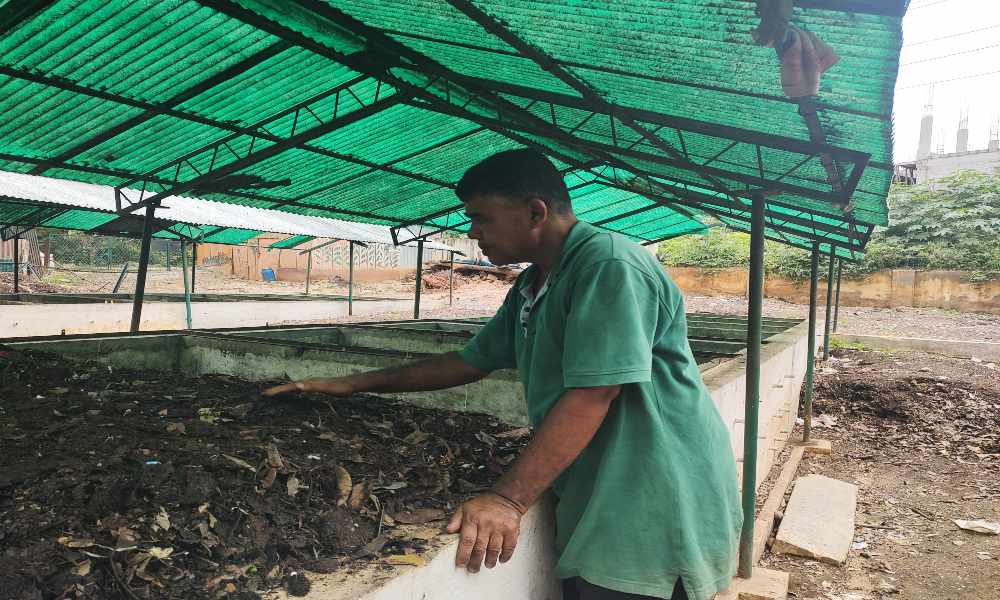 Shekharappa, 40, Manager of WMC, said that the last temporary Memorandum of Understanding (MoU) between BBMP and KRWA was from January 2021 to June 2021 but they only received Rs. 5.5 lakhs of the requested amount of Rs. 27 lakhs on September 4, 2021 after months.
"There were unnecessary and unfair deductions made to the requested amount, including a deduction of Rs. 8.6 lakhs due to calculation mistake from March 2020 to December 2020," he said.
C M Subbaiah, said, "In 2016, Solid Waste Management was one of the BBMP's obligatory functions. Therefore, KRWA approached them for the financial aid for the better management of WMC and a MoU was signed on August 3, 2016 between the two parties."
He added that BBMP also extended benefits of minimum wages like EPF (Employees' Provident Fund), ESI (Employee State Insurance), etc. to the KRWA's waste management workers.
Shekharappa said, "After the expiry of MoU on August 2, 2019, BBMP is reluctant to sign a permanent MoU. However, several temporary MoUs have been renewed on five occasions in a few months, but without normative (establishing) standards. During this period, the money received by KRWA was irregular or less."
Jyoti C, BBMP Assistant Executive Engineer for East Zone said that the six months' MoU between BBMP and KRWA ended on June 2021 therefore BBMP didn't fund them any further. Any unnecessary deductions were not made and everything was done according to the rules and regulations.
C M Subbaiah said, "I have written many letters and applications to the BBMP officials for signing a permanent MoU. I have even spoken to them but they say it's a policy matter."
Jyoti C added, "A permanent MoU will only be signed on the Commissioner's approval and on the standards of BBMP and with less number of workers. The rest of the workers can go under contractors."
Harish Kumar K., Solid Waste Management, Special Commissioner said that BBMP does not take responsibility of the workers under contractors.
Sandya Narayanan, Member of Solid Waste Management Round Table (SWMRT), said that the workers under contractors are not paid in full. Therefore, they often have to do other jobs to get enough money. Contractors keep the workers on temporary basis for their entire life, so they are not obliged to provide them with EPF and ESI benefits.
"These workers are not provided with safety and protective equipment and they never receive proper training for managing waste. They are not aware about health risks of waste management," she added.
Kartik, 26, Supervisor of WMC said that the WMC's waste management workers collect door to door wet waste and sanitary waste from 3000 to 4000 households in the area. They make compost out of the wet waste within three to four months.
However, Kartik said, "BBMP wants us to reduce our five composting blocks to two as they want to give the rest of the work to private contractors."
He further said that they don't understand that composting wet waste outside of the locality would add a lot of transportation cost and would lead to wastage of tax money. "We manage wet waste in the same locality where we collect it from, so it costs us less," he said.
Kartik added, "We cannot collect money from the residents since we are supposed to take funds from BBMP but BBMP is not funding us so we are facing a lot of difficulties in running the WMC."
C M Subbaiah said, "I am supposed to pay wages to the workers before the minimum wage period, i.e., before the 10th day of the month. And I have to pay EPF and ESI before the 15th day of the month. If BBMP is not releasing the funds on time then how am I going to pay them?"