Bengaluru records 12 cases of two-wheeler thefts per day.
Two-wheeler thefts in the city have been rising this year since February. Data from the Police Commissioner's Office shows that a total of 2799 cases have been reported till date. In 2019, between March and December 4449 cases had been reported.
In 2020, when the Covid-19 pandemic hit and a nationwide lockdown was announced, the city reported 3451 cases of two-wheeler thefts. In 2018, the city reported 5119 cases. Statistics by the National Crime Record Bureau (NCRB) revealed that in 2021, cases of vehicle thefts in the city were the second highest after cases of Narcotic Drugs and Psychotropic Substances (NDPS).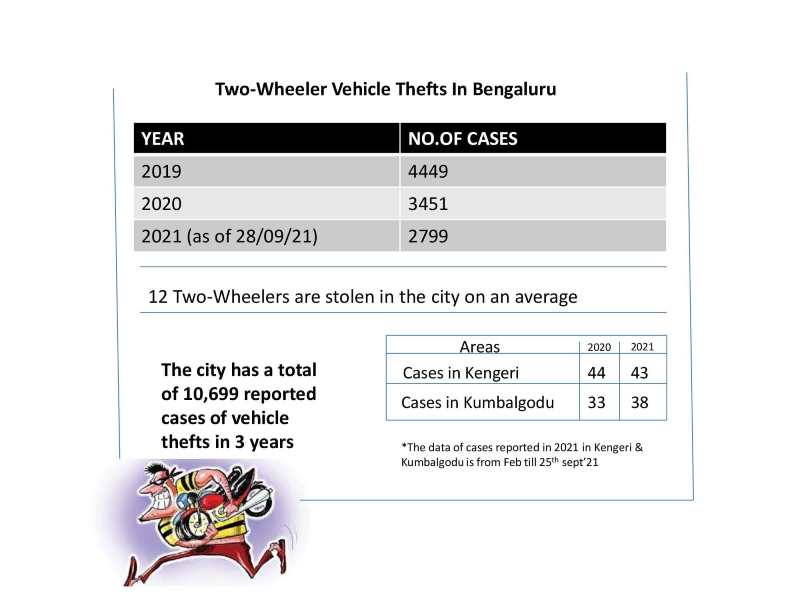 Not all cases of theft are solved. In the middle of August, a black motor cycle went missing from the porch of a house in Kumbalgodu in the mid-morning. The victim was busy in household chores and did not realize that the theft was taking place. Though a complaint has been filed, the vehicle has not yet been found.
Sometimes, the vehicles are traced. In July this year, a two-wheeler parked near a grocery shop went missing in the afternoon. In about a fortnight, the police traced the vehicle and arrested two people.
Police said that vehicles would get stolen from commercial or public places earlier, but now, residential areas are the target. Narasimha, Asst. Sub-Inspector, Kumbalgodu Police Station said, "After stealing the vehicles, these thieves either change the number plates or sell them in nearby villages which makes it difficult for us to trace both the vehicle and the accused." He mentioned that 30 to 45 percent cases reported in the police station are of two-wheeler thefts.
Sub-Inspector of the Kengeri Police Station, Mahesh L has a theory about why two-wheeler thefts rising. He mentioned three reasons—two-wheelers are stolen to perform other crimes like chain-snatching, or are stolen because of family disputes and finally, due to negligence of the public. He said that this year the cases of vehicle thefts are more as compared to the previous two years.
Santosh, Deputy Commissioner of Police (DCP) Intelligence said that the city police are working on tracing the vehicles. He said the police is able to trace only those two-wheelers which have not been dismantled and sold with the Registration Card (RC), Insurance papers even if the number plates have been changed.
Bengaluru City Commissioner, Kamal Pant, has reportedly directed the police officials to increase patrolling.
Psychologists attribute these crimes to socio-economic backgrounds, experiences and socializing of individuals. Dr.Somya Awasthi, a city psychologist said that this was different from any disorder or mania.