Challenges continue for LGBTQIA+ community as college washrooms and hostels are segregated for only males and females.
Non-binary students in Bangalore colleges are at discomfort due to lack of gender-neutral housing and washrooms. College authorities are yet to finish building such spaces as directed by the University Grants Commission (UGC).
The Tata Institute of Social Sciences (TISS) Mumbai is the first undergraduate college in the country to construct a gender-neutral floor in their women's residence, said Aditi Doneria, a student of TISS. The hostel is not restricted to queer and non-binary students, even heteronormative students are allowed to stay if they pass a gender-sensitivity interview, she added.
Common rooms and washrooms in colleges are gender-segregated which makes it difficult for non-binary and trans students to use such spaces, said Meghna Mehra, President of All India Queer Association (AIQA)."I feel awkward to use the men's washroom in college surrounded by so many men," said Neeraj, a college student who identifies as non-binary. They added that due to this reason, they try to avoid using washrooms often at college. Another student, Sky who identifies as non-binary, said that although there is no gender-neutral washroom in their college, they do not have a problem with it yet. "There are so many things that come before the issue of these neutral spaces," they added.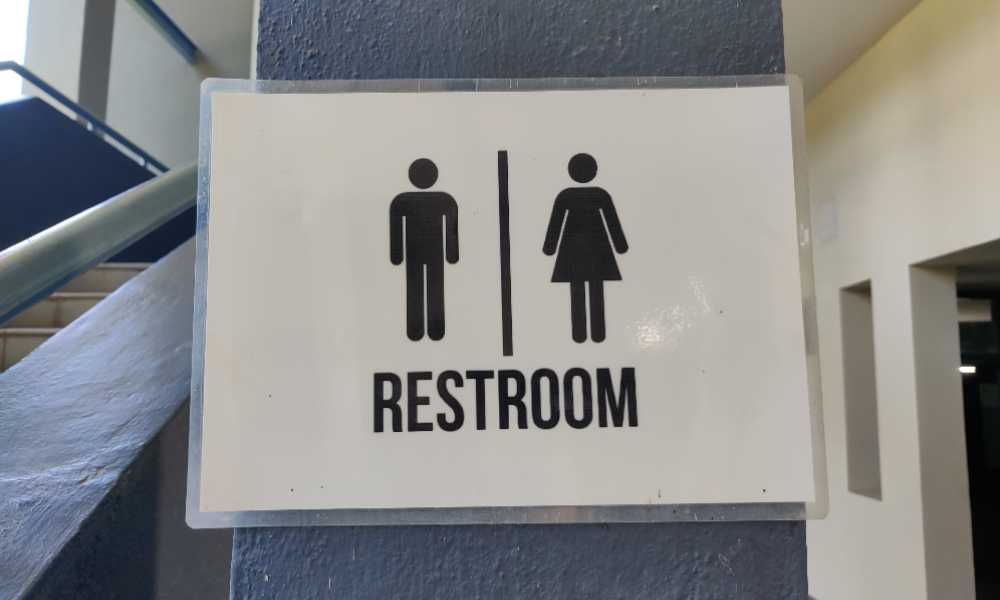 The NALSA vs. Union of India judgement, 2014 held that transgender people are the "third gender" and said that the fundamental rights of the constitution will be equally applicable to them. Following the judgment, the UGC issued a circular in 2015 to Vice Chancellors of all universities where it directed them to set up transgender-friendly infrastructure like washrooms in campuses to allow trans-students to adjust without any fear, shame or stigma. However, the circular does not include the creation of gender-neutral residences.
In the absence of gender-neutral spaces, non-binary people often suffer, said Mehra. "Imagine there is a transwoman who is not welcome in a women's washroom. Where will she go?" they added. Zora, a college student who identifies as non-binary said that people that might take advantage of them if they use gendered washrooms. "It is very dysphoric to go to a binary gendered washroom and having to forcefully fit into that binary when I absolutely do not associate with it," they said.
To tackle this problem, colleges should introduce gender-neutral spaces as it would help non-binary and trans-people to feel safe, Mehra said. They added that college authorities should create queer collectives and awareness programmes to educate students and include LGBTQIA+ community issues in the syllabus. However, such programmes could not be held in their college due to apprehension of the college authorities, Mehra added. Additionally, Zora and Neeraj said that such kind of programmes haven't been conducted in their colleges as well.
Gender-neutral spaces in campuses will also encourage bonding across different identities, said Jwalika Balaji, a member of the National Law School Queer Alliance (NLSQA) in Bangalore, a support group for queer students on campus. "Such spaces will accommodate queer persons and destroy the notion that people of different genders should not interact with the others," she added.
The Alliance has come up with an anti-discrimination code to protect gender and sexual minorities on campus. In one of the points mentioned in the code, they demanded their college administration make more gender-neutral spaces. The administration has agreed to this on paper and is considering a mixed hall of residence where students are not segregated on the basis of gender, said Balaji.
However, the administration said that they would face difficulties in making existing washrooms in the library and academic block gender-neutral due to infrastructure issues. As there is only one women's and men's washroom on one floor, converting any one of them into a gender-neutral one would mean that some students might have to go to another floor if they do not want to use a gender-neutral washroom, Balaji said.