The absence of a traffic signal in Kumbalgodu, at the National Highway 275 connecting Bengaluru to Mysuru, causes delays for both pedestrians and motorists.
Bengaluru: The movement of vehicles at the intersection between Kumbalgodu-Gollahalli Road and the National Highway (NH) 275 causes congestion, making it difficult for people to cross.
Suman Khanal, a vegetable vendor who sits close to the junction, said, "There is heavy traffic on NH 275 from 7.30 p.m. to 9 a.m. and 5 p.m. to 7 p.m."
Rahul Singh, a student at the Don Bosco Institute of Technology, Bangalore said that crossing the road is a difficult task, especially in the morning.
To solve the problem, the local police station has appointed several policemen to monitor and control the flow of traffic. But they are not available at the junction throughout the day.
"Even if the police are there, they are not able to control the traffic, all the time," Khanal said.
Peter, an auto driver from Kumbalgodu, said, "Small accidents are quite common at the intersection. I have seen people get minor injuries on numerous occasions. Around two months ago an old woman fell on the road and had to be taken to the hospital."
A former official at the National Highway Authority of India (NHAI) stated that an NHAI audit in 2016 reported that more than 75,000 vehicles pass through the NH 275, between Bidadi and Bengaluru, daily. The intersection in Kumbalgodu falls under this stretch of the road.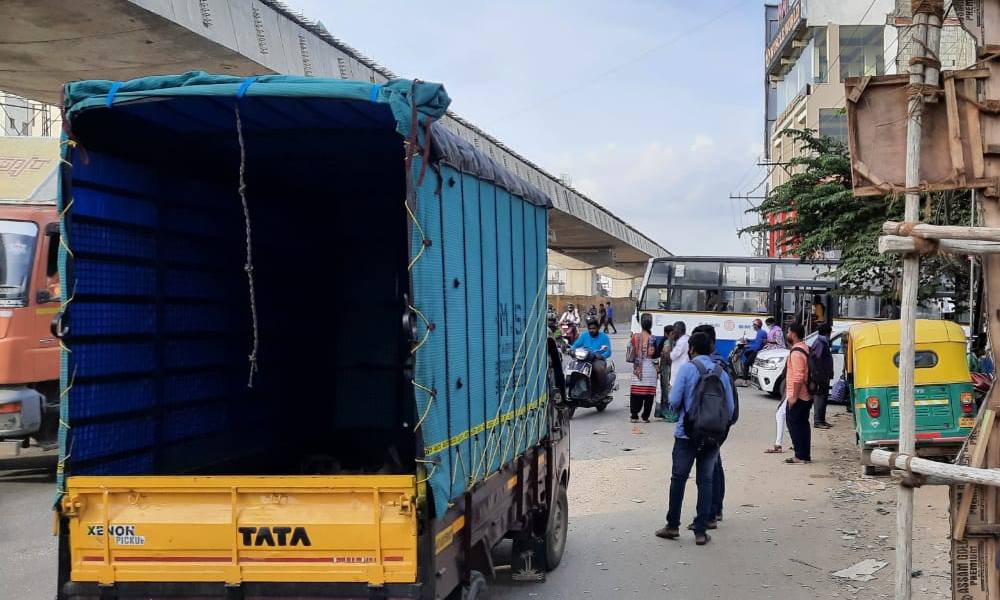 The Indian Road Congress's, "Guidelines on the installation of traffic signals" state that, if 800 vehicles cross a junction in an hour on a major road, for any eight hours on an average day, a traffic signal needs to be installed at that junction.
Dr. Asish Verma, the convenor at the IISc Sustainable Transportation Lab, said, "If accidents or road fatalities are a major issue at a junction or nearby places, the agency responsible for that road or junction should get a thorough road safety audit done by an independent expert. It would bring out problematic issues from the point of view of road alignments, geometry, and whether a traffic signal or a channeling island is required (at that junction)."
Shanta Kumar K, Additional Secretary at the Public Works Department (PWD), Karnataka added that if the PWD receives any complaints regarding the intersection, it would conduct a road safety audit and take action based on the report.