Crowded buses in the city are flouting Covid-19 norms.
No social distancing is maintained in the Bangalore Metropolitan Transport Corporation (BMTC) buses amidst a looming third wave.
Chandru, a resident near the bus stop said, "During peak hours, BMTC buses, on most of the routes in the city are crowded."
The Department of Information and Public Relations (DIPR), Karnataka uses

Chinmayee R, a college student said, "Buses are crowded after 2:30 p.m. when most college students head home. There is no social distancing and extra seats are filled."

Sharanu, a shop owner near the Nalku Kamba Bus Stop said, "Social distancing is not maintained 100 percent. Buses are crowded around 11 a.m. and 1 p.m. as these are college hours."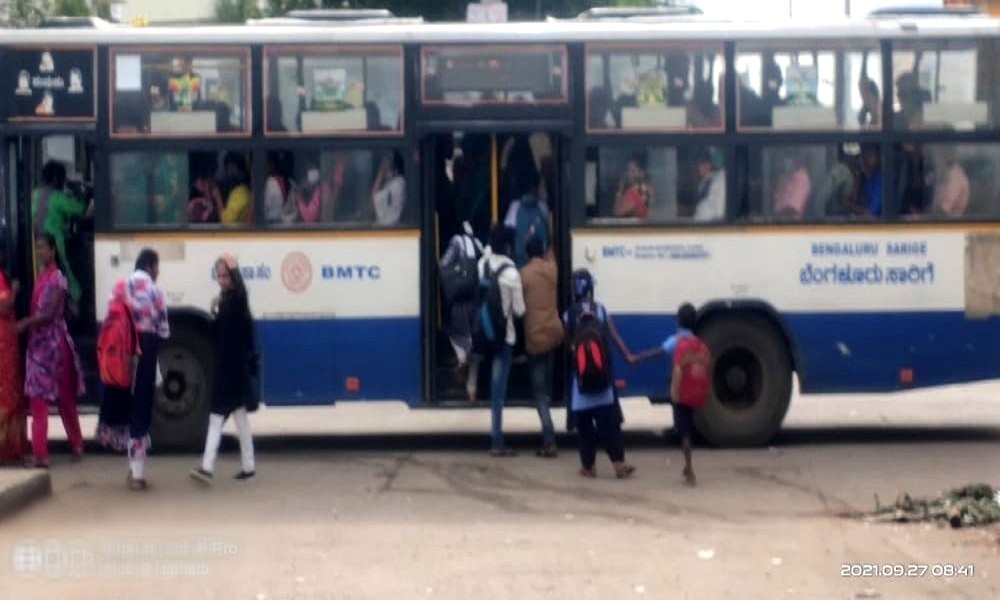 The reason for BMTC buses to be crowded is because of the festive season, Makhabul- a daily commuter observed. He added, "Buses weren't this crowded earlier and even though they are now it's still less as compared last year."

Dr Swati Anand a consultant physician at Abhayahasta Multispecialty Hospital said, "Social and physical distancing measures aim to slow the spread of disease by stopping chains of transmission of Covid-19 and preventing new ones from appearing. Without that, we will be encouraging re-emergence of new strains, more spread of disease and mortality."

BMTC bus stand manager of Kempegowda bus station, Mr. Krishnamurthy said, "They are following all the necessary precautions. Instructions to wear a mask and maintain social distancing are announced on the bus stand, the crowd is managed accordingly and depending upon the traffic on a particular route, extra buses are deployed. Buses are also sanitized in the depot regularly." He added, "At least the first dose of vaccination is received by all the staff and most of them are fully vaccinated."

BMTC resumed its service on June 21 from 6 a.m. to 7 p.m. this year. Its operations were shut during the lockdown.