Pandemic has pushed bag manufacturers to shut down their production and go back to their hometowns.
The pandemic has pushed school bag shop owners and manufacturers to either switch their business or completely shut down their manufacturing hub.
Sadre Alam, who used to have a bag manufacturing unit in Bamboo Bazaar in Bengaluru, had to shut down due to the pandemic. Sadre Alam said he lost Rs. 60,000 during the lockdown in 2020 because he couldn't pay the house rent for two months. The house owner took leverage of the situation and forfeited his entire security deposit money. This forced him to go back to his home place in Bihar. The house owner threatened him to not ask for any refund. Despite not getting any support from the Manufacturer Federation of Bangalore, Alam decided to set up another business in Vishakhapatnam.
Mohammed Shakir, who runs a bag shop in Shivajinagar in the city said that he used to earn Rs. 20,000 to Rs. 25,000 per month, but after the lockdown, he earns a mere Rs. 5000 to Rs. 6000 on an average. The manufacturers have hiked the bags price by 10 percent and simultaneously stopped giving credits to the traders which led some of his friends to fly back to Nepal. He also said that he took a few personal and business loans in order to keep his business going. He mortgaged his life insurance policy for a loan of Rs. 3.5 Lakh to repay his debt.
Sale of school bags has gone down, after pandemic hit the nation. Anu Krishna whose daughter studies in standard 12 in Delhi Public School, said that since the lockdown began in 2020, her daughter hasn't got any new school bag..
According to the World Bank , value added by manufacturing industry (as percent of GDP) in India was reported at 12.96 percent in 2020. In the wake of falling production and global sales, a research paper said that it is quite evident that the employment and wage conditions of the Indian manufacturing sector employees, has taken a negative turn. Factory closures and non-payment of wages are perhaps the biggest threat to the socio-economic well-being of these employees.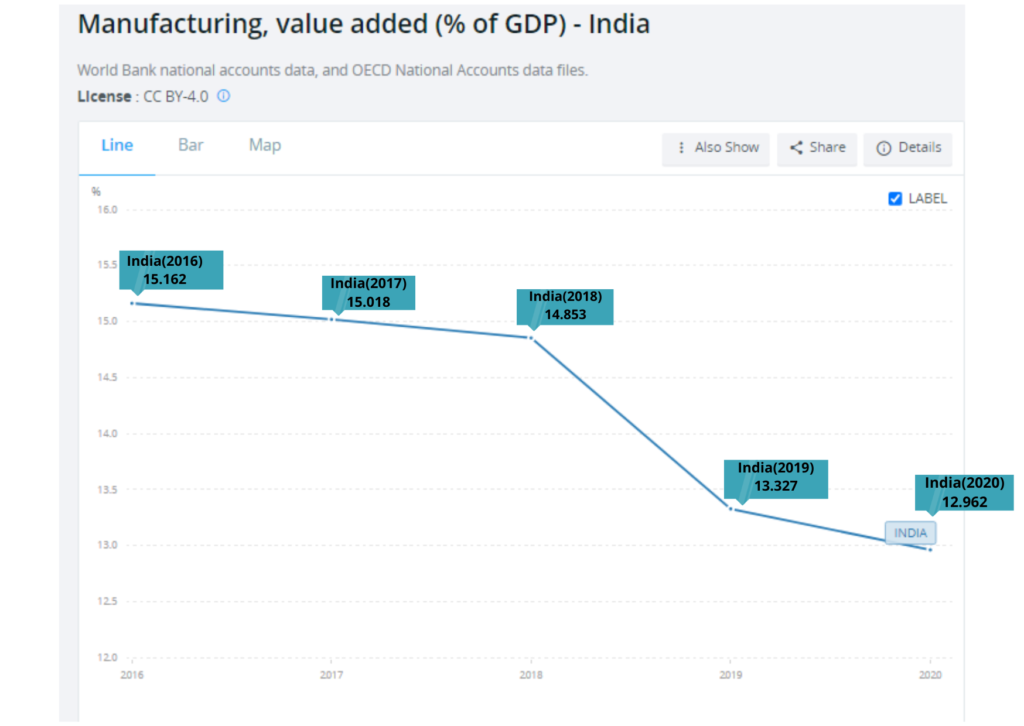 According to the compounded annual growth rate (CAGR) report in a research paper there is only 10 percent growth from 2016 to 2021. According to Purchasing managers' Index report India saw quite decent growth in manufacturing in past three months.
Bangalore University Professor Dr. S.R. Keshava from Department of Economics, said that if we talk about the loss of business during the lockdown then pandemic is solely responsible for it. In addition to that he said that RBI should give zero interest rate loans instead of subsidized interest rate for three years to shoot up the manufacturing business. Such a step would not affect the economy as well.