Devagere schoolchildren received the milk powder for June and July only in late August. Experts say that this affects their nutrition levels.
Bangalore: Devagere schoolchildren have received their milk powder quota for June and July on August 25, 2021.
The children were supposed to receive 500 gms of milk powder each for June and July, but they received the whole one kilo toward the end of August.
Prem Kumari, head-teacher at the Nammura Sarkari Hiriya Prathamika Sahle (school) in Devagere, Kumbalgodu said, "Pre-lockdown, they would get a cup of milk in the morning and a midday meal in the afternoon. But after the lockdown was imposed, children have not got midday meals or milk. We gave them the milk powder only on August25, 2021."
Manjula Venkatesh, whose daughter Sinchana is in the 2nd standard at the same school said: "They gave us the milk powder on August 25, 2021. We want our child to drink milk because we think it is a source of nutrition. In the lockdown, we did not get it and had to buy it from the shop and it was costly for us. The milk powder we got in August is now over."
Former Karnataka Chief Minister Siddaramaiah started the Ksheera Bhagya Yojane scheme in 2013.According to Karnataka's Department of Public Instruction website, the scheme aimed to provide 18 g of milk powder for three days of the week to government and aided schoolchildren from class 1 to 10 (according to the website, 18 g of milk makes 150 ml of hot milk).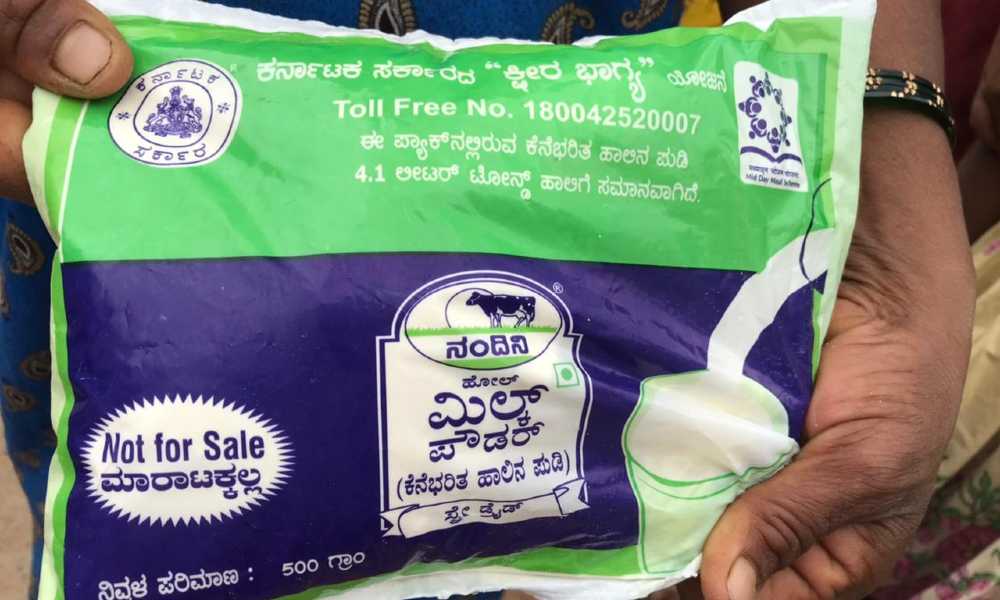 In 2017, the number of days to give milk powder to children was extended from three to five working days per week. In 2020, the scheme was suspended due to the onset of the COVID-19 pandemic. This means that children have not got the milk they require.
Pediatrician Dr. Krishnan said, "Milk is an important source of protein and nutrition for the children. If they do not get milk or milk powder, they can become malnourished. Milk also consists of Vitamin D which is very essential for children."
According to Karnataka's Department of Public Instruction website, the scheme aims to eradicate anemia, malnutrition and improve the learning ability of the child.
Mangalagowramma, whose niece goes to the school said, "During the lockdown, Kavyashree did not go to school, so she did not get milk or the midday meals. We finally got 1 kg of milk powder on August 25, 2021. But it is very difficult without milk because the children need milk. We also require milk to make coffee and tea. We had to buy milk from the shop, but it was costly for us."
Cluster Resource Person (CRP) Shashikala, who monitors the availability of resources in 12 government schools in Bengaluru, including the school in Devagere said, "Due to COVID-19, the manufacturing unit did not know how much to produce. Therefore, supply was also delayed." Block Education Officer for South Zone 1 K Prakash and Food Instructor Sudha Chakravarthi also said that the milk powder supply is delayed due to COVID-19 pandemic.