NIMHANS is adding to its facilities, but till then the overburdened hospital makes patients wait.
National Institute of Mental Health and Neurosciences (NIMHANS) is flooded with patients. There are long lines of patients, waiting for hours before getting their beds. .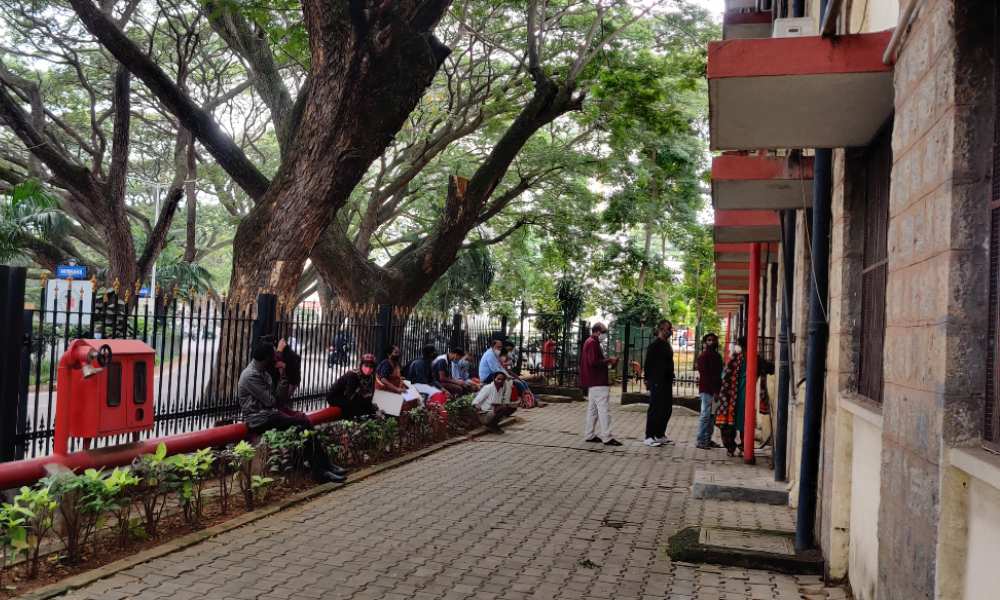 "I have been waiting since 6:30 a.m. to get a bed for my 9-year-old nephew," said Rahul, a Bengaluru resident,Vedant, a resident of Kolkata said, he had to wait for long hours to get a bed for his mother.
According to the 2017 World Health Atlas report, globally, the number of mental health care workers is nine per 100,000. And the median number of beds for mental health care per 100,000 population ranges below seven in low and lower-middle-income countries to 72 in high-income countries.
According to a Lancet research report on the 'Prevalence of Mental Disorders in India', "In 2017, 14.3 percent of the population had mental disorders in India. The number of mental health disorders has increased from 2-5 percent in 1990 to 4-7 percent of the total disability-adjusted life-years (DALYs) in India in 2017.
The National Mental Health Survey, 2016 showed about 150 million adult Indians suffer from various mental health disorders. Karnataka Mental Health Care Report stated that in 2018 more than 1 million sought mental healthcare in public health institutions across Karnataka.
"About 5.5 lakh patients are treated in a year, with about 1000-1500 in a day, and has a capacity to admit 531 persons in the in-patients' care," stated Dr. K. Muralidharan, Medical Superintendent (MS) at NIMHANS.
The WHO website shows that India has 0.29 psychiatrists per 100,000, while the global recommendation is nine per 100,000persons.
The official website of the Psychiatric Department at NIMHANS shows 26 consultants and 41 special psychiatry consultants available depending on the schedule, suggesting the need for enhancing the doctor-patient ratio.
In view of the demand, Dr. Muralidharan said that an additional 250 beds will be added to the upcoming buildings i.e. 125 beds for mental health and 125 beds for neurosciences. New buildings are being constructed in the campus.