The (in)-famous traffic of Bangalore continues during the morning hours before the curfew starts. This has become an inconvenience for some.
Bangalore: The stretch of road between the Nagawara traffic signal till Ashwathnagar is the most difficult to navigate mainly because of the white topping work done on one half of the road, said Syed Jameel, the owner of S.K Sagar tea stall."A lot of traffic goes through this route, people from airport road, Hedge Nagar and Rachenhalli, all take this route, it always remains clogged, you can see the hurry on their faces", he said.
"The construction will be completed in the next 30 days," said Mr M Lokesh, Bruhat Bengaluru Mahanagara Palike (BBMP) executive engineer for Ward 80. He said that the construction is more or less done. "The delay happened because the labourers and contractors left the city and there was some quarrying work required, hence it was difficult to get concrete and replacements. Otherwise, the work would have been completed a lot earlier," he added.
Another shop owner said that the past year has been very difficult for commuters and stall owners. "They have put up a concrete road which has created more problems," said Gopalan, of Pooja's Medical shop. . He said that developers should have considered people's opinion before working on the road. "The traffic was worse before the lockdown, and the traffic is still bad during the morning hours, vendors have encroached on the new cement road and made the traffic worse in the mornings."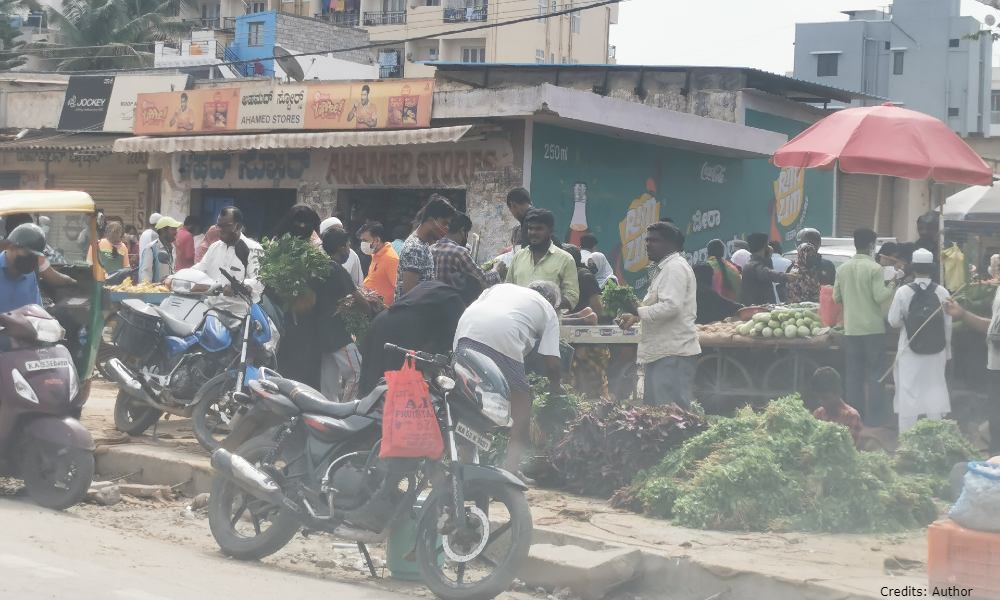 According to experts, certain standards come into play when a road is considered for white topping. "The road should have a good foundation and a flat surface," said Vikram Bhatt, principal architect and urban planner at Urban Synthesis Planner, "Thanisandra has neither, as per my knowledge."
Syed Rizwan, a fruit seller on the Thanisandra main road said, "I have been seeing this for the past two months, and this is always the case. I put my stall here because of this, to get more sales."