Vendors find no takers in the operating hours allotted to them resulting in surplus stock going to waste and unhappy vendors.
Vapi, Ghaziabad: With lockdown restrictions in place, the allotment of limited functioning hours for vegetable and fruit vendors has become a reason behind their low sales. Markets are overcrowded, yet vendors remain under financial stress. Following Covid-19 guidelines is not suitable for business.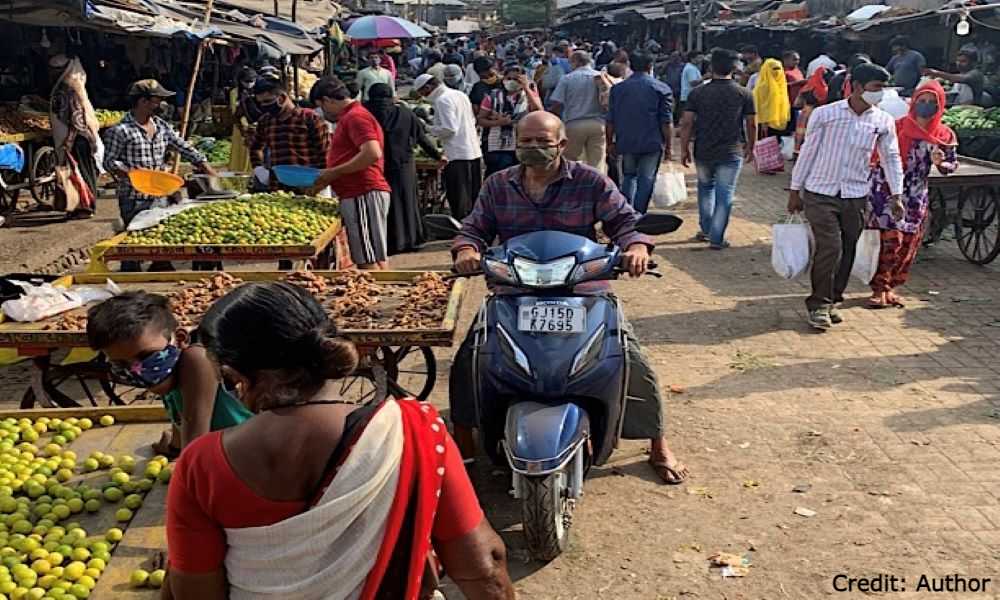 Ramila Ishwari Patel, a vegetable vendor in Vapi said, "My only means of income is selling vegetables, that is what my livelihood is dependent upon. Now that the markets are shut down earlier than usual, I am left with a lot of unsold stock and a lighter pocket."
According to the latest directions from the Uttar Pradesh government, grocery, fruits and vegetable vendors can function only for four hours, from 7 a.m. to 11 a.m.
Promod Kumar, a vegetable seller from Agra said, "Nobody steps out of their houses these days. On top of that, the morning hours make it even more difficult to get customers."
Hansa Desai, a domestic help said, "I prefer purchasing vegetables in the morning because they're fresh and then I also have to rush for work at 10 am."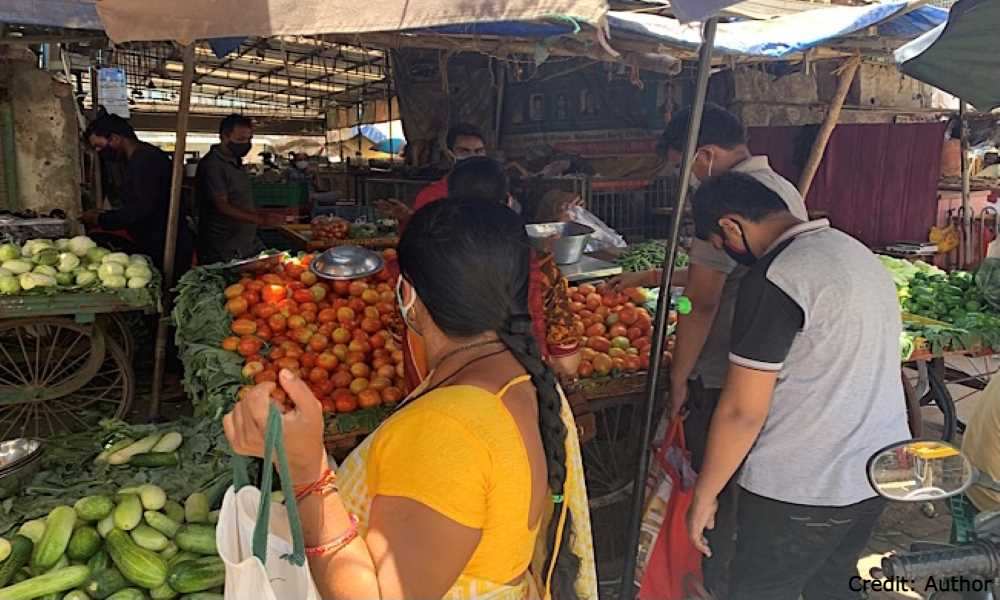 Munna Jaiswal, head of the Vapi Vegetable Market Association said, "Selling vegetables is the only means of income for most vendors, so shutting down the mandis entirely would be devastating for their income. But after 2 pm, the markets are completely closed."
The vendors even end up destroying the stock that they couldn't sell. "All of this material here with me now would be a waste in a day or two. It sells only until it's fresh, else it's nothing but a waste," Promod added.
"I try to maintain social distance at my stall, so when a crowd gathers around my stall, I ask them to move ahead. This is one of the reasons why I don't make good money and can't finish my stock of vegetables. If I don't sell vegetables, my family will die of hunger. I don't prefer being out during Covid-19, but my options are limited," said Durgesh Jaiswal, another vegetable vendor.
B.J Sarvaiya, police inspector of Vapi Town police station said, "Luckily, so far we have not registered a single case against vegetable vendors, breaking the lockdown rules. It's good to see that they are following the rules and regulations issued.."
Panna Bhen, a vegetable vendor said, "Only one-fourth of my vegetables is sold within six hours. Due to strict protocols by the government and shutting down of the market after 2 pm, I start winding up my stall an hour earlier to be on the safer side."
People in Vapi prefer a more traditional way of buying vegetables. Shalu, one of the customers present in the market said, "I don't like the idea of ordering vegetables online. I prefer checking the vegetables properly before purchasing them. It's an old habit of mine; old habits die hard."
On the other hand, Siddhant P. from Ghaziabad said, "I don't step out these days. It is better to order groceries online rather than going out to purchase them. It's both convenient and safe."
The vendors have started selling the products with a minimal profit margin, ranging from 50 to 70 per cent, to escape stock wastage, which has further resulted in their low income.
"Income? We just survive somehow. I run a family of four for two to three days in just Rs. 700- Rs. 800. I used to earn Rs. 1,000 – Rs. 1,500 previously," Promod said.
Omkar, a mango seller said, "I have faced so much wastage that I started selling them at lower prices. My aim now is to finish the stock by the end of the day, I can't face the circumstances otherwise."
"My customers have reduced drastically, even if I work for additional hours, my sales remain low," he added.
He added, "But I do look out for products which are unavailable online. If I happen to see a vendor selling, I get it."
Promod said, "This street vegetable market functions even after 11 a.m., we have no other choice if we are still left with the daily stock."
Sarvesh Kumar, police officer in Ghaziabad Nehru Nagar branch said, "We have warned the vendors already and we impose fines ranging from Rs. 100 to Rs. 1000 if we catch them working after the allotted time. We have no other choice, it is our duty."
Promod added, "If a police van comes, we run, and if we get caught, we pay a fine of Rs.500- Rs.1000. It's our luck, but it is at least better than destroying our stock."
Dr Arun Kumar, a retired professor of Economics at the Jawaharlal Nehru University said, "In this situation, the government needs to come up with something innovative to protect the vegetable vendors. Vegetables and fruits are essentials, their sale not only involves vegetable vendors but farmers and buyers as well."
He looks at this as a complex problem.
He added, " Vegetable vendors survive by selling vegetables. It would be a problem for all the three parties involved and if there's a complete lockdown of the market, the vegetable prices might go up, then the farmers as well as the vendors would face losses."
He suggested that the government can assign them a fixed place to sell their supplies instead of overcrowding the market.
With Inputs from- Anushmi Tripathy and Nidhi Sharma