Keeping in mind the hike in the number of covid patients, hospitals have started recruiting new doctors.
Ludhina: Hospitals across the country have started conducting recruitments, to hire new doctors for treating covid patients as the health system of the country nearly collapsed.
Karnataka has hired 1,763 new doctors under direct, walk-in recruitment. This includes 715 specialists, most of them being anesthesiologists who are needed the most, amidst the current crisis of Covid-19.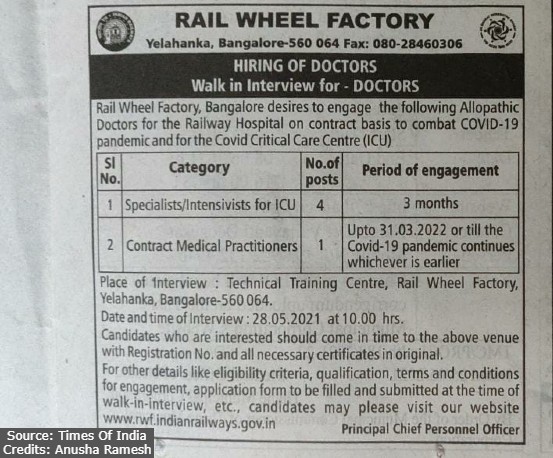 The Railway Wheel Factory published an advertisement to hire four specialists and intensivists for ICU and one medical practitioner on a contractual basis.
Savithri, assistant at Hindustan Aeronautics Limited (HAL) Hospital said that they have recently hired 10 new doctors. "We were in need of 10 doctors and we conducted the recruitment two weeks ago," she said.
The Directorate of Health and Family Welfare Punjab issued a public notice announcing state-wide recruitments. There are 464 places vacant for specialists holding Bachelors of Medicine, Bachelors of Surgery (MBBS) degree and holding a postgraduate degree in a requisite specialty, recognized by the Medical Council of India.
Dr. Kimi Madaan who works for Civil Hospital in Samana, Punjab said that almost all the government hospitals are conducting walk-in and direct recruitments. "They have been conducting walk-in interviews and hiring new doctors to fulfill the need of manpower in hospitals," she said.
"There's no specific increase in the pay of doctors. In fact, salaries of doctors working since last year have also not been completely cleared," she added.
The Maharashtra health department has also issued a public notice announcing nine vacancies for Dhule district.