Patients are struggling to recover from covid, and the ongoing construction of houses in their neighbourhood isn't helping.
Sonepat: The lockdown might have kept you from going outside but it doesn't keep a house from being built. It's been more than two months since construction of several houses started in Sector-12, Sonepat — before the onset of the second wave of the pandemic and re-imposition of the lockdown. But the work is still in progress, becoming a constant cause of discomfort and stress for residents, especially covid recovering patients.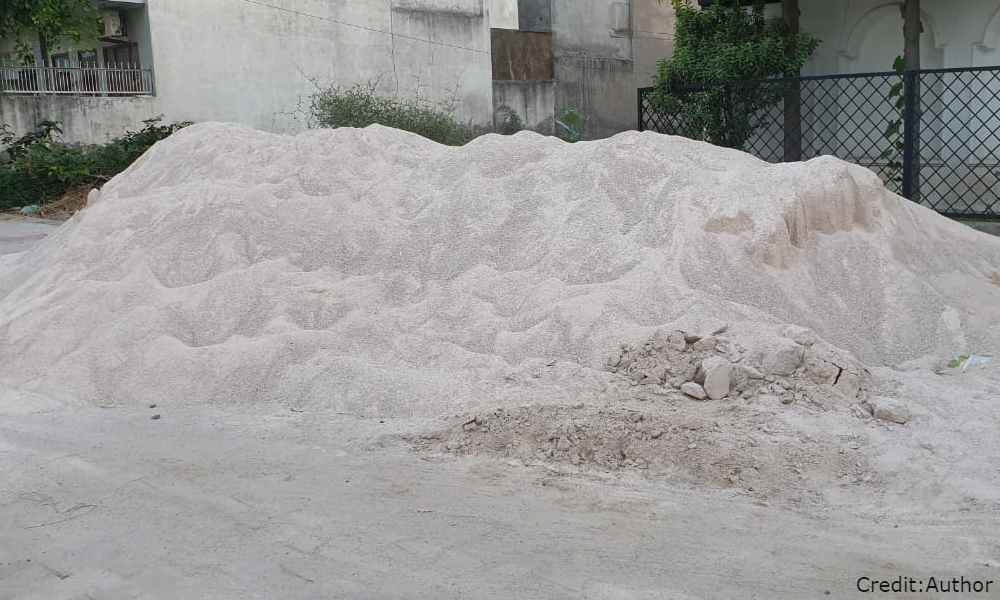 Ajaywati, a resident of Sector-12, said that the situation is getting worse every day. She said, "The whole street is filled with bricks and dunes of cement. How are we supposed to go and buy groceries; essential commodities such as medicines, etc? There's not even an inch of space to move freely in front of my house now." Shelives right next to a construction site. She added, "My family just recovered from covid and this continuous inhalation of dust particles is making it harder for me to breathe."
"Also, how many times can I try and clean the house?" she questioned. "Everyday piles of dust get collected in our rooms, it's getting harder to live; we're not able to maintain necessary hygiene and cleanliness since all efforts seem to be in vain," she said. She also added that the noise of drilling and other machinery is constantly making her dizzy.
Amidst bricks and stones of these construction sites, seems to lie the pre-pandemic world; for there exists no sight of social distancing or masks.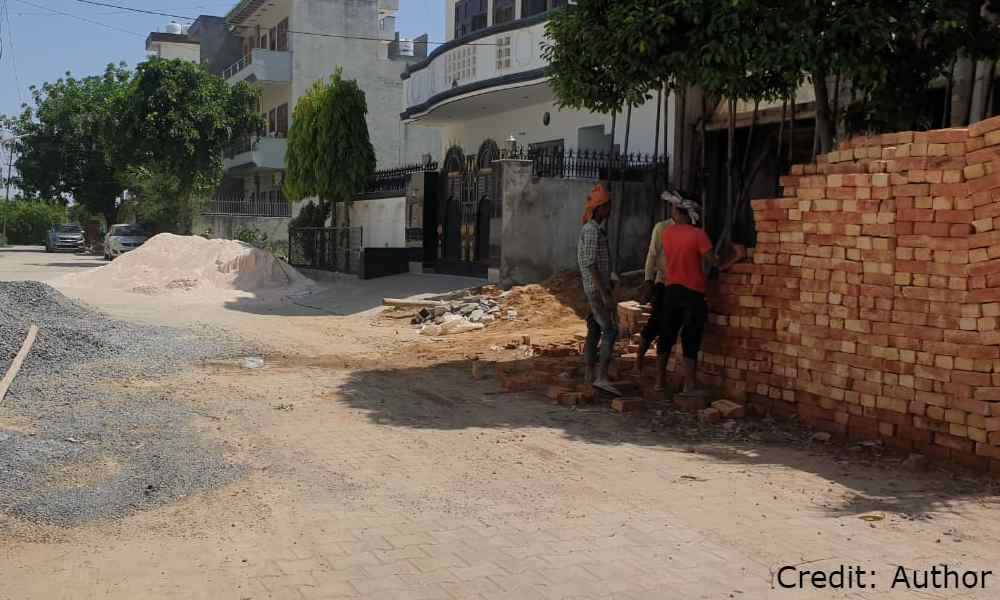 Although continuation of works in construction projects is permitted under the lockdown, no workers are allowed to be brought from outside the site. But in these neighboring construction sites, workers regularly move in and out of the town on a daily basis. Moreover, strict implementation of social distancing and face masks is compulsory, which is not followed.
Deena, a contractor of one of these houses said that the signs of lockdown are limited to closed shops and curbed movement in public spaces, as no authority has either visited them for a site check or have ordered them to halt their work. "The lockdown is imposed just for the sake of it. We continue to do our work like we always did," he said. "Even though some labourers had to return to their villages, almost all of them come to work regularly now — travelling from Bandepur, or Kabirpur."
Surender, the caretaker of the same site said that they're not barred from working. He said, "The workers here receive the same daily wages as they did before the lockdown — Rs 400 per day." He added, "Moreover, one cannot avoid the noise and air pollution a construction site naturally produces."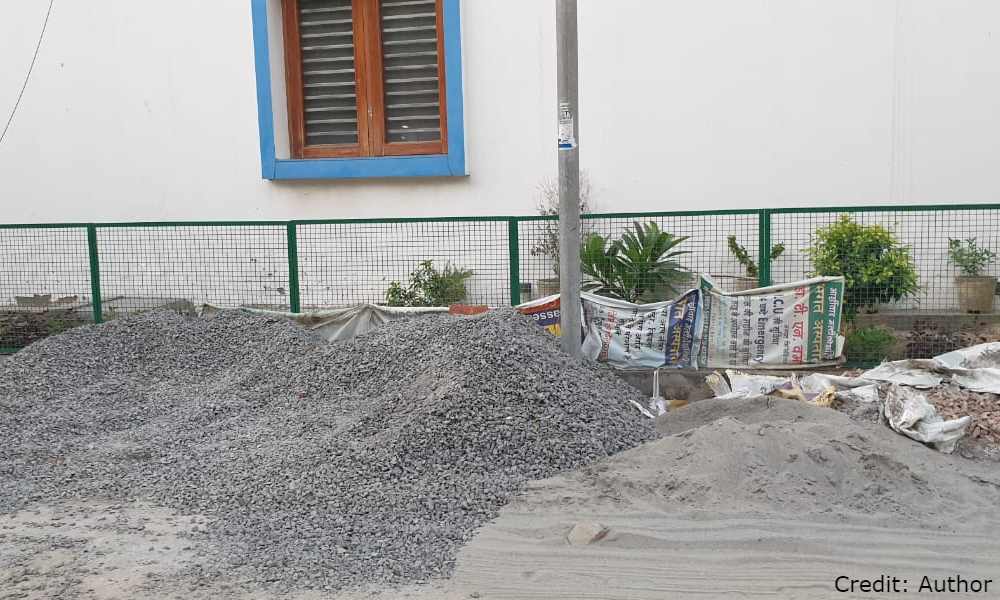 "Construction sites need to follow measured precautions that help decrease the levels of air, sound and light pollution that heavy machinery used in construction produces," said Rajnish Walia, a civil engineer based in Noida.
Walia explained , "For example, the construction foreman must ensure to. regularly sprinkle water through fans or manually. that helps settle the dust particles and does not remain in the air and/or harm people's health; wash tyres of whatever vehicles that enter the site; install barricades so the construction is contained and does not extend to roads; cover the ongoing construction houses with safety cloths so that they prevent the dust from entering the atmosphere or adjoining spaces; and also insulate with polyurethane foam (PUF), sound generating machines." Moreover, he said, "It's necessary to maintain a check of pollution levels at the site."