The cyclone has washed away Maharashtra's mango farmers' hopes of earning a profit and put an end to their plans for the Mango Jatra in Indore.
Indore: Gusty winds and heavy rainfall, effects of the cyclonic storm Tauktae, gave sleepless nights to many mango farmers in the Konkan region of Maharashtra. The Mango Jatra, an annual mango festival organised in Indore every year, has been cancelled for the second consecutive year. Already suffering losses due to the pandemic, these farmers have lost their remaining hopes of earning a profit this year.
Ramachandra Anant Karandikar, a mango farmer from Devgad, who visits the Jatra regularly, said that the cyclone destroyed 40 percent of the produce. "Mangoes fell off the trees, some trees fell off, many others were uprooted. It was a huge loss for us."
Anil Pawar, a mango farmer from Ratnagiri, said that in all the 49 years that he has been alive, he has never seen such heavy rainfall in the region before mid-June. "The cyclone has washed our hopes. This one month is an extremely essential time for our business. Most of the mangoes are sold in this duration," he said.
Both Karandikar and Pawar grow Alphonso mangoes on their farms. They explained that if alphonsos have not been plucked and if they get in contact with water, they get infested with insects and are rendered unusable.
Most farmers in the region rely on the mango season to sustain their families throughout the year. Cyclone Tauktae, which travelled between Lakshadweep and Gujarat, moved parallel to the west coast between May 12 and May 19, 2021. It intensified into an 'Extremely Severe Cyclone' and caused damage to life and property.
Sanjay Yadavrao of Konkan Bhumi Pratisthan, the organisation for the promotion of business activities in Konkan, said that mango growers in the district faced losses of around Rs. 500 crore.
Business locked-down
Pawar explained that earlier, farmers used to sell their produce in the wholesale market. But for the last seven or eight years, 80 percent of the farmers prefer to go to different cities to sell their produce directly to the customers. "In the wholesale market, people use chemicals and other artificial means to ripen the fruit. Farmers have shifted towards organic methods of ripening and these mangoes are better in quality and sell at a higher price," he said.
"We have formed a sentimental attachment to the people of the city," Karandikar, upset by the cancellation of Mango Jatra in Indore, said. "Each farmer used to take around 4,000 mangoes to the festival. It was amazing how we sold all of those in just three days," he added.
Generally, nearly 30 farmers from the Konkan region, participate in the festival. Mango Jatra, and similar festivals, organised in other cities, leads to an increase in farmers' income as they do not have to pay commission to middlemen.
Pawar said that 40 percent of the farmers are unable to travel to cities to sell their organic produce due to the pandemic. Many farmers are operating in losses. "Earlier, we used to earn Rs. 7 to Rs. 8 lakhs. But for the last two years, we haven't been able to recover what we invested."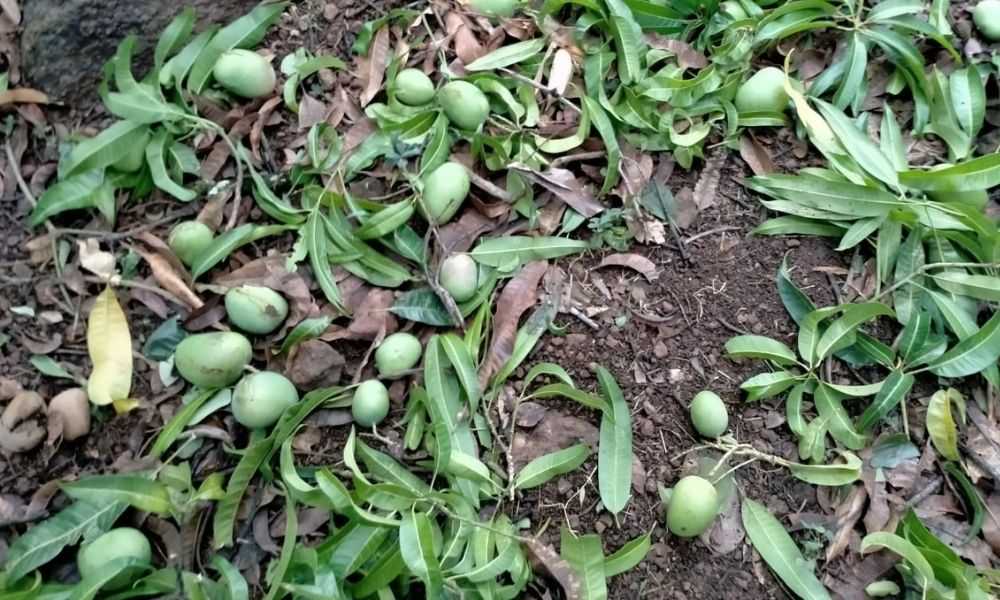 Not being able to travel to different cities to sell mangoes has led to various problems for farmers. "Our income has been affected, and our prospects of adding new customers to our list have been quashed. Every season, we find people who like to eat mangoes throughout the year. They value the quality of our produce and help our business grow," Karandikar said. "Customers start calling in December and January asking when the mangoes will arrive. This time, because of the lockdown, I wasn't even able to ship mangoes to other states."
Unlike many farmers who are selling their produce online, Pawar hasn't been able to do so. "One can only sell online if the customer contacts him directly. But because of the lockdown, we were unable to access transportation facilities, and couldn't sell online," he said.
Aniket Yerunkar, a mango seller based in Mumbai, said, "Last year I sold 350 cartons of alphonso mangoes – each having around five dozen mangoes. This time I could sell only 120 cartons." He added that the produce, this time, was less compared to the previous year. This has led to an increase in prices. "One dozen alphonso mangoes, which used to sell for Rs. 2,000, are now being sold for Rs. 2,500."
Pawar explained that another reason for Maharashtra mango farmers suffering losses is the illegal mixing of different varieties of mangoes. "Mangoes grown in Karnataka look almost similar to alphonso mangoes grown in Konkan but don't have the Geographical Indication (GI) tag. In markets of other states, people have been mixing Karnataka and Konkan mangoes. Karnataka mangoes are cheap, but sellers put two original alphonsos in a box of Karnataka mangoes so that it smells nice and then sell it off at higher prices."
With the lockdowns, the cyclone, and unfair business practices, mango farmers are stuck in the deep end.
The way out
Professor MG Chandrakanth, Retired Director of Institute for Social and Economic Change, said the problems will continue as long as we are stuck in a pandemic.
He explained that in the case of mangoes, the international and domestic price is almost the same. So there is no incentive to either export or import. "The domestic market is very large, but the pandemic has affected the consumption. The supply is the same but the demand has shrunk. So, the farmers obviously get lower prices."
He also explained that mango trees have a quality of alternative bearing – if this year the tree has given good yield, next year it will be less. So, the price variation continues.
He suggested ways by which mango farmers can ensure good business. "If they don't use calcium carbonate, a fruiting agent, then the storage problem is solved to a large extent. Farmers can also sell through pre-harvest contractors, who fix the price before the harvest. This will be less risky," he said. He added that farmers should make use of direct marketing channels like Amazon, Flipkart and BigBasket to reach the customers and to ensure that the business keeps moving.