Mysuru district administration launched door-to-door surveys, but most of these surveys are being conducted without thermal scanners or pulse oximeters.
Mysuru: Sheila, an Accredited Social Health Activist (ASHA) worker was screamed at during a door-to-door health survey in Mysuru because she did not have a working pulse oximeter, and she did not have a thermal scanner to check the temperature of people in the house. When Muddaiah, the owner of the house asked her how she is going to conduct the survey, Sheila said that she would ask questions orally, and based on the answers she would decide if they are Covid-19 positive or not.
Muddaiah said, "I opened the door, and she said she wanted to do a survey to find out if there are any Covid-19 positive patients in the house, but she had a dysfunctional oximeter, and nothing else." This has been the case with many such door-to-door surveys. The bigger problem is that the ASHA workers are not provided with appropriate equipment to conduct the survey effectively.
The door-to-door survey is being done across all the 65 wards of the city. Sheila, now surveying a different ward, said that she would make a trip to the apartment in the coming week. "The pulse oximeter is still not working, but they gave us a thermometer to check the temperature," Sheila said.
Shubhamangala, former ASHA workers union president, Mysuru complained about the lack of facilities provided by the administration. "They announced the survey but they did not give us any devices, how are we to efficiently solve the problem?" she asked.
The ASHA workers launched an online protest on Monday, May 24, 2021 submitting a set of demands to the administration. The protest is done from their homes, and Public Health Centres (PHC)s. Images of ASHA workers holding circulars and placards will be later posted on Facebook and other social media to draw the attention of the authorities.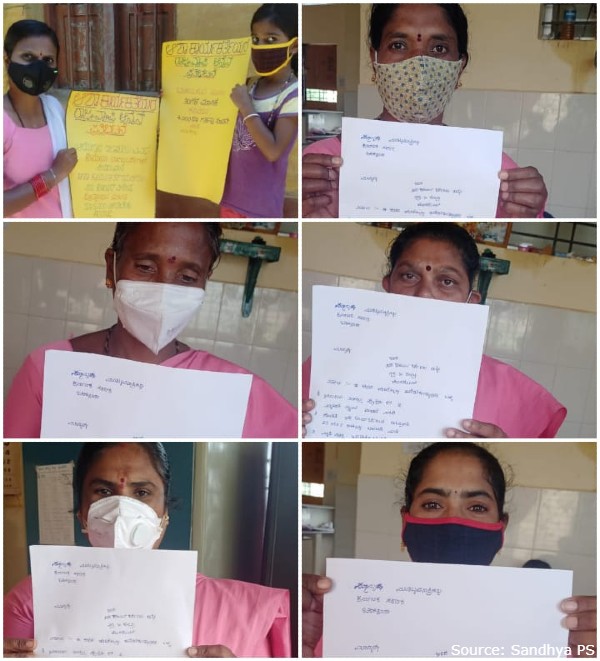 "We have not been paid salaries for three months, we have not been paid the monthly honorarium of Rs 1,000 for Covid-19 by the administration, and the quality of the masks and gloves given to us is abysmal," Shubhamangala said. She also added that ASHA workers are not provided with sanitizers, gloves and masks in sufficient numbers.
"The door-to-door survey is useless without proper facilities. A couple of days back I asked a person if they had any Covid-19 positive patient in their house, and he was coughing, and he had a cold but he said none of them in the house were positive. Maybe that's true but most of them lie, and how can we make sure they're not lying if we don't have any devices to check the positivity," Shubhamangala asked.
Sandhya PS, district advisor, Karnataka State Samyuktha ASHA Workers Association, said that all the demands would be submitted after the online protests. "We hope that these demands will be met soon. Many ASHA workers have tested positive for Covid-19 and we have demanded Rs 25,000 for treatment of positive patients in the families of the workers."
"ASHA workers have been working non-stop since Covid-19 struck last year. But our demands have fallen on the deaf ears of the authorities, we have to beg every time for the money we desperately need and the money that's rightfully ours", Shubhamangala said.
The Mysuru City Corporation (MCC) started the door-to-door survey on May 18, 2021 for early detection and treatment of Covid-19 cases. The MCC Commissioner Shilpa Nag in a Covid-19 Task Force meeting announced, "Two health volunteers equipped with one pulse oximeter and thermal scanner will visit every house and examine every person."
"The ASHA workers' demands are absolutely real, and the state must immediately respond. They are particularly vulnerable to the Covid-19 pandemic because they are key frontline personnel," said Dr Sanghamitra Choudhury, Junior and senior Research Fellow, Jawaharlal Nehru University, New Delhi.
"In current times, personal protective equipment and basic medical devices are essential. Sending ASHA staff to Covid-19 duty without the bare necessities is akin to sending soldiers to battle without arms," she added.