Parents suffer an increased level of stress due to the education going online from the past one year.
Vapi: Online education has changed the way children study. It's not the same anymore.
Rupali Behani, a mother of two children, said, "Managing two children having their online class simultaneously is one big task. I had to buy them their own gadgets so they don't fight over one device. Their physical engagement in classes has reduced. They don't clear their doubts or communicate with their teachers, and after the class they ask me to clear their doubts. It is a challenge for me."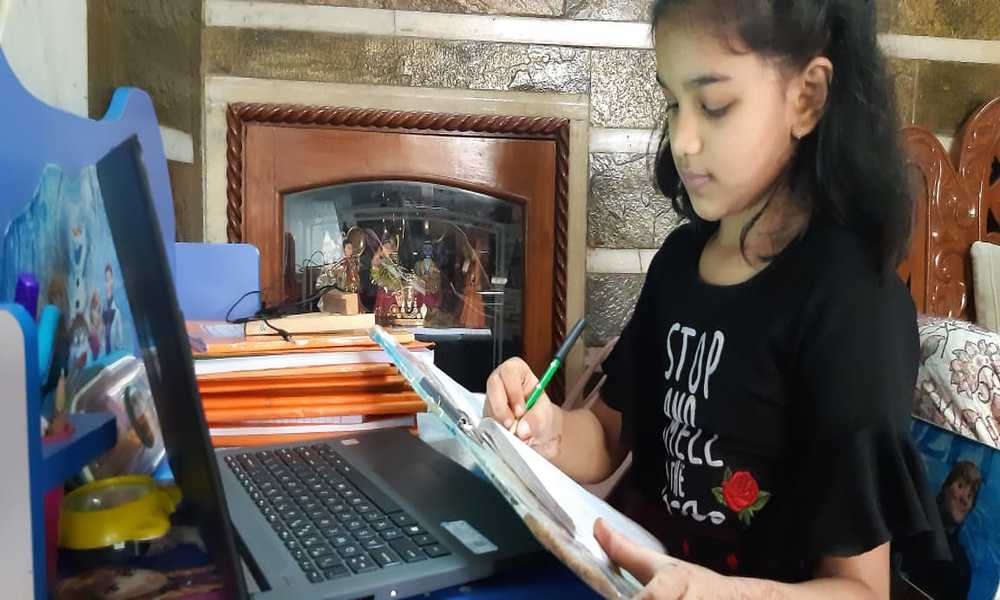 "With passing time and one year to the pandemic, I have adjusted with the situation, but my expectations for my child's future have gone down. My son is preparing for JEE from last two years. Due to the pandemic there is no clarity when the exams will be conducted. He is currently in 12th standard, and the board examination was supposed to happen. It is postponed for now. As a parent, I have to be strong, but my child is losing his morale, and it stresses me out," said Ipshita Mohanty, mother of an IIT aspirant.
"My kids' screen time has increased, and the constant use of electronic gadgets is making them addicted to it. I ask them not to use mobile after online classes, and when they don't listen to me, I have to be assertive towards them, and at times it stresses me out handling the situation," said Mrs. Behani.
Bidhu Sekhar Tripathy a father of one son studying in 9th standard, said "My child is not able to interact confidently during online classes and get his doubts cleared. The teachers are not able to track down what the students are understanding and what they are not. It becomes a task for both the parents to understand the child's calibre, and it gets challenging at times. I am not able to figure out the potential of my child."
He further said, "My child loves playing outdoor sports, but now he cannot go out due to the pandemic. I feel upset about it seeing him all day in front of the computer taking online classes or either playing some tech-based game."
A parent of a Master of Business Administration (M.B.A) student said, "I see my child copying or cheating to pass the examination. I don't know what she is learning because I have to wake her up to attend the online classes. After all, she sleeps half through her classes. I am concerned about it, and it gives me stress me out looking at her laziness towards studies."
Mrs Renu Jain a resident of Vapi and mother of a 14-year-old said, "I am okay with the fact that my child is taking online classes. He at least has access to education; that is what keeps me going." It does not stress her     out. It's relieving for her that her child study even if it's very less compared to what he would have studied in physical classes. "Online Education is like a boon in the curse of Covid19," she added.
"It's not like now or never situation; someday the situation is going to go back to normal. Stressing about it won't help. I have reasons  to be stressed out; my child is in a practical course. It's just I am trying to be positive on my end. My child is learning hotel management, and it is tough learning things online. But, still as a parent, I am optimistic and hoping for things to go back to normal." said Sikha Poddar Suhasaria.
Dr Jyoti Laxmi, a professor from Vivekananda Institute of Technology, Bengaluru, said, "Online classes increase the communication gap between students and teachers. We don't get to know whether the student is attentive in the course or not. Most of the time, students keep their videos off. We keep on teaching, and the doubts I used to receive during offline classes were much more compared to what I get asked now. Now it has reduced to an extent."
She ended saying, "The personal touch is missing in online classes while teaching.