The Muslim festival of Eid-ul-Fitr is being celebrated in not-so-traditional ways amid the pandemic.
Bangalore: Mrs Ilaf Saqib Hakim's husband went to Saudi Arabia after marriage and he couldn't return due to the pandemic. For the past two years, she has been celebrating Eid virtually. "We thought we would be meeting at least this year on Eid since we could not meet last year. The second wave of Covid-19 has spoiled all of it. Again this year, we have to celebrate virtual Eid."
Eid feels like "any other day" to Marsad Aurangzeb Siddiqui who is far away from home in Paris. "Eid is fun because of everyone around you celebrating it, getting dressed up, and wearing mehndi. That's how I know it's Eid and the day is special back in Lahore. Far away here, there's no one dressing up, there's no rush to make sheer khurma or to put on fresh new kurtas," he said.
The pandemic has once again halted the celebrations of Eid this year. With mosques shut and people taking precautions, the usual customs of Eidi, Zakaats for the underprivileged, and streets filled with delicacies all night long will not be seen this year. The festival of hugs, just like the last time, will be socially distant.
An Eid In Lockdown
"I've never seen such a dull chand raat. Most of the shops are shut or working with their shutters down. Our lane used to be filled with the smell of attar and now not even one cart is visible anywhere. Post maghrib (sunset) when people break their fast, some vendors try to put up their stalls but the BMC (Brihanmumbai Municipal Corporation) officials shoo them away or confiscate their items. What will they do? Everyone should be able to afford the bare minimum like good food and fresh clothes on the day of Eid at least," said Shabina, who has been living in a Muslim locality for over five decades.
The BMC has urged the people to follow the 'Break the chain' guidelines issued last month while the cases were surging in Mumbai. According to the guidelines, the public cannot gather in mosques or open spaces for prayers.
Every year Shabina used to make eight to 10 litres of sheer khurma to serve neighbours and relatives visiting her house from morning till evening but last year she did not cook more than three litres for her family members.

"It breaks my heart to see that the sewai stalls which used to be set up a week before Eid at the corner of every street have disappeared. What even is Eid without the smell of sewai freshly fried in ghee and sheer khurma?" she added.
Mr Naved Siddiqui recalls the celebrations of Eid before the pandemic. "On Eid every year we all used to hug each other and shake our hands, but now we are all running away from each other. , "Covid19 has just turned the celebrations of Eid upside down, it's upsetting," he said.
Mr Nazir, a resident from Kashmir, said that the pandemic has waned his excitement for Eid.
"Not being able to meet and greet relatives, see the smile on your kid's faces when you get them new clothes, meet strangers and break your fast around millions more of your faith, it is a difficult time.
No Eidi, No Business
The City of Nawabs, Lucknow, stands silent amidst Ramadan and Eid this year, as the second wave of the pandemic hits. The areas around old Lucknow, which are usually the hub of Eid glitz, remain closed. The industries that look forward to Eid for businesses like garments, food, and attar (perfume) have also taken a hit.
Masuood Ahmed, an attar shop owner in the Chowk area of Old Lucknow said that his shop has been closed since the announcement of the lockdown. "All the shops in and around old Lucknow have been closed for a while now. Therefore, no sales have been recorded. Eid has been different for the past two years now."
"On some days, we could manage to get 'iftar', when a local samosa seller came with his food cart. The local garment shops were open with half shutters on demand too, but all of them were shut by the police. They levied heavy fines on the customers and the shopkeepers," he added.
Sunil Khanna, who owns a chikankari garment shop, said that his shop has been shut since Diwali and no sales have been made in the name of Eid. "The market's been closed way before the lockdown was declared in the state, keeping in mind the safety of the workers and customers. But, after the official declaration of a lockdown, we don't see any hope of the shops opening up anytime soon."
"We await Eid every year, as the holy festival brings us a lot of customers and business. We usually stock up through the year for Ramzan and Eid, therefore, this year the business suffered massive losses," he added.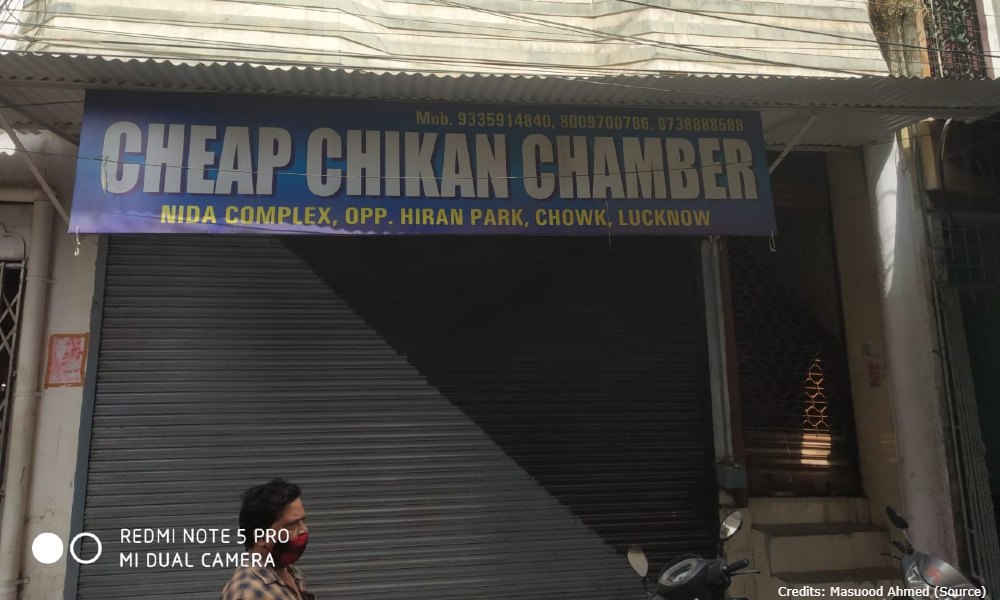 Mohammad Usmaan, the owner of the oldest Tunday Kababi chain of restaurants in Lucknow said that food sales usually are the highest in the month of Ramadan. "We were all set to make iftar meals for the devotees, but the pandemic did not let that happen. All food sales have moved online for delivery, but they are comparatively less than the dine-in demand. Hence the sales have been down for a long time," he added.
A Glimmer of Hope
Today while folding his prayer mat in the privacy of his home, Salick wants people to understand the true meaning of Eid. He said, "People need to understand that the decorative lighting and people wandering around all dressed up is secondary. Of course, we miss greeting our brothers and the sheer khurma does not taste the same as it used to, but we are blessed enough to be safe inside our houses, while there are people struggling to breathe out there."
Manzoor Ahmad, a general surgeon in Lucknow, also believes that this Eid is all about social distancing and staying healthy and safe. "I hope the situation will get better by next year. We have been offering 'Namaz' (prayers) from home and haven't been visiting the mosque either."
He has a message for people feeling dejected during this time.
"Even if the government guidelines were to be ignored, the Holy Quran suggests that one should stay inside and quarantine themselves in the times of 'vaba' (pandemic). Hence, all the devotees are celebrating Eid inside their homes. Though nothing feels celebratory in such times, and the atmosphere has not been festive for two years now, all we can do is hope and pray for the betterment of the situation," he added.
With inputs from: Anushmi Tripathy, Tasmia Ansari, Shravani Sinha