With the pandemic, subsequent lockdown, and online classes, bookstores on Avenue Road that sell academic textbooks face financial losses. 
Bengaluru: Book stores on Avenue Road that sell academic textbooks are facing huge losses because the pandemic has stopped students from buying textbooks.
Srikanth, now a final year engineering student, did not buy textbooks for the past two semesters like he used to. "There was no necessity for us to buy books this time because internals were not that serious since they were held online. In addition to this our teachers gave us study material and notes that they made and that itself was enough for us," he said.
Avenue Road in Chickpet, Bengaluru houses over 300 book stores that sell academic and competitive textbooks. These stores sell both new and second-hand books.
Manju MJ, owner of Ganga book centre said, "My book centre was open only for three months in total since March last year. I used to sell at least 100 books per semester. After the pandemic, I barely had any business. I am not even able to pay the rent."
Since March 2020 classes for all professional and degree colleges went online in the state because of the pandemic. Till date, these classes are being held online.
Shashikumar, owner of Golden Book centre, "I mainly sell textbooks for engineering and medical. I barely had 10 percent of the sales this academic year (2020-21) than I had before. All this happened because of the pandemic and the classes being held online. No one came to buy textbooks even after the lockdown was lifted."
"Except for final year students, we were all promoted without exams," said Srikanth. So, there was no need for buying textbooks.
The Karnataka government promoted all the intermediate semester students in 2019-20 pursuing graduation, post-graduation and diploma courses because of the pandemic and this further added to the woes of the book store owners.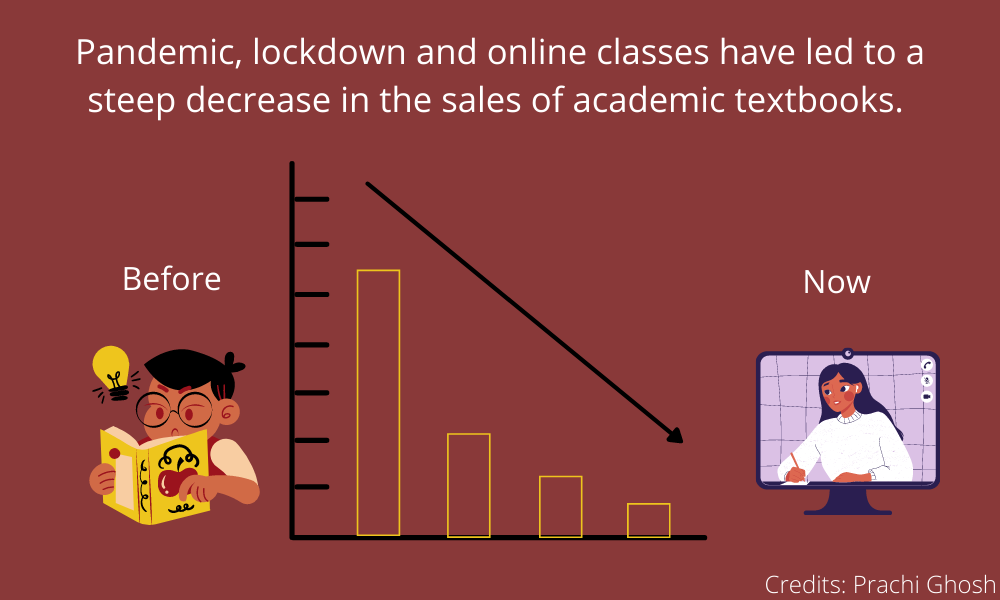 Shekhar KK, owner of Shiva Book Centre said, "I used to get at least 30 to 40 customers every day before the pandemic. I have all sorts of academic textbooks, everything from B.COM, BBA, BA to medical and dental as well. Students of lower semesters in courses like B.COM and BE were promoted without exams so no one came to buy textbooks from me."
He added, "Students used to come to us and ask for guides, short notes right before exams but due to online classes and exams being cancelled no one bought them this year. This continued even when there was no lockdown. My business came down by 90 percent, I used to make at least Rs 30,000 to Rs 40,000 in a day."
Gagandeep RM, a law student from National Law University (NLU) said, "I usually bought second-hand textbooks from Avenue Road but because of the pandemic, I did not risk going there and instead I bought it online. Most of us downloaded pdfs of the textbooks and shared them among ourselves."
Prof. Venkatalakshmi MN, Head of Department of Economics,SBRR Mahajana First Grade College, Mysuru, said, "In a country like India there will always be a demand for used books because of affordability. The demand for second hand or used books arise from the general public and students community. But because of the pandemic, the demand for these books has drastically fallen. In this digital era, there are solutions for every problem. I would suggest that these sellers come together and create an online portal or website where they can publicise and sell their books."