The daily lockdown, along with the rising number of bird-flu cases, has dimmed meat-shop owners' hope of earning a profit.
Ludhiana: Balwinder Singh, owner of Friends Chicken Centre, is distressed because his business has been running in losses since the pandemic started. The 17-hour-long daily curfew has only added to his woes.
"The number of customers we were getting before this curfew was already less. Post the announcement, it fell down even more. This has affected our sale by 70 to 75 percent," he said. He keeps the shop open during relaxation hours, but rarely gets one or two customers.
In view of the sudden surge in Covid-19 cases in the city, the district administration had announced a daily curfew from Monday, May 10, 2021. All shops, including the ones selling non-essential commodities, are allowed to stay open only during the seven hour relaxation, from 5am to 12 noon.
Both small and big meat shop owners have been affected by this curfew.
Amritpal Singh, owner of Pal Meat shop, said, "I don't have a big business, this small shop is the only means of earning for me. Because of the new curfew guidelines, customers have almost vanished. This has affected the sales by 60 percent."
"I am praying for situations to get better, we have already suffered major losses last year. Another year of losses would be too hard to deal with," he added.
City residents are hesitant to consume chicken because of the recent rise in the number of bird flu cases found in the city.
Heena, a city resident, said, "Although we live far away from the poultry farm that has been declared 'infected', we are not sure of taking any chances right now. The health conditions in the city are anyways worsening due to the pandemic, we can't risk getting sick right now. Therefore, we're sticking to vegetarian food."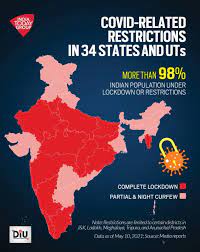 The number of cases and deaths in the country is increasing at an alarming rate. Ninety eight percent of the country is under lockdown, 34 states are following strict regulations to bring the number of cases down.
Shalini Dogra, an Economics professor, said that while she believes lockdown will help in bringing the numbers down, she is also sceptical about how that will impact the economy. "We need an extremely strict mechanism that ensures everything is under control. During the relaxation hours, people rush into shops. No matter how much the shop owners try, people continue to break the rule to some extent."
She added, "Economy is, anyway, going to be affected by a lockdown. Business, education, service, every sector will be affected but there seems no other alternative currently."