Stand-up comedians use social media to help their followers through the financial crisis. 
Bengaluru: It has been difficult for Rakshan Verma since the first wave of Covid-19. His parents, who are ill, have been struggling to pay their medical bills. Vardaan was delighted when he saw Rohan Joshi's Instagram post asking followers to leave a comment about the job they are looking for and the city, so potential employers could reach out to candidates.
"It is a great initiative as it presents the opportunity to find small work," he said, "Now, I can get in touch with various employers quickly and hopefully secure myself a job." He added that this initiative has given a chance to many people like him who don't have experience and want to support their parents.
Rohan Joshi, a stand-up comedian, took to Instagram to set up a space for his followers. He said in his post that he was feeling a little helpless amidst the pandemic and wanted to use his platform to help in any way possible. Soon after, Sahil Bulla and Rahul Subramanian, other stand-up comedians, too created a space on their Instagrams and Linkedin for the same.
Rohan's Instagram posts were soon cluttered with messages and job opportunities. To declutter the comments and make it simpler for his followers, he made two more posts for the initiatives. The initial post has over 12,000 comments and 50,000 likes, and the other two posts have approximately 6000 comments and around 40,000 likes, together. 
His followers, however, found it difficult to find proper opportunities that might be of help. Abhigyan Kargharia said that every role in the previous post had asked for five to six years of working experience. "With all due respect," he said, "People with five-plus years of experience won't be looking for jobs on Instagram."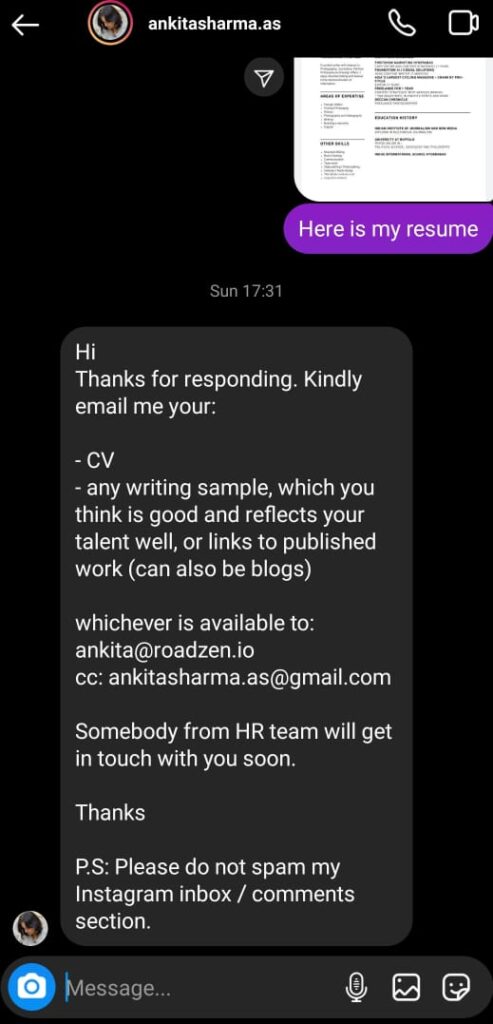 On the other hand, Sarth Goel, a photographer, found the perfect opportunity on Rohan's posts. "I will graduate this year, and I was sure that I wouldn't be getting a job in this pandemic," he said. He added that he found an opportunity in the comments, the first day. He applied and said that the company responded by the evening. "I was suspicious because it was too good to not be some scam."
Employers too, feel that Rohan's posts have been a glimmer of hope for many who lost their means of work and an opportunity for people who have been looking to hire. "Both work-seekers and people looking to hire were coming together and this was perhaps the best use of case points of Instagram's comment section," said Devika Patel, Founder of Clarity Business Lab & Bombay Legal.
She said that Rohan's strong personal equity and the posts' reach led to overwhelming responses. "My inbox blew up," she said. She added that she was able to find a photographer in Bangalore to help with the covid-crisis related project within days, something she felt would have been challenging otherwise since she works with an NGO.
Economists feel that the second wave could be much worse than the first for the unemployment numbers in the country. "With the second wave onset, economic loses could be much worse, as the current lockdown is once again an unprecedented one and could go on for months," said Dr Stuti Mona Tripathi, economist and impact analyst. She added that while, the initiative to create space was efficient in bringing opportunities to light, it wasn't a replacement for lost jobs and businesses in different sectors.