With people struggling to find slots in Odisha's third phase of the vaccination drive, some waiting in serpentine queues without social distancing, and others being on the wrong side of the digital divide unable to access registrations, India's third phase of the vaccination drive amidst a raging pandemic is marred with issues.
Mysuru: Sabya, a resident of Paradeep, Odisha has been constantly trying for three days, to book a vaccination slot for himself and his cousin, but to no avail. He said, "Whenever there is any information about the opening of slots, I instantly try but the slots get booked within seconds."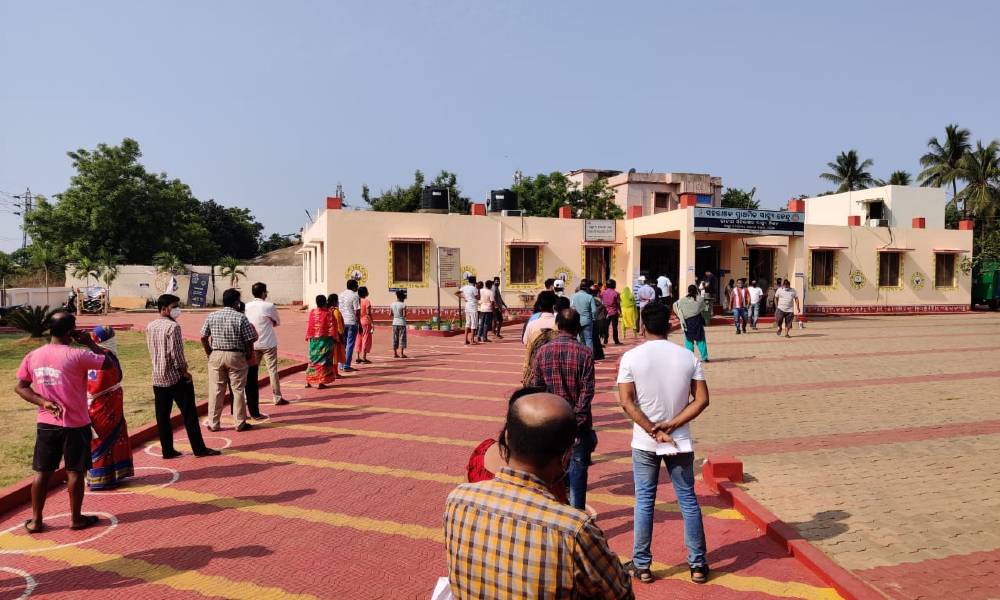 The Odisha government has banned any walk-in registration to get the vaccination shot. "Only those who register with CoWIN, UMANG, and Arogya Setu apps are being given the shots, Sabya said. "The CoWIN One Time Password (OTP) system is really slow, and the page doesn't refresh according to availability, therefore the chances of missing out on slots are high," Sabya added.
After hours of trying constantly, one is able to book a slot. Rosalin Sahoo, a resident of Bhubaneshwar said that after repeated attempts for an entire day, she was able to book a slot. "I had to login and logout numerous times on the CoWIN app, to check the availability of the slots. The registration process on the app is as chaotic as the slot booking process."
The scenario is not the same for every citizen. Som, a resident of Bhubaneswar was able to book two slots through the CoWIN app, without much struggle. He said, "It was a smooth process for me but the vaccination centre which is supposed to have only 50 people at a time, was overcrowded. People who did not have any slot bookings were also present, hoping for a walk-in registration."
Sourav Jena, a resident of Damanjodi said that he stopped trying to look for a slot after the lockdown was announced. He said, "Initially, I was looking for a slot in the third phase of the vaccine drive until the state lockdown was announced in the state. It would not be possible for me to travel to Bhubaneshwar during the lockdown when public transport is prohibited," he said.
Odisha launched the third phase of the vaccination drive for the people between 18- and- 44 years of age on May 3, 2021, and the beneficiaries were administered with the first dose of Covaxin. The vaccination drive started at all government hospitals in Bhubaneshwar, after the state received 1.5 lakh doses.
Improper communication leading to chaos
Hundreds of people gather outside the M.T. Agarwal Hospital vaccination center in Mumbai. Volunteers and police try to disperse the crowd throughout the day, but to no avail.
Balu Shivale and Indumati Shivale booked their first dose of vaccination for slots between 12PM and 5PM at M.T. Agarwal Hospital vaccination center.. There was a separate queue for people above 45 years of age who have already taken their first dose. However there was no separate queue for the people who came to take the first jab. Unaware of what to do, Balu Shivale went to Bruhanmumbai Municipal Corporation (BMC) officers who issued a token at the vaccine centre. But he didn't get any proper information whether he will get a vaccine the same day or not.
"No one is giving any proper information to us about taking the first dose. All the volunteers are saying different things. What is the use of booking the slot and then coming here to take a vaccine ?" he asked.
BMC volunteers said there are only 135 doses available today. "We are distributing tokens only to those people who have taken their first dose of the vaccination. Still people are standing at the center since morning without listening to us."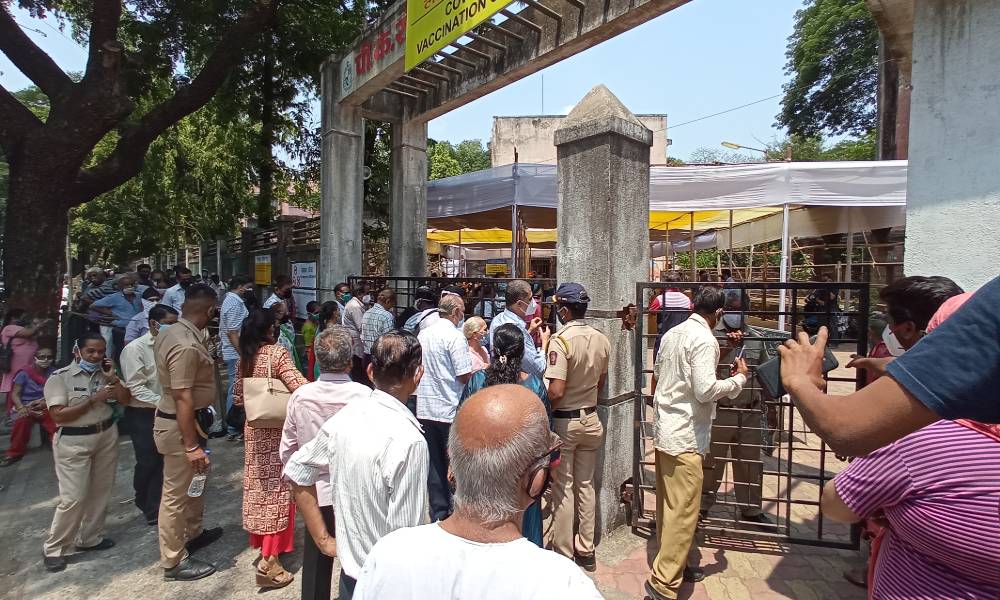 Sunil Janjal registered on CoWIN app on the 19th April, 2021 for himself and his mother. He was waiting for further communication from BMC since the last 15 days. As he didn't get any message he visited the vaccine center. "I was not aware that I was supposed to book a slot online. I only registered on the website and didn't get any further information about slot booking." The Attendant of BMC's T ward said that they are vaccinating only those who have taken their first dose. "I am not aware of what they are doing at the vaccination centre. Those who have booked the slot for the first dose of vaccination may have to book again in the next slot.
BMC had announced earlier that only 20 percent of the doses would be given to walk-in registrations. BMC officers have appealed to people many times to register for the vaccination and go to the vaccination centre only if they receive a message with time and date for the booked slot. Still people, who are unaware of how to register for vaccines or book for the slot, gather at the vaccination centre.
Digital divide makes the pandemic fight tougher
"Online registration?" asked Sona, who works as a domestic help in Ghaziabad, National Capital Region (NCR) district expressed surprise. She is not alone. A large population of this area has no awareness about the third phase of the vaccination drive, which has already started from May 1, 2021.
"We don't have the internet or smartphones, didi. I did not know we had to register online. In fact, people in my community were talking about walk-in registration of the vaccine at vaccination centres," she said.
The third phase of Covid-19 vaccination drive that started on May 1, 2021 for the age group of 18-44 years requires a mandatory online registration on the CoWIN application or portal. Walk- in registrations at vaccination centres are not allowed.
Sona also said that the fear of forced vaccination and its after-effects have seeped in her community.
Dr Suparna Popli, Chief Medical Officer (CMO) at Employee State Insurance (ESI) Hospital, said, "We came across similar taboo attached to the Polio Vaccine 25 to 30 years ago, as well.
Dr. Popli agreed that people ought to be informed about the vaccination drive. "In the first two phases of the Covid-19 vaccination drive, we helped a lot of 45+ people with their registration. But now, it's necessary for people to register themselves since it's mandatory for everyone."
Atul Dubey, a social worker who registered himself and his family for inoculation said, "It is important for every person to get vaccinated to curb the spread of the virus. I work towards bringing in the awareness by updating the local communities about the vaccine drive. Registering themselves is their decision."
"It is, I think, our responsibility too to inform people about the on-going vaccination drive," added Dr Suparna.
The World Bank in a 2018 report reveals that only 20.10 percent of the Indian population has access to the internet, However, data by Statista shows that internet penetration in India jumped to 45 percent in 2021, and another report says that only 42 percent of Indians had access to smartphones in 2020.
Walk-ins, better communication the need of the day
India started the third phase of the vaccination drive on My 1, 2021, but even before that glitches and inaccessibility have defined the process. Experts say that the government must move away from certain decisions.
"In the first phase itself we say that many people from lower socio-economic backgrounds were left out of the vaccine drive. It is sad that instead of learning from this lesson, the government is continuing to make online registration mandatory," said Dr Sylvia Karpagam, a public health doctor.
Onkar Kakade, Professor of Mass Communication Akkamahadevi University, said that the government should communicate vaccination related announcements effectively through all social media platforms. "Illiterate people are not aware of how to register, and the government should channelise the information in every corner of the society."
With inputs from Swati Rout (Odisha), Anirudha Yerunkar (Mumbai) and Nidhi Sharma (Ghaziabad).