People in home isolation, especially in remote areas find it difficult to get oximeters due to very high prices or unavailability amidst a devastating second wave of Covid-19.
DELHI: Neha Chaudhary, currently studying in the United Kingdom (UK), was trying to order an oximeter the morning her parents' health started deteriorating. Her parents live in Bulandshahr, a small city in Uttar Pradesh (UP), where most chemist shops had closed due to the lockdown.
Chaudhary said, "The oximeter I ordered took around eight to nine days to reach them. The chemist shops that were open did not have any oximeters. My parents were having severe breathing issues and they had no way of monitoring it." She had no other way of helping them as testing centres around the area had also closed down. "It was very uncertain since I was not even sure if it was Covid or something else," she added.
Saarang Narayan, another customer said, "It (now) costs around Rs 2,500 when normally an oximeter is priced between Rs. 300 and Rs. 400." Now, many oximeters are costing around Rs. 3000 to Rs. 4000 on Amazon and other online websites. As oximeters have become a staple for Covd-19 infected patients who are in home isolation, the sheer cost is making them inaccessible to many.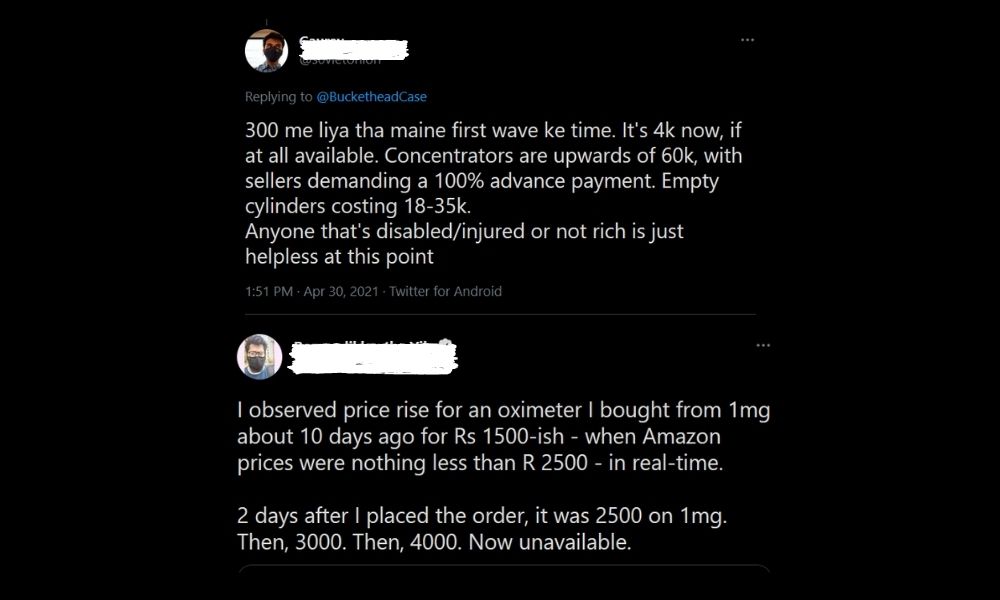 A pulse oximeter is a reliable way to measure a patient's blood oxygen level (SpO2), i.e., the oxygen that is picked by the red blood cells. Doctors have recommended that patients should approach the hospitals if the oxygen levels go below 90. A recent paper published in the journal Frontiers of Medicine, suggests that oximeters have a better chance of detecting infections in older adults than normal thermometers. Researchers found that more than 30 percent of older adults with serious infections show a mild or no fever due to lower baseline temperatures.
As the first wave saw a depleting stock of sanitizers and masks, the second wave is having the same effect on oximeters. Shankar, a chemist at the Monica Chemists, Neb Sarai, Delhi, said, "The demand for oximeters have increased by 90 percent. We are finding it very hard to meet the demand." He added, "As soon as the supply comes, it sells out." He said that the prices are fluctuating between Rs 2000 and Rs 3000 because of the uneven demand and supply."
Dr Sunil Chaudhary, who runs a clinic in Chhatarpur, Delhi, said, "Oximeters are very important for patients who have co-morbidities and are having difficulty breathing. It has been recommended so that the patients would know the right time to approach hospitals to stop overburdening the hospitals. They have to be used when you have no other option but to take care of yourself."
However, he added that people are panic buying which will not help anyone. "If the patients do not have any symptoms or are breathing fine, then the oximeters should not be continuously checked because it creates unnecessary panic." Dr Sunil added that hospitals should not have the responsibility to provide oximeters because it is not part of the treatment protocol.