Department of Information and Public Relations, Karnataka, maintains two trust funds and an Rs. 10,000-pension fund for journalists in the state which has had a few takers.
Delhi: They are always there, bringing you the scoops, the good stuff, the news. But who is there for them? "Though I am a crime reporter, I have been visiting all the ICUs (Intensive Care Units) and Covid-19 blocks and I am now covering health (based issues) as well because of the current situation. I have not been given any vaccination from the government or our company. So, we have to risk our lives," said Pooja (name changed), a Karnataka-based journalist.
Karnataka Journalists' Union has about 450 members from across the state. "In our union, about five journalists passed away due to COVID-19," Bhaskar Reddy, State President of the union said.  "Since we are affiliated with Indian Journalists Union, we asked that they write a letter to the Department of Information and Public Relations. Till now we have not received any help."
The Karnataka government's Action Taken report presented during the budget speech for the financial year 2020-21 noted that a scheme which previously allotted Rs. 50 million to Journalists' Welfare Fund has been "dropped".
There are two trusts that are mandated by the Karnataka government under the Department of Information and Public Relations (DIPR)–Working Journalist Welfare Trust Fund and Senior Journalists Welfare Trust Fund. Documents released by DIPR in 2018-19 noted that only eight applications were received for the former, while the latter only received a meagre four applications. These funds are an initiative by the Karnataka government for the welfare of the journalists in the state.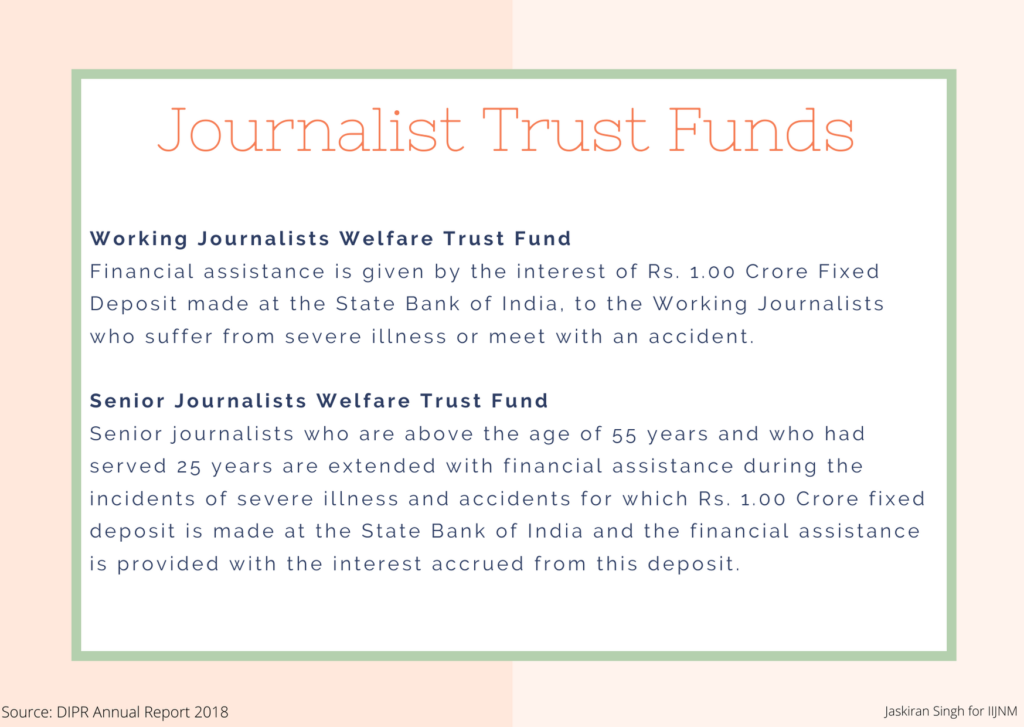 A lot of journalists blame lack of information for such low applicant numbers. "Most of us are not aware of any funds actually," said a Karnataka based journalist working with a national daily. He explained that journalists never know how to apply for these funds, or who is the nodal person for this or who takes the permission to get these funds; the details of the funds are not to be found anywhere.
Pooja explained that only some journalists are eligible for these funds since the definition of a journalist is different. A lot of online news platforms call their employees digital content creators rather than journalists. Given this discrepancy in the definition, many journalists, like Pooja, would not get any of the benefits meant for a journalist.
D.P. Murlidhar, joint director of press and news, DIPR said, "One has to deposit their documents to the Suvarna Arogya Suraksha Trust, a cashless health and medical facility which provides up to Rs. 5 lakhs per annum." Annual reports of DIPR also said that the department gave Rs. 253 lakh in 2017 and Rs. 196 lakh in 2018 as grants and further spent another Rs. 183.64 lakhs as expenditure on various activities related to welfare activities for journalists.
Shivananda Tagdur, president of Karnataka Union for Working Journalists said, "Last year, 31 journalists including cameramen, desk-people, reporters, etc, died from COVID-19. All these 31 families were given Rs. 5 lakh each from the government."
Dr. N. Dasharath, who specialises in labour law at University Law College, Bangalore University said, "The objective of The Working Journalists and Other Newspaper Employees (Condition of Service) and Miscellaneous Provisions Act 1995 is to only ensure conditions of services like wages, gratuity, Provident Fund (PF), etc. Under section 2(c), 'newspaper employee' means any working journalist, and includes any other person employed to do any type of work at any newspaper establishment."
He added that one has to create awareness about the funds mandetated for the welfare of journalists.