Women's apparel either has very small pockets or non-existent ones. Women have no choice but to find a bag to carry stuff that can fit in men's pockets.
Bengaluru: The size of the pockets of her jeans really annoys Pratheeksha. "If we're fighting for equal pay, we should also have equal pockets," she said. Pratheeksha wants the size of women pockets at par with those made for men.
The pockets made for women's clothes are often too small to keep anything in them or are not there at all. The Pudding researched 80 pairs of pants in 20 of the US's top fashion brands. The data showed that the women's pockets were 48 percent shorter and 6.5 percent narrower than men's pockets.
"The bigger pockets don't give a proper shape to the jeans so the brand keeps them short," said Dilip who works in a denim store in Orion Mall. Dilip picked up a pair of jeans with a tattooed arm and showed that if the pockets are made bigger then "they would disturb the shape of the jeans".
"Everything is ornamental as far as women are concerned and functional as far as men are concerned."

~Dr Sunalini Kumar
"Women prefer skinny-fit jeans and if you place pockets in them then they pop out and start making creases, these creases later tear the jeans from that area," said Kumar who works in a denim store on Church Street. He said that this kind of fitting is not preferred by the customers so the brand decreases the size of the pockets. When it comes to the jeans made for men, even the skinny fit is a bit loose so it gives space for stitching bigger pockets.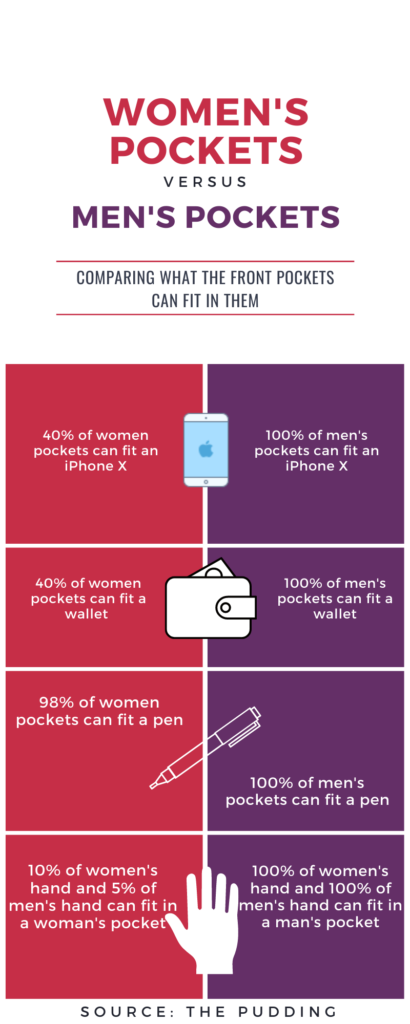 "I make it a point to buy loose-fitting jeans," said Pratheeksha. Loose-fitting jeans have bigger pockets so it helps in keeping more stuff. "I carry my phone, wallet, sanitizer, handkerchief, keys, and pepper spray with me." She said that since she buys loose-fitting jeans she gets bigger pockets.
"Everything is ornamental as far as women are concerned and functional as far as men are concerned," said Dr Sunalini Kumar, Associate Professor for Global Studies at Ambedkar University. "Women are assumed to be less mobile as compared to men. Men are considered to be more functional."
Ramya who works in an apparel showroom at Mantri Square Mall said that customers themselves ask for small pockets.
"The pockets on my jeans are always much smaller than the ones in the men's section, which is very impractical," said Anagha Kumara. "These can never fit my wallet and keys together and just because of that I have to carry an extra bag." Anagha finds this "very frustrating" and "a waste of the extra money that she has to pay for women's jeans."
"In terms of fashion, when apparel is made handbags are added to the whole outfit," said Astha who is a Fashion Merchandiser. Due to the handbags, the designers don't think about adding pockets to women's clothes. "In today's times, we have fast fashion. Fashion changes every 15 days so no one thinks about adding pockets to the clothes." There is a fashion cycle that the brands follow.
Astha said that when it comes to brands, "they think in colors and patterns". "Nobody thinks from the customers' perspective about what they want. So, they don't consider pockets as a necessity."
Brands look for fast fashion. So they don't want to invest more in making the product. "Adding pockets to the outfits increases the cost and the product goes out of budget, so brands skip adding pockets to the product," said Astha.
Many brands add pockets to kurtas and salwars, when it comes to Indian wear. A-line princess cut kurtas have two pockets, straight kurtas have a single pocket. "The brands make pockets in almost every kurta," said the salesperson working for an Indian kurta brand. "Customers want pockets, the sale of kurtas without pockets is a lot less than for those with pockets."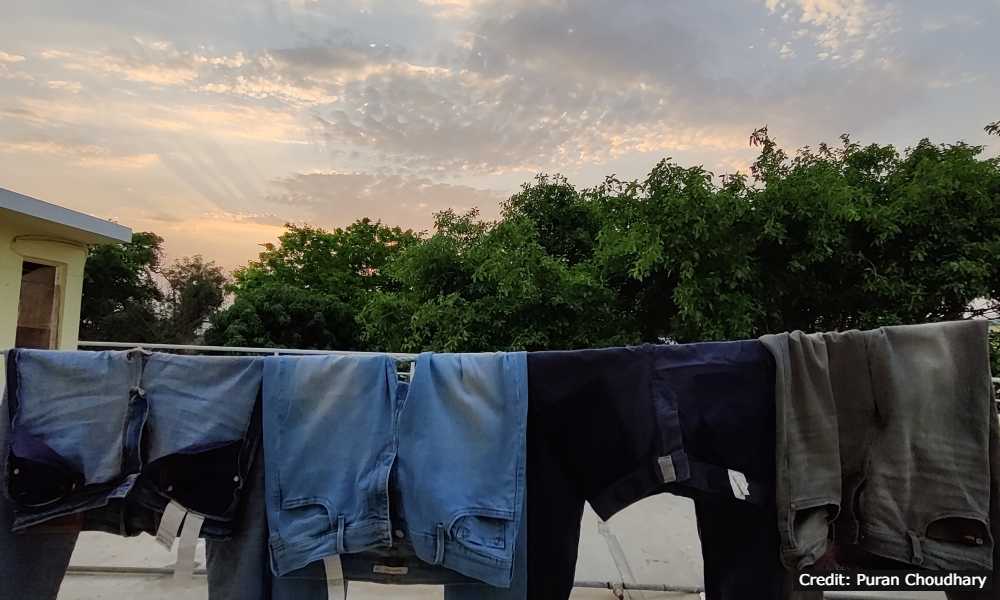 The customers are willing to pay more, all they require are functional pockets. The #WeWantPockets on Twitter gets many retweets daily. Women across the globe look for outfits that have pockets in them.
Astha said that if the product exceeds the budget, the brands choose to just give the look of a pocket on the denim jeans because that is more cost-efficient. It cannot be used for practical purposes but it is cost-effective. "A customer expects to buy a pair of jeans for $1. Adding a pocket to the pair of jeans increases its cost to $1.10. So, the customer accepts the look of the pocket so that the price does not go up."
"I sometimes want to carry a pen, but the stupid pocket isn't always deep enough for that," said Pratheeksha.
Dr Sunalini Kumar said that when it comes to women's fashion everything is made keeping in mind that women are going to be stationary. Be it a dupatta with suits, or pockets, they are there for fashion and are not practical. Even the shoes that are made for women are either beautiful or comfortable. But when it comes to men, beauty and comfort go hand in hand.
"It's not just about pockets in jeans," said Maheshwari, who wears traditional wear regularly. "In kurtas, skirts and most of the clothes, which are supposed to be comfortable, having no pockets in them makes them very uncomfortable to wear."