Bengaluru takes about 35 to 42 lakh trips everyday on Bangalore Metropolitan Transport Corporation (BMTC) buses every day, many of which are fraught with accidents.
Bengaluru: It was a narrow escape for Vinay Kumar who was crossing the road near K.R. Hospital when a BMTC bus almost took him out. "I was supposed to lose my life in this. I really had a marginal escape," he said. Two years have gone by and he still remembers the accident. "I don't know why but these drivers have a habit of stopping near other vehicles. You get a real palpitation attack early in the morning, as if you are going to be rammed by this bus," he added.
A Right to Information (RTI) reply from the BMTC reported that their buses were involved in 224 accidents in the year 2019-2020. Out of this, 48 accidents were fatal and 12 were reported as major. Major meant that they involved heavy damage to the bus and injury to people concerned, explained an official from the office of Chief Transport Manager, BMTC.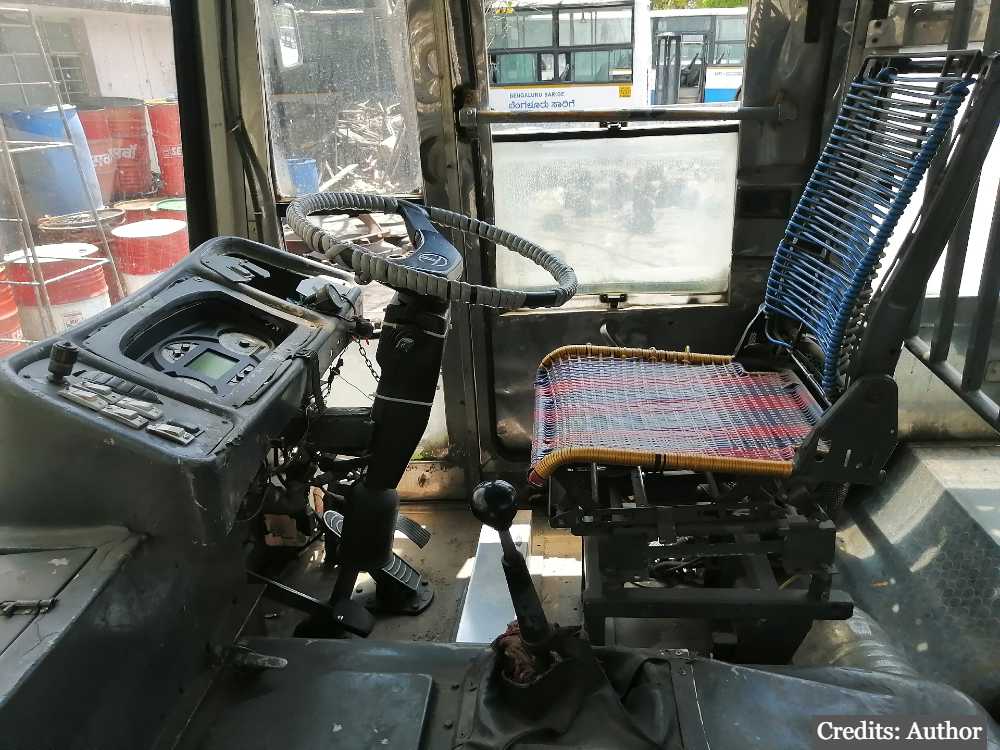 The Accidental Deaths and Suicides in India 2019 report released by the National Bureau of Crime Records noted that more than 9,000 people were injured and about 2,400 people lost their lives in accidents involving government buses.
Documents released by the BMTC noted a total of 286 accidents in the previous year. Under this, the North zone recorded the highest at 75 while the North-East zone recorded the lowest at 38 accidents.
"See, this has been an issue all through. This was always been the case with BMTC," said Vinay Kumar.
Whose fault is it anyway?
Wearing an unkempt uniform and a loose red mask, Jeelan Basha (42), a BMTC bus driver said, "Sir, I'll say one thing, there are tensions from family, and a driver does their duty in these tensions. He works in tensions and traffic, which comes from all directions."
"You know what," he said, "most of BMTC drivers don't even see the traffic signals, the car in front of them brakes and they have to stop abruptly. Two-wheelers usually come from the left in front of buses and brake, the driver brakes too."
Jeelan mentioned that in their depot about 90 percent of vehicles are all right while the rest 10 percent are not in a good condition. Jeelan's bus had wires coming out under the steering with most of his bus dashboard in tatters. He sat and drove for eight hours in a chair made of plastic strings. "You see this clutch pedal, it is so hard that it pains
my knee sometimes," he said.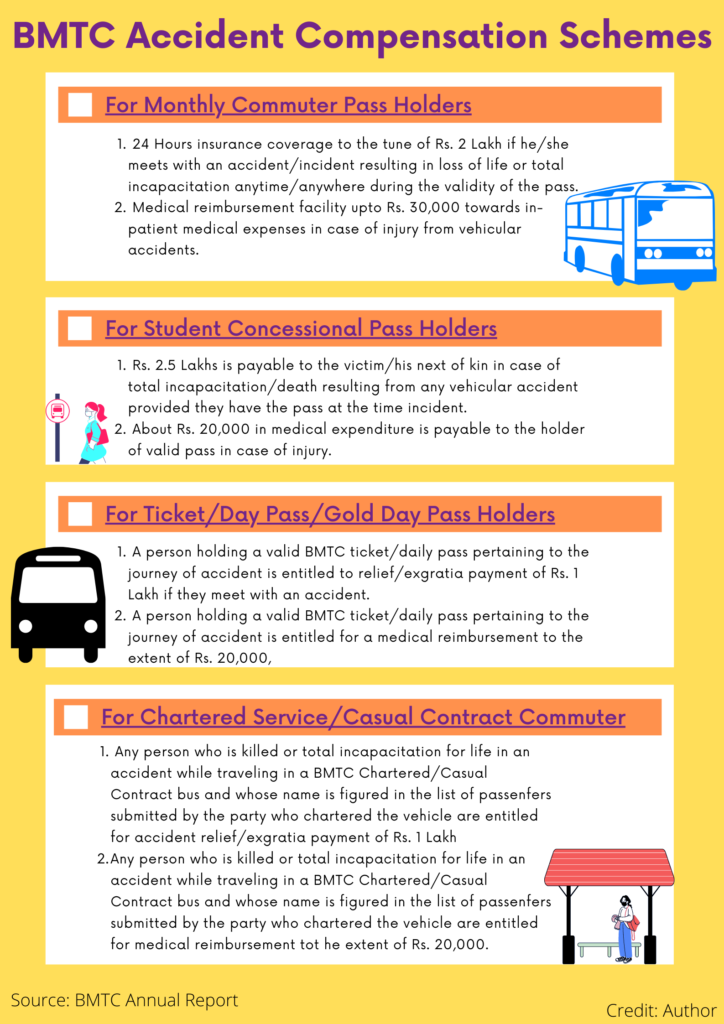 Sandeep Anirudan, founder of Agenda for Mobility said that the cause of these accidents depend on different factors. "One is driver training, and secondly the environment that they drive in, and of course, our roads, which are so poorly designed. So it's a mix of factors."
Shaheen from BBVP said that stress from their jobs might possibly be adding to the number of accidents. The drivers work on schedules that have not been updated against city's rising traffic. Similarly, the incentives that they get on achieving their revenue targets makes them compete with one another.
"Given the incentives they receive, they end up competing with each other which is really ridiculous. As a passenger also it is stressful for me as all this causes a lot of jerky movements. They (BMTC) need to look if this kind of incentivising is helping overall," she said.
Vinay Kumar said that he gets worried because of the erratic behavior of these drivers. He added that these drivers need more education and they need to be monitored.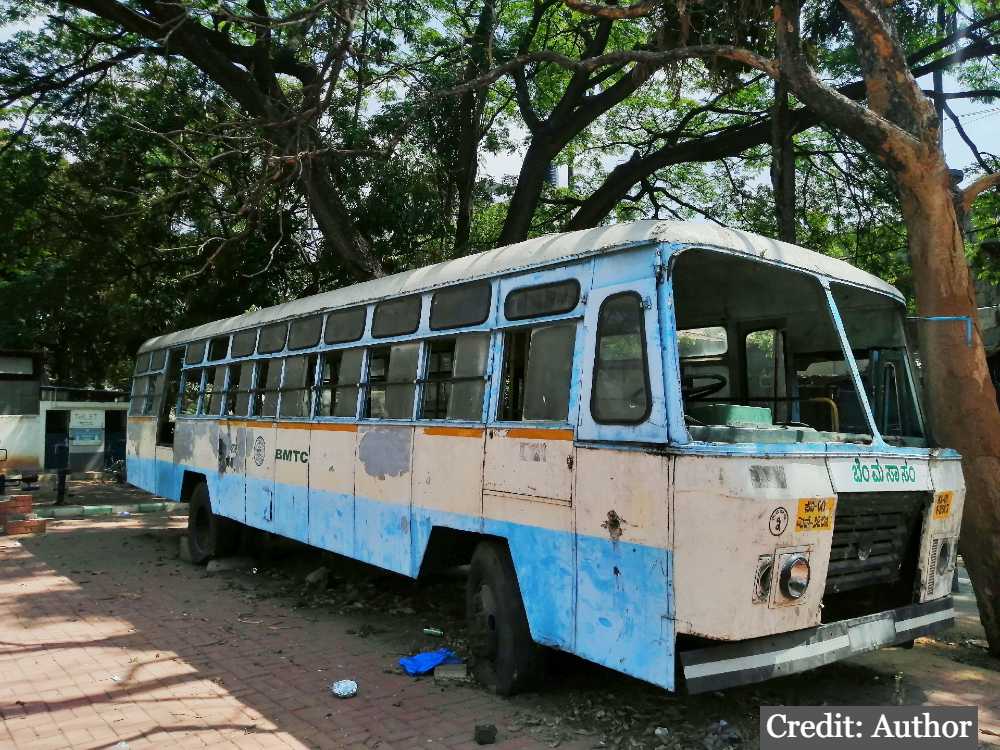 Sarathy Patrolling Squad, BMTC's internal discipline maintaining body, filed 48,140 cases against drivers, conductors, drivers-cum-conductors on grounds of traffic rules violation, drinking and smoking on the job, stopping behind/ahead of bus stops, and allowing males to occupy seats reserved for female passengers.
Of blind spots and bus lanes
Sunish Jauhari, founder of Concern for Road and Pedestrian Safety (CORPS) said that one of the issues with large vehicles is that they have a number of blind spots. A blind spot is an area of the road that can't be seen by looking forward through the wind screen or through the rear-view mirrors.
"The problem is that we can pin it on the bus drivers that they need to be aware of the blind spots but at the same time this also needs to go to the people who ride around buses and they need to be mindful of the blind spots as well," he said.
Jauhari mentioned that innovations like two-wheeler only lanes or bus only lanes can help as the moment one segregates heterogeneous traffic; one also brings down the possibility of a conflict between them.
"This does not mean that there won't be accidents, but basically the thing is that gravity of injuries and fatalities will be much lower. As then it will be minor injuries given the road behavior. Removing the conflict between larger and small vehicles is one proven way to reduce fatalities and injuries," he added.