Isolation and loneliness during Covid-19 have prompted older people to turn to technology, a skill that may stay with them long after the pandemic ends, in a bid to stay connected with their loved ones.
Bengaluru: Traveling around the country for work and interacting with people on a daily basis has always been a part of life for Captain Haridasan, a retired officer of the Indian Navy. Nothing prepared him for the loneliness that the pandemic brought into everyone's life. Haridasan is nearing 80 years old and wishes to be around the people he loves but the lockdown made it impossible.
"For us, senior citizen's loneliness during these times becomes the most depressing factor," he said. "Our movements were highly restricted during the lockdown, so going out to meet our friends and spending time with them was out of the question. Keeping in touch with our loved ones was difficult. Being new to the digital world didn't make it any easier," he added.
The crisis has affected every person differently. It has motivated the older generation to learn new technologies and embrace this new lifestyle.
Studies show that 70 percent of senior citizens who use the internet have bought something online during the pandemic, and 37 percent plan to continue doing so more frequently when it's over. Another study called State of Seniors 2020 by Antara and Access Media International revealed that almost 77 percent of seniors in India use their smartphones for messaging and chatting functions.
A survey by Agewell foundation observed that a majority of elders (59 percent) staying with their family still felt psychological loneliness and isolation. Dr. Jyoti Sharma, a psychologist, said that the stress which the pandemic brought affected the mental health of the senior citizens. "With daily interaction being cut off, it became very difficult for them to adjust to the new normal," she said.
But Dr. Sharma believes that connecting with friends and family via tech has actually helped the senior citizens feel less lonely and has benefited their mental health, and being digitally literate has made their life easier during the pandemic.
Little by little Haridasan moved parts of his life online by taking an online course that helped him keep in touch with his loved ones.
"While the lockdown could have been very lonely for me, I didn't feel as isolated as I was keeping in touch and interacting with people all the time," said Haridasan.
Time to turn to tech
As the whole country went into lockdown on March 23, 2020, founder of the digital platform The Social Paathshala, Mahima Bhalotia, started engaging more with the elderly folks and took classes to help them socialise virtually.
Captain Haridasan was one of the 300 people who signed up for The Social Paathshala. He recently conducted an online reunion session over zoom, which had an attendance of more than 50 people. "I didn't know where to begin or how to make it possible," he said. "But learning how to use the technology from The Social Paathshala has helped me make the event a big success."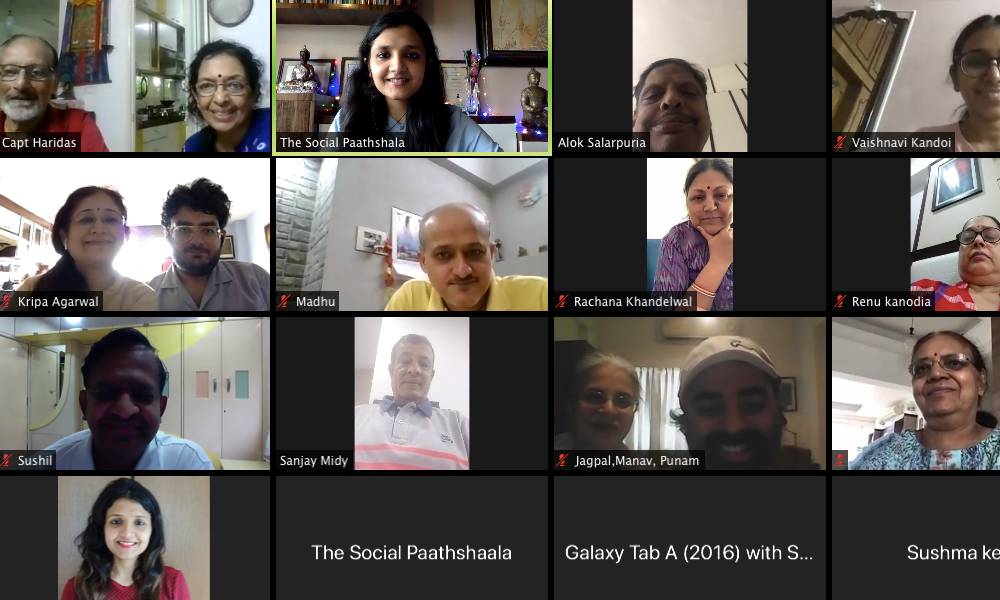 "For the older generation technology is a whole new language and world altogether. They have no idea how to navigate their way through the tech available to them," said Mahima. "There have been many who have had the tech but were never able to make use of it completely, as they had less to no knowledge about the interface, she added.
The Social Paathshala wasn't the only organisation offering such courses. Mumbai-based start-up Empowerji, founded by Aparna Thakker, also helps senior citizens navigate their way through the digital maze, from booking cabs to ordering groceries online, to using social media, with online and offline workshops.
The senior citizens in these classes have become good friends. The groups have become communities that help and support each other. "Joining these courses has pushed many to find social ties online," said Mahima.
Suresh Babu, founder, and CEO of Web Marketing Academy, thinks that these courses are a great initiative. "Making older generation digitally literate means making them more independent," he said. "This would also mean a new target audience for the digital platforms," he added.
Babu thinks that being digitally literate is not enough, and that website and tech creators also need to keep in mind the physical disabilities that come along with being old. "Website and tech creators should keep weak eyesight in mind and should make the font size bigger and also make tech more user friendly for the elderly," he said.
Haridasan believes that being digitally literate has made his life really easy during the pandemic, but he also believes that nothing can ever replace the touch and intimacy that comes with interacting with someone in person.