More city traffic policemen suffer from respiratory problems and lung functions says study by the Kempegowda Institute of Medical Sciences.
Bengaluru: Loud noises, sunlight and heat, work-related stress, dazzling high beams are some of the problems Sudhir (name changed), a traffic police constable, faces on a daily basis. "All, not only me, traffic police people are facing such problems," he said. He added that there are risks of lung problems and cancer due to breathing in vehicular emissions. Sudhir has been on the job since 2016.
A study published in 2020, conducted over a period of six months by the Kempegowda Institute of Medical Sciences on Bengaluru's traffic police, revealed that almost one-third of the 217 policemen surveyed had either one or more respiratory issues. Another 12.9 percent reported symptoms such as cough, wheeze, and breathing difficulty/chest tightness.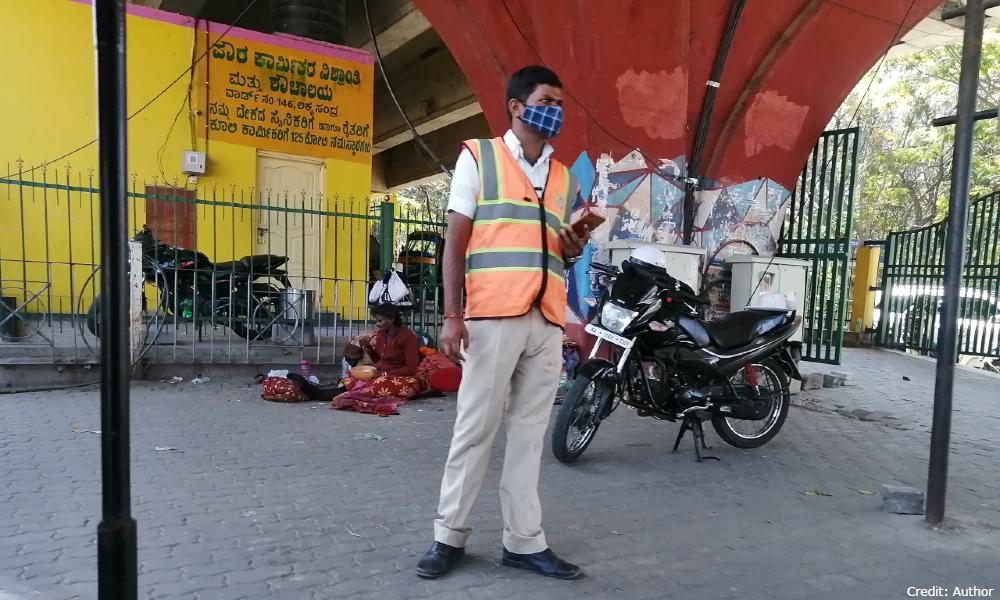 Hemalatha R., police inspector at the Adugodi Traffic Police Station said, "Masks are provided to us. These masks have a filter in them which filters all the dust particles." She also said the masks cause some problems while working as one has to shout and whistle on the streets. The study found that with respect to personal protective equipment, about 46 percent policemen used a mask and of these only 6.9 percent used a respirator mask while the rest used disposable tissue masks.
While the figures for air quality in January from the Karnataka State Pollution Control Board revealed the city's air to be in-between moderate and satisfactory, the study reported that emissions from the 7.5 million registered vehicles in Bengaluru add to the air pollution. The presence of gases such as carbon monoxide, sulphur, lead, etc. produced by automobile exhausts can lead to potential lung problems. Moreover, dust from constant construction activities too adds to the problem.
Lung issues just the tip of the iceberg
The eye camp at the Adugodi Traffic Police Station on March 12, 2021, had one doctor and two nurses who were busy arranging the testing equipment; Shiva Shankar, the logistics person arrived late to the show. The police officials on the other hand excitedly lined-up for their turns. They smiled and giggled as they took photos of their fellow officials.
Shiva said that the traffic police personnel need anti-reflection coated sunglasses to protect their eyes from the constant dust and sunlight. The study too reported that 15 percent of the individuals reported redness and watery eyes.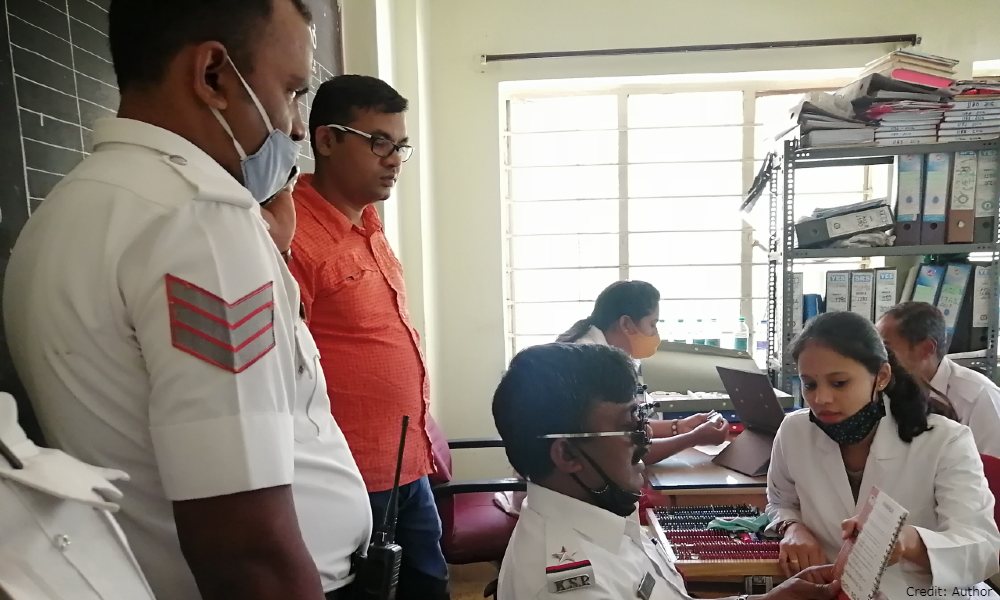 Hemalatha mentioned that apart from camps for blood pressure, diabetes, and eyes that happen from time to time, police personnel also have a yearly full-body check-up.
Officials at the Cubbon Park Traffic Police Station said that apart from dealing regularly with smoke and dust, they stand for long hours which causes knee, joints, and back pain. One official said, "During rainy seasons, we face a raincoat problem, they are not provided to us. There is a shortage of reflective orange jackets and sunglasses, too." He also said that they don't get to spend enough time with their families and can't take holidays as every day is a special duty for them.
Sudhir and his fellow colleague too agreed that supply of proper equipment has been an issue with the department. Naresh (name changed), Sudhir's colleague said that equipment issued to them does not come through regularly.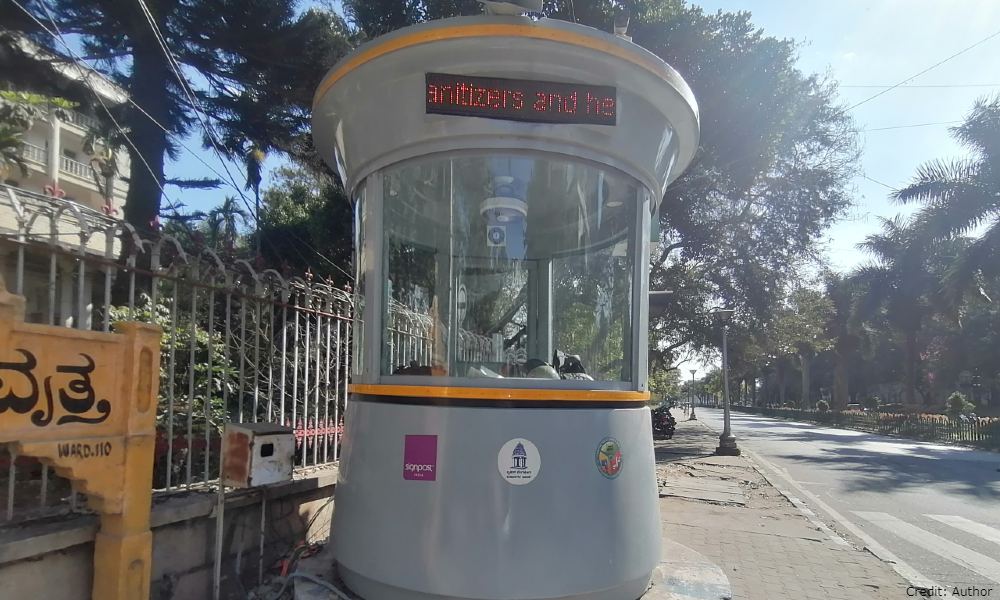 "We are providing service to the people, they think we are the enemy."

Naresh, Bangalore Traffic Police Constable
M.C. Kavitha, assistant commissioner of police, traffic east sub-division said one has to learn how to come up with ways to deal with the stress of the job. Disagreeing with the constables, she said that they received a donation of Rs. 4 million from various entities, and quality sunglasses were given to everyone.
She further said, "With this job, you have a good salary, pension, health insurance, and the respect from others and you cannot buy a raincoat for yourself? While the department is giving, one also needs to take care of themselves."
Early detection is key
Dr. Narendra U., pulmonologist at the Bangalore Institute of Respiratory Diseases and Sleep Disorders, said that dust and smoke affect the body differently. Smoke produced from vehicles, especially diesel engines which produce more particulate matter of 2.5 and 10 nanometers does more harm. "(Those inhaling) particles are susceptible to Chronic Obstructive Lung Diseases (COPD). They (police officials) are susceptible if they work for long hours in highly polluted environments."
He added that, "One should use only scientifically proven masks which have a filter. Usually for industrial and smoke exposure, there's a separate kind of mask."
Dr. Narendra recommended that early detection of symptoms and usage of preventive measures where ever possible. "Cops whose shifts are in highly polluted areas can be put on a rotational basis so that prolonged exposure to dust and smoke can be controlled," he added.