According to NFHS -5 data, 60 percent children were found anaemic in Bangalore compared to 50 percent in the NFHS-4 data.
Bangalore: The city has seen a 10 percent increase in anaemia among children below five years of age, shows the National Family Health Survey (NFHS-5), released by the Union Government in 2019.
The survey shows that the prevalence of anaemia amongst children in urban Bangalore has increased from 51.7 per cent to 58.9 per cent while in rural Bangalore, the number rose from 48.8 per cent to 60.8 per cent.
At the same time, the coverage by Anaemia Mukt Bharat, in Karnataka has gone down from 37 percent in 2017-18 to 28 percent in 2018-19.
Anaemia Mukt Bharat is run by the ministry of health and family welfare along with United Nations International Children's Emergency Fund (UNICEF) and aims to reduce anaemia prevalence in the country. It provides Iron and Folic acid (IFA) supplements, deworming tablets and spreads awareness about this situation amongst all groups of people.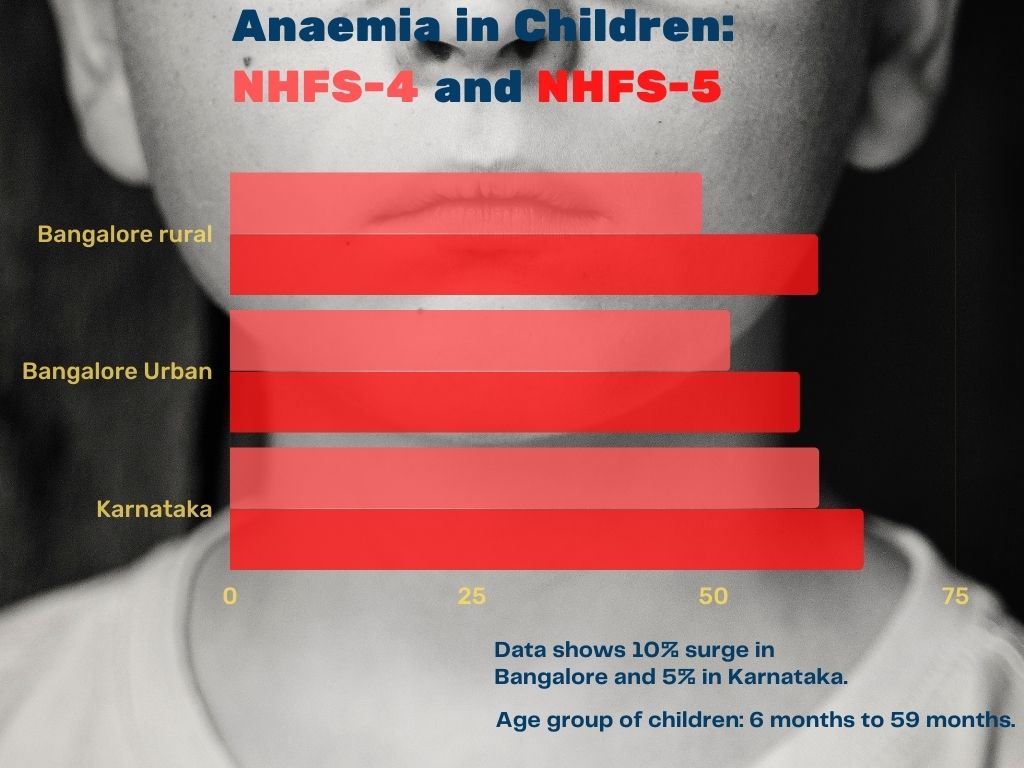 Program efficiency factors
"National Health Mission works towards supplying iron supplements for pre-school children. But that depends on the availability of these supplements from state to state. Program efficiency plays a major role in such distributions," said Dr K.R. Antony, Paediatrician and Public Health Consultant.
faced during the implementation of this program are demand forecasting, procurement, transportation and distribution, and warehousing and inventory.
Inhibitors
Citing different reasons for the increase in anaemia amongst young children, Dr Vandana Prasad, paediatrician and part of "Right to Food" campaign said, "Lack of dietary diversity is major cause of anaemia. Animal sources of diet are better source of iron than plant-based food but a large part of population can either not afford it or are vegetarian. Additionally, lack of awareness about this condition in children is also a factor."
Referring to the difference in food habits in different parts of the country, Dr. Antony, said, "Anaemia prevalence can also be an outcome of the common meal consumed in any area. Phytate content in Wheat and Rice are inhibitors of iron and other minerals' absorption.
Phytates or phytic acid is found in plant derived food like seeds, grains, nuts or legumes which impair mineral absorption in body. They are also termed as antinutrients.
Malnutrition, worms, malaria and TB
Causes of anaemia in children may vary from case to case. "Worm infestation is usually the cause of anaemia in children. Deworming medicines are helpful in such situations. Another factor is malnutrition. Fatigue and inactivity are major symptoms in children," said Dr Kaushal Kant, associate director at Fortis Escorts Hospital and former doctor at All India Institute of Medical Science (AIIMS).
"Prevalence of malaria in children also leads to severe anaemia, same goes with Tuberculosis," said Dr Antony.
Malarial anaemia is an outcome of rupturing of Red blood cells (RBCs) and their suppressed production. This condition can also result in severe morbidity and mortality, especially in children. On the other hand, anaemia due to TB is due to malabsorption, nutritional deficiency, suppressed bone marrow and lack of iron utilization.
Karnataka had been fighting an extreme figure of nearly 60 per cent anaemic children. Recently, this number went up to 65.5 per cent. Previously, the state has been given a target to reduce its anaemia cases by three per cent ever year till 2022 by providing required supplements to vulnerable groups and implementing necessary programmes to reach the country's goal. Instead, the number has gone even higher.