BMRCL's failure to communicate effectively causes inconvenience to passengers.
Bengaluru: The man in the blue and white checkered shirt slumped on to the seat he finally got and dropped off to sleep, comfortable in the knowledge that his destination was seven stations away. He was in for a rude shock.
Just minutes later, he was woken up by a security guard. "Hello…sir…hello," the guard said, "this is the last stop, please come out."
"Did we reach Silk Institute already?" the man asked, confused. "Yelachenahalli, sir. Last stop," the guard answered. The man stumbled out only to find out that he had to wait another eight minutes for the next train to take him to Silk Institute Metro Station.
The confusion ensues
The man in the checkered shirt, like many others at that platform, was unaware that every second train that leaves Nagasandra terminates at Yelachenahalli instead of Silk Institute.
Confusion and lack of information amongst staff members are causing inconvenience to passengers. Sharon, who lives just two kilometres away from Silk Institute Metro Station, said that she rarely completes her journey from Majestic to Silk Institute seamlessly. "I always get into the wrong train. They don't even make announcements, and no one has the correct information," she said.
"From Monday to Friday, between 8:30 a.m. and 11:30 a.m., and between 5:30 p.m. and 8:45 p.m., every alternate train terminates at Yelachenahalli," Shilpa, a security guard at Yelachenahalli Metro Station, said.
Netrawati, another security guard at Yelachenahalli Metro Station explained that this happens because the number of passengers travelling towards Nagasandra is greater than the number of passengers travelling towards Silk Institute. "It is just to ensure that we cater to the needs of more and more commuters efficiently," she said. "Commuters should look at the display boards or check the destination displayed on the front of the train before boarding it," she added.
Shilpa and Netrawati are two of the very few employees of Bangalore Metro Rail Corporation Limited (BMRCL) that know about this issue. Security guards at Platform 4 of Majestic station say that every train terminates at Silk Institute station only and that passengers should catch the first train they can get.
Hrithik, a customer care executive at Silk Institute Metro Station couldn't believe that trains terminate at Yelchenahalli. "Why would it end there? It must be a one-time thing that happened some time because of some technical issues," he said.
The maintenance conundrum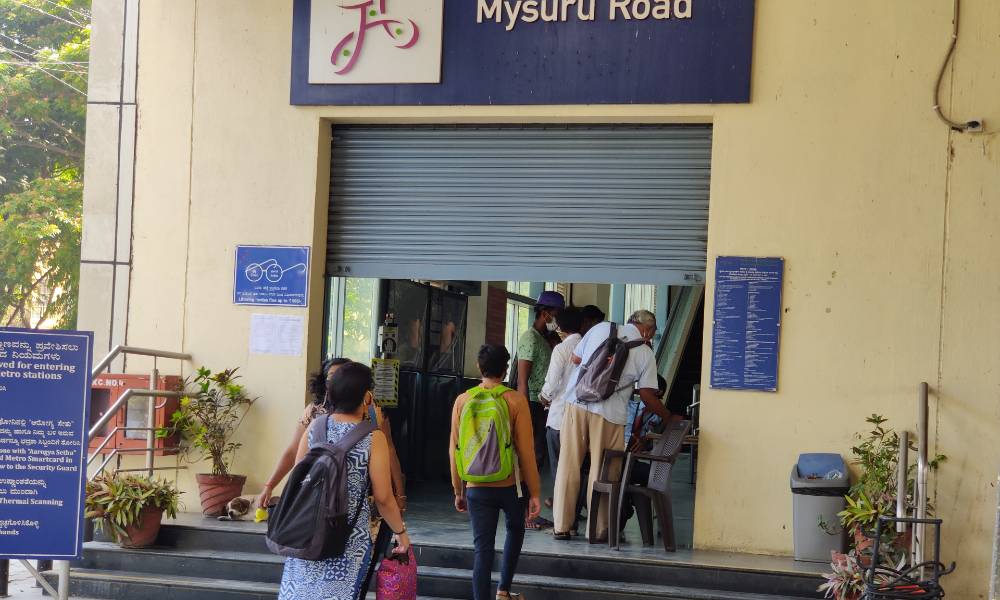 Pramila woke up early and got ready to reach Mysore Road Metro Station as usual. She walked up to the entrance only to be stopped by the security guard. "The metro is closed for maintenance. How was I supposed to know this?" she asked. "They should at least make announcements, how else would the passenger know," she said, opening up the Ola app on her phone.
Babaji Patil, the security guard who turned Pramila down said, "It is all over the news, but people just don't see. And I'm sure they might have announced this at Majestic station. We have also put up notices to inform them," he said, pointing towards a pillar 70 metres away from the main entrance.
Even though the news was carried by a majority of newspapers and television channels, many passengers still arrived at the station because they didn't know.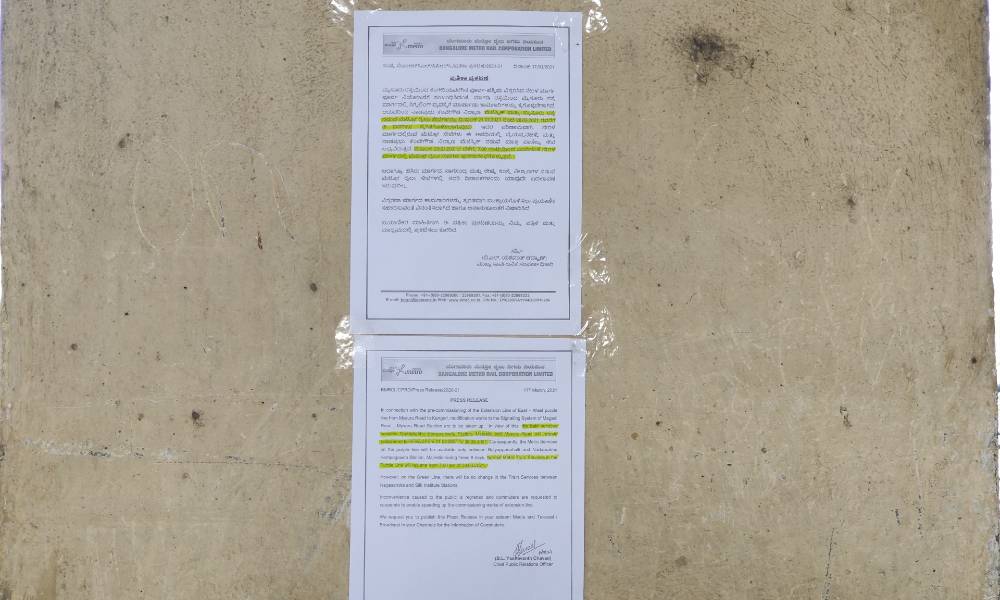 BMRCL's Facebook page has 1,787 followers, and its Twitter page has 17,800 followers. Its last post on Twitter was on March 24 informing about the resumption of Purple Line metro services. Before that it only posted on March 12, giving updates about construction, and on December 10, 2020 sharing some notice. Namma Metro's social media reach is quite less as compared to Delhi Metro Rail, which has 21,339 followers on Facebook and 2.30 lakh followers on Twitter, on which they post content at least thrice in a day.
"You can take the horse to the water, but you cannot make him drink," Ravi Prakash, Senior Manager, Public Relations, BMRCL, said. "We take all measures to inform people – we send out press releases which are carried by all English and Kannada newspapers, all TV news channels, and even by radio channels," he said. He added that they even make announcements to inform people. "People are busy with their phones and don't know what is happening around them, we cannot do anything in this case," he said.
Crisis Management
"When there is a crisis or some operational changes, BMRCL struggles to communicate with the public," Kumaran, co-founder of Broadnection PR Agency, said.
Apart from training employees to provide the correct information to passengers and making regular announcements, he suggested that BMRCL should upgrade their social networking strategy so that information reaches the masses efficiently. "We cannot blame the public for not keeping a track of what happens with their transportation. All information should be available at their fingertips," Kumaran said.
"BMRCL's communication channel is very strong in the sense that they send out press releases almost regularly and ask the media houses to disseminate the news," he said. "But they should keep in mind that their communication efforts don't become a mere PR strategy. It should be a medium for sharing information," he added.