With sports events resuming across the country, smiles and wheelchairs are back on the courts with a smash.
Bengaluru: The crowd in the stands went 'Woohoo' as soon as the player on wheels smashed the ball. Claps and hoots cheered the player up and he pranced in the court of the Karnataka State Lawn Tennis Association (KLTA) in his wheelchair. He claimed this victory after a long wait during the lockdown.
The announcement of three wheelchair tennis tournaments by the All India Tennis Association (AITA) in Bangalore, Chennai, and Hyderabad brought back smiles on the faces of players on the courts.
The first ranked wheelchair tennis tournament happened back in 2016. This was after years of convincing the AITA for promoting sports for the disabled in India. However, para-athletes continue to struggle in gaining recognition and funding for their basic requirements.
In the Union Budget 2021, the centre allotted Rs. 2596.14 crore to the sports ministry. Whereas, the previous year, the amount allotted was Rs. 2826.92 crore. Instead of increasing the funds, it was reduced by Rs. 230.78 crores.
"The players need support from the government. More funding from the government will help in better equipment and hence better training and performance. We don't have many coaches in the country, who can train wheelchair tennis players," said Coach Ramesh, who currently trains the para-athletes of Karnataka.
"India has not been able to represent itself in international tournaments like the Asian Games, Paralympics and All Grand Slams. This is why these players are not recognised. Flag holding tournaments are extremely important for each and every player. If the chance of doing so is withdrawn, players can't be motivated to perform better," Ramesh added.
The Department of Empowerment of Persons with Disabilities had no mention in the Union Budget Speech. The funding for this department for 2020-21 was Rs. 1325.39 crore. In 2021-22 the funds came down to Rs. 1171.77 crore.
Sunil Jain, founder of the Aastha foundation which works for individuals and communities said that nine tournaments were conducted in the country before lockdown. "Four tournaments were in Bangalore, three in Chennai and two in Hyderabad."
Sunil is the chief enabler of Indian Wheelchair Tennis Tour. This is an initiative of the Aastha foundation which conducts AITA ranked wheelchair tennis tournaments. "The funds for these tournaments come from donations and contributions," Sunil said.
"I'm glad to be here for the week-long tournament as we all were waiting for this since long now. After months of staying at home and working, we needed this time for ourselves," said Suresh Kumar, a wheelchair tennis player from Tamil Nadu.
Prathima N. Rao, a national para-athlete who's identified as the top national women wheelchair tennis player by AITA said, "Playing for India, internationally is a goal for many. But we need a lot of training and better equipment because the level of game is different altogether. A wheelchair that we use while playing on the court, costs in lakhs of rupees. Costs of other equipment and training are additional."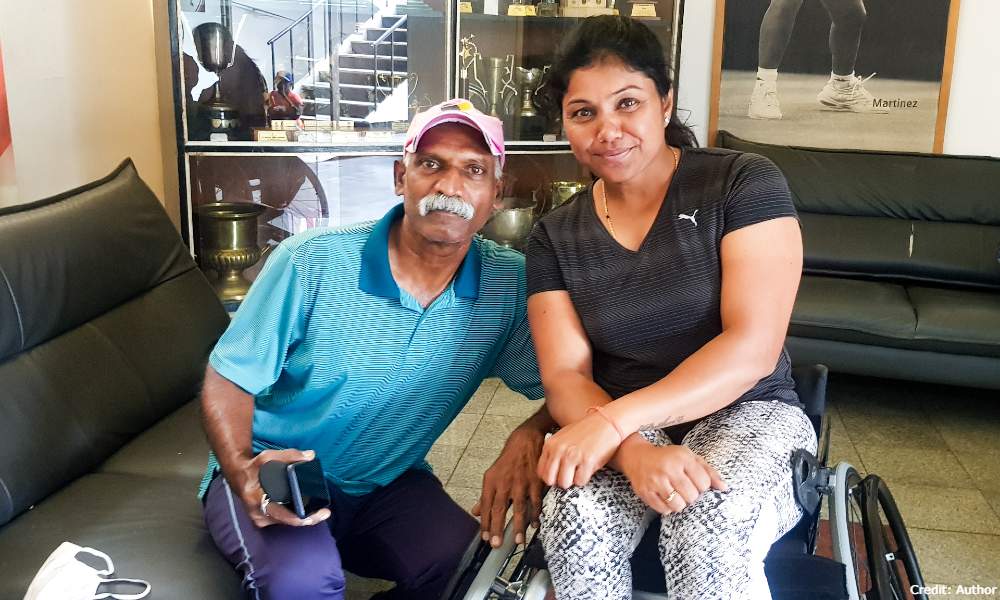 Coach Ramesh is the only one who trains these athletes in Karnataka. There are only eight coaches in India who train disabled tennis players.
"We need more coaches for disabled tennis player as the training for us is different from normal training. As individuals, we have to manage a lot of costs. We also pay the entry fee and travel charges. We don't expect a 100 per cent support from anyone. But some subsidy or facilities will motivate us and help us to grow," Prathima added.
A.L. Janardhana, deputy director of programs of the Association of People with Disabilities (APD), said, "The funds allotted to the Sports Ministry are low. Disabled people are anyways neglected in our country. Look at other things wherein the disabled are not given social inclusion like religious places, schools, colleges, restaurants and many more places."
"There are very few places which can be categorised as disabled-friendly. Several courts, stadiums and training centres are not disabled friendly. There's a long way for improvements for this section of the society. More attention should be paid to them," he added.