A dearth of cost-effective pet relocation services has separated many pet parents from their pets.
Bengaluru: Siddharth, a software engineer at a start-up in Bengaluru, was delighted to find companions who made him feel less lonely when everything around him came to a standstill during the nationwide lockdown.
Ginger and Garlic, two kittens he adopted in April 2020, filled his life with happiness. Little did he know that they were meant to part ways.
When he shifted to his hometown, Bhilwara, temporarily due to work-from-home, he had to leave his kittens with a friend. "There was no direct Air India flight from Bangalore to Bhilwara. The trains weren't operating. Lockdown restrictions were just beginning to ease. That's the best I could have managed," Siddharth said.
He hoped to reunite with his beloved kittens on returning to Bengaluru, but his hope was short-lived. "My friend tried to take care of them, but he couldn't manage it. He gave them up for adoption," he added.
Siddharth is one of the many pet parents who have had to separate from their pets due to a lack of pet transportation and relocation services in India. The few options available are expensive. "Not many people have the kind of money it takes for keeping your pets in boarding or arranging for relocation services," Toni Freer from Haven Animal Welfare Trust, Bengaluru, explained.
"It costs anything between Rs. 25,000 to Rs. 90,000 for relocating pets to different cities in India," Ankur Singh, marketing head at Carry My Pet, said. He explained that relocation services operate through ground shipping (via road), railways, and airplanes. "In India, only Air India allows pets on board. The problem arises when pet parents request us to relocate their pets to tier-2 or tier-3 cities like Jamshedpur or Ranchi," he said. "These places, generally, neither have direct flight connectivity nor pet-friendly flights, so relocation by air becomes nearly impossible," he added.
The best option in such cases is to transfer pets by road. "But it is the most expensive relocation service," Singh said. "Large distances, combined with the price of fuel and the travel time makes it very costly," he added.
Even if someone can afford to pay for the relocation of their pet, many things like a crate for the pet have to be arranged. Singh explained that the crate has to be customised depending on the size of the pet. "It must have enough space for the pet to move, along with proper ventilation," he added. The cost of crates varies between Rs. 4000 (small size) to Rs. 18,000 (giant size). This adds to the cost of pet relocation.
Travelling long distances, either by flight or by road, also exposes pets to health risks. "It is important to get them used to being in the crate for long hours. Many pets become anxious inside a crate which can result in health complications," Dr. Lohith from Bangalore Pet Hospital explained. Pets might also suffer from travel sickness like vomiting and drooling anxiety.
Pet parents try to turn to pet boarding centres for taking care of their pets when they shift to a different city for some time. But these centres aren't pocket-friendly either. Sanjay from Tailsmile, a pet boarding facility in Bengaluru, said that they keep pets for as long as the parent pleases. "They just have to pay a minimal amount of Rs. 600 per day while they're away," he added.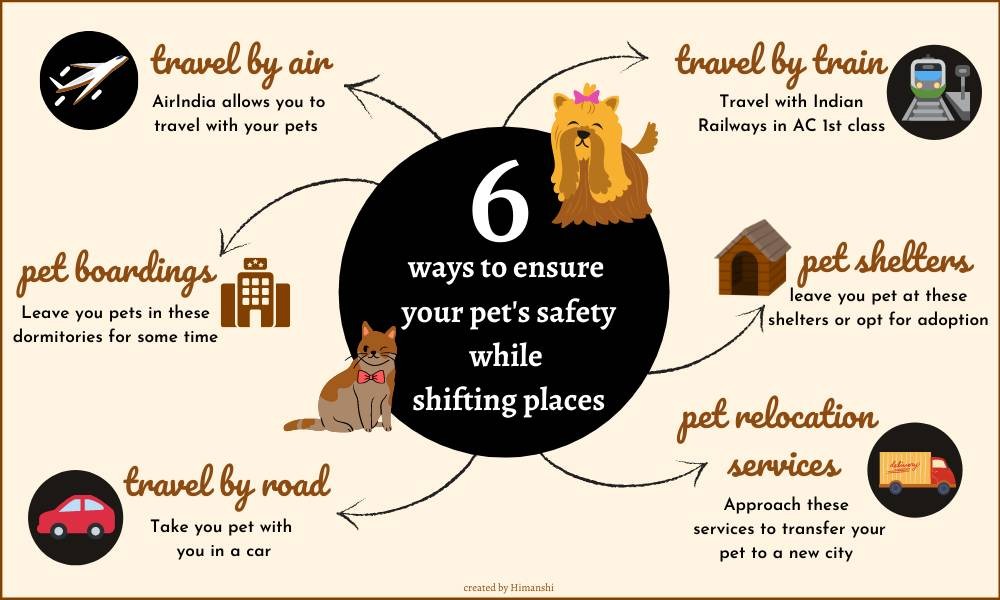 People can try leaving their pets in shelter homes if they can't afford the travel expenses. "Ultimately, you are separating from them," Freer said. "Pets go through a lot after separating from their owners. They get depressed, stop eating, and even try to run away from shelters. It is best to find new parents for your pet so that they get a new home and don't go through such pain," he added.
The many challenges with a few available pet transport services have broken bonds. Freer suggested that pet parents consider travelling with Indian Railways as it is the most cost-effective service available. People can take their pets along while travelling in AC 1st class. "The maximum amount they will have to pay would be around Rs. 10,000," he said. He also suggested that one must look for pet relocation services or NGOs willing to assign a person to travel with the pet. "That way, one can negotiate and only pay for the accompanying person's ticket," he added.