Eight out of the 10 noise monitoring stations spread across Bangalore recorded decibel levels above the permissible limit.
Bengaluru: The constant honking at a traffic jam, sounds of modified bike silencers, commotion of jackhammers and cranes working round the clock. All of this keeps the city awake as noise pollution levels stay constantly above the allowed limit.
Noise monitoring stations located at the silence zones of Indira Gandhi Institute of Child Health (NIMHANS) and RVCE, Mysore road recorded almost a 60 percent increase in permitted decibel levels allowed during night time, shows noise pollution data of November 2020 released by the Karnataka State Pollution Control Board (KSPCB). During the day, i.e. from 6 am to 10 pm, the stations recorded about 15 percent increase in the allowed limit. A silence zone is defined as 100 meters of area around hospitals, educational institutions, courts, etc.
At NIMHANS, the monitoring station recorded minimum and maximum levels of 21 decibels (dB) and 92.9 dB respectively, during night time; the allowed limit is 40 dB. Day time levels are somewhat the same at 18.8 dB and 93.6 dB; the allowed limit is 50 dB.
"Continuous exposure to noise pollution can eventually lead to a hearing problem. Apart from that, it affects concentration levels," said Dr. Fasihuddin Ahmed, E.N.T. surgeon and general physician. He added that in rare cases it can also lead to cardio-vascular problems. A research paper written in 2017 noted that noise pollution affects the general health and well-being in the same way as chronic stress. The World Health Organization (WHO) reported that high decibel levels also lead to disturbances in mental health.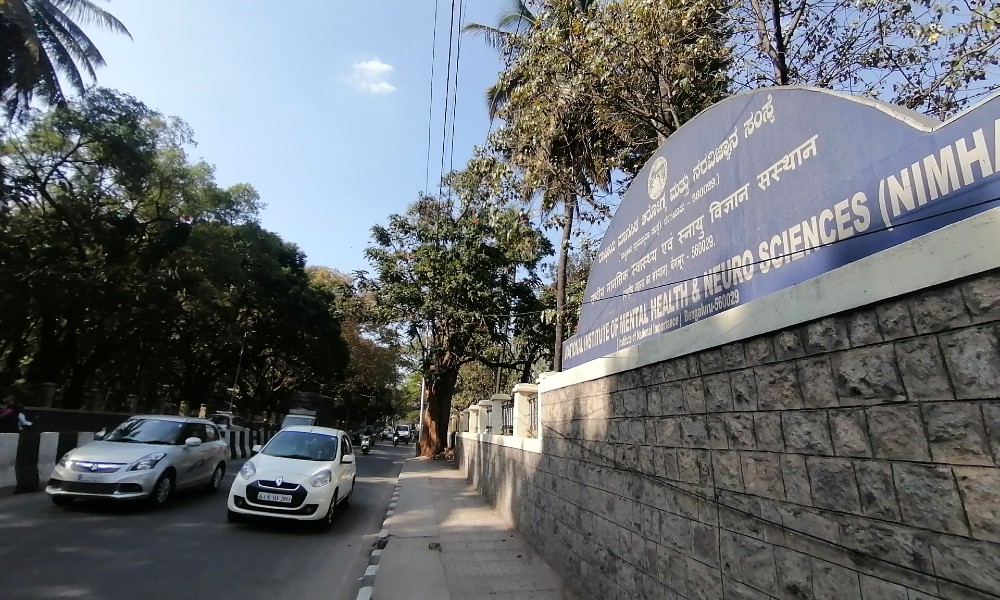 Abhishek, an employee at a sweet shop next to NIMHANS, complained of a headache because of the constant noise and dust pollution outside the shop. "I feel irritated whenever there is a traffic jam," he said.
Chandan Kumar, Public Relations Officer (PRO) at NIMHANS said that conditions today are better than what they were two months ago when there was a traffic signal here. He added that both the classrooms and Out Patient Department (OPD) are located away from the road outside; daily working at the hospital has not got affected.
Of the three residential areas monitored by the KSPCB, decibel levels in November were higher in two, but in check in the third. Domlur saw an increase of about 53 percent higher than normal while in SG Halli, levels were 13 percent higher than normal. Only BTM Layout saw decibel levels in check.
Mr. Venkatesh Shekhar, senior environmental officer at the KSPCB explained that today a silence, residential, or a commercial zone is no longer that specific zone. "If authorities concerned are allowing mixing of different type of activities then how can anybody ensure to contain one type of pollution in one zone? For example a church or hospitals (which belong to silence zones) are next to residential/commercial areas. Then compliance is not possible," he said.
The Noise Pollution (Regulation and Control) Rules, 2000, which controls and regulates noise produced, noted that horns cannot be used in silence zones or during night time in residential areas except during a public emergency. Similarly, the rules stated that a loud speaker/public address system can only be used after obtaining a written permission from the authority concerned.
The rules have also appointed a district magistrate, police commissioner or any other officer not below the rank of deputy superintendent of police of an area to make sure that different noise standards are being maintained. High decibel levels not only affect humans but also impacts the wildlife too.
Professor Krishan Kumar, School of Environmental Sciences at Jawaharlal Nehru University explained that for birds, communication through vocalization is very important. He said, "In urban situations, given that decibel levels are so high, there is a masking effect on the vocal signals released by the birds. These acoustic signals in birds are very important for a variety of reasons. For example, if they want to advertise about food, they'll make a specific call, or if there a predator or even to attract a mate, they would make a call." Since, not all birds can adapt to harsh city conditions, noise pollution can lower their populations, he added.