"We work for 15 days every month now," says the customer care staff employed at Namma metro stations.
Bengaluru: If you think that the no-cash policy of Namma Metro is only impacting you, think again.
With the discontinuation of tokens and cash payment after the reopening of Namma Metro train services in September 2020, it has become harder for the customer care and tickets counter staff to sustain their income.
After the implementation of the no-cash policy, there's not much work to do for Sridevi, a customer care staff member at Mahatma Gandhi Road Metro Station. "We're called on alternate days now, around 10-12 days every month," said Sridevi. "My income is now decreased from before the lockdown, to Rs. 4000 per month." 
On the other hand, the workload has increased for Shrishail, the security in-charge at Mysore Road Metro Station.
He believes that the no-cash policy is still the better option. "It will stay like this. The passengers have anyway increased now."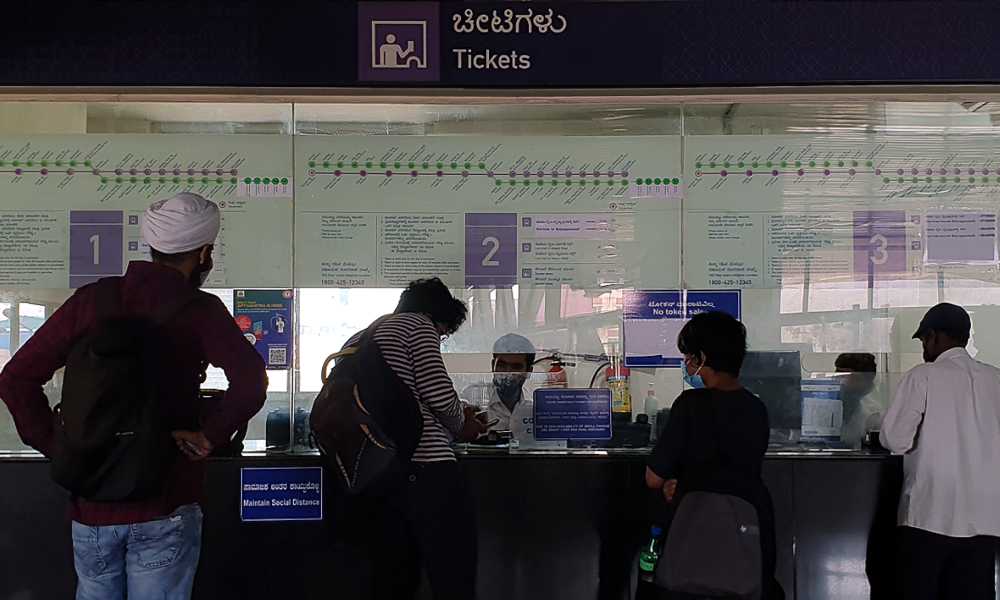 Namma Metro has recently seen a growth in the number of passengers. Bangalore Metro Rail Corporation Limited (BMRCL) had recorded a high ridership of 1.2 lakh passengers on December 14, 2020. It was the first time it crossed the one-lakh mark after recording the previous highest daily ridership of 84 thousand passengers on November 30, 2020. The highest daily ridership now stands at 1.4 lakhs as on January 30, 2021.
Despite the rise in ridership, employees like Saraswathi, a ticket counter cashier, have been dealing with the brunt of the department policies.
Saraswati now works every alternate day — handling the whole counter by herself; thus dropping her working days to only 15 days a month. Her income, as a result, has fallen from Rs. 15,000 a month to just Rs. 7000.
"The system before the no-cash policy was better," she said. "There were more customers then and even my income was higher."
"This is only happening because of the COVID-19 protocols," explained Ravi Prakash, Senior Manager, Public Relations, BMRCL. "We're following the SOP guidelines given by the government. We're already seeing a rise in the coronavirus cases again, and measures like alternate work days are the only precautionary way to go." 
He added, "This problem will easily be solved once the token system comes back, and that will only happen once the pandemic is contained. Everything will hopefully go back to normal then."
"Wherever there is development, there is destruction," said Mr Veer Badra Singh, a Delhi-based Economics professor. "Both work hand-in-hand. In case of the no-cash policy, structural unemployment comes to play." "When the policies bring digital advancement to the forefront, people lose income. The shift from 3 workers to even 1-2 workers at the Namma metro's ticket counters reflects the same." 
"The government should discourage structural and disguised unemployment. They must introduce alternative employment opportunities to the jobs lost," he added. "Moreover, one mustn't implement a digital policy in its entirety in a country where there's still more than 30 percent illiterate people."