Shopkeepers have found a way to deliver products to their customers at their doorstep using online means.
Book stores and stationeries in Bangalore have been struggling to cope with losses of more than 50 per cent since the onset of the pandemic. To this battle, rise in online shopping has added its bit. Padamaram, a retailer from Rajasthan, runs a book and stationary shop, Diamond book store in Chickpete, Bangalore since the last 10 years. "Offers provided on these online platforms due to direct partnerships with firms have led to buyers shifting online, instead of retail shopping," Padamaram said. "The chain of retail selling business is comparatively long. Hence, the prices are comparatively higher, which is eventually out of our hands," added Padamaram. The chain includes various participants (wholesaler and distributer.) The price rises at each step of the business. The product become more expensive than those on online platforms by the time it reaches the seller and the buyer.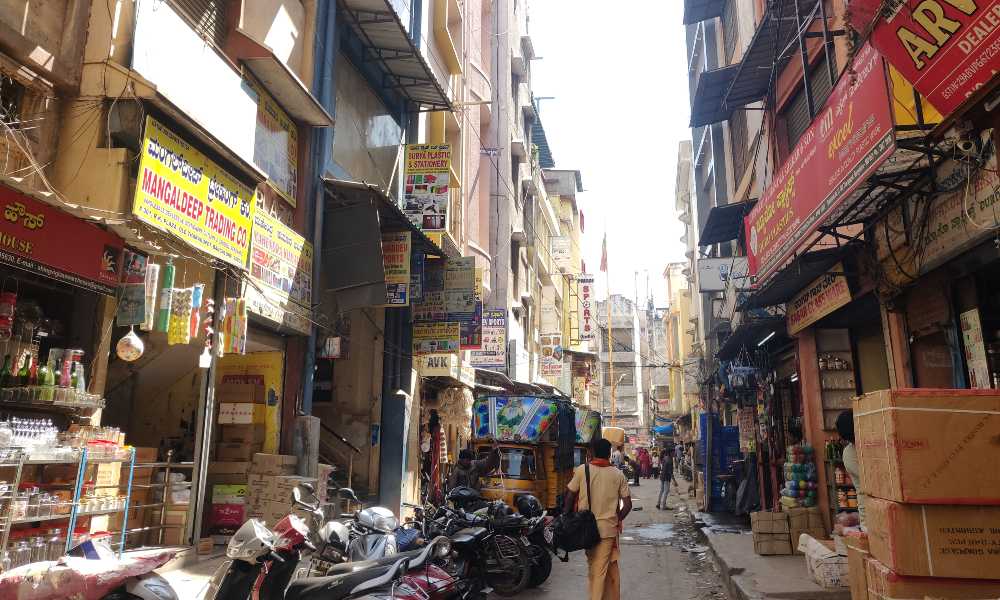 Modaram, a shopkeeper at a stationary outlet "Lakshmi stationaries" at Avenue road, Bangalore, revealed that apart from about 40 per cent loss since the pandemic struck, he has been facing an additional 25 per cent loss due to his customers diverging to online buying. His daily customers told him they had switched to online shopping since the pandemic.
"In a country like India, there had always been more number of buyers preferring local sellers for their needs and necessities. But the schemes and discounts online modes offer have been attracting a huge proportion of buyers, especially since they caught much of their attention after the pandemic came into play," explained economist BM Kumaraswamy, based in Bangalore.
Krishna Gowda, the owner of "Book Worm" book store at Church Street, Bangalore also faced an equal amount of loss (approximately 50 per cent) since the pandemic. "The loss incurred in these circumstances will at least take a year or two to cover up," he said. Although, he said that online platforms do not seem to have affected his sales. The special edition books that he sells at his store are usually priced very high online. Additionally, he started delivering books to his customers through online delivery options like Dunzo, which made his business easier as well as helped the customers.. Although he faced 50 per cent loss amid the pandemic, his sales increased by at least 20 per cent through online delivery. Previously, online delivery constituted only 10 per cent of his total sales. But now, as much as 50 per cent of his sales are through online delivery.
He also said that his bookstore offers customers to return their books in exchange for half the price which also attracts buyers.
Ishita Raghav, who has recently started purchasing books online said, "It's difficult to go out these days seeing the rise in Covid-19 cases and the risks involved. I have aged members in my family which is another major reason I avoid stepping out, be it for any purpose."
"However, if I had an option to get my desired books and stationeries delivered, I would happily opt for it. It is not only safe, but convenient too," she added.
Mayi Gowda, owner of Blossom book store at Church Street said, "Everybody has faced decrease in sales during this pandemic. Also, my sales have decreased by 25 per cent due to online sellers."
"But these days, online delivery option is being considered increasingly by many of my customers. This indeed is helping my business to come back to its normal pace," he added.
"It is always a good idea to find better ways to meet the demands of our current society, where different kinds of buyers co-exist. At least now, during this pandemic, options like these offering customers delivery at doorstep would help the economy of local retailers and thereby, will also help the country's economy," said economist BM Ramanaswamy.
However, Padamaram is still hopeful about the near future since the market has reopened. He admitted that some of his old customers have started to revisit him. Furthermore, reopening of junior schools could bring his business back to life. "Hope is the only ray when we stay far from our families only to face this huge loss," he said.