After the opening of North India's first blood bank for dogs in Guru Angad Dev Veterinary and Animal Sciences University (GADVASU), several dogs have been helped with blood therapies and treatments.
Ludhiana: The recently-opened blood bank for dogs has conducted more than 150 successful blood transfusions. 
Dr C.S. Randhawa, Head of Veterinary Medicine Department said "The main idea was to establish a space where dog donors could easily donate blood. Most people are unaware that dogs can donate blood too. Other than whole blood, components of blood including platelets, red blood cells, etc are also now available."
There are several cases where dogs die because there's a shortage of blood. Illnesses like anaemia, chronic kidney failure, liver diseases and several others lead to a reduction of blood in the body. Tick fever also brings down the platelet count.
"Providing blood to dogs is not as easy as it is for humans. There are more than seven blood groups in dogs, followed by their sub-groups. But because of new technology, it is now possible to provide these facilities to dogs across north India. Earlier it was a task since components of blood can't be preserved." Randhawa added.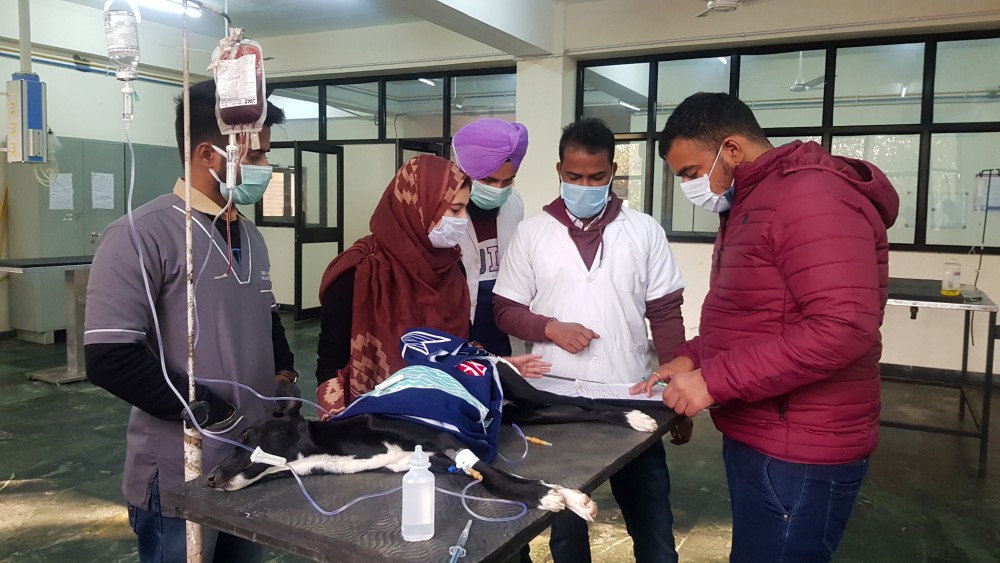 Dr. Iqra, a PhD scholar from GADVASU, who looks after the blood bank and manages the data, said that there are seven to eight cases of transfusion per week. "Dogs from various parts of north India including Himachal Pradesh, Haryana, Uttarakhand, Delhi and Chandigarh have had transfusions since September. Sometimes the main treatment was also kept on hold due to lack of blood," she added.
Blacky, an indie dog from Hoshiarpur, recently got blood transfusion done. He had Double Intussusception (rare disorder) and Jaundice. His guardian, Manpreet Kaur, said that she initially came for his surgery to GADVASU. But due to the lack of blood in his body, surgery couldn't be conducted.
Since there is no in-house facility to keep donors, patients need to arrange for them on their own. India for Animals (IFA) helps people get in touch with donors. .
Tanya Garg who runs the organization with Sudhir Bist and 30 volunteers said, "We have arranged blood donors for around 25 to 30 dogs. My own dog was the first donor since the blood bank started functioning. We arrange blood from not just pet owners, but even the street dogs we look after. After all the tests, if the blood is healthy and perfect for use, only then it is donated."