Only one out of four toilet seats are reserved for women in India.
Delhi has one public toilet seat per 4,373 males and 10,039 females, revealed a report by Praja Foundation. Out of 2,985 public toilets built by the various municipal corporations of Delhi, 2,055 are for males and 777 are for females. In contrast, the Swachh Bharat Mission (SBM) – Urban guidelines 2017 prescribe that there should be one1 seat for 100-400 males and 100-200 females.
Avleen Kaur, a photographer based in Delhi said, "Most of my work is outdoors, which means that finding a public toilet is a big headache for me. I rarely drink water when I am outside, fearing that I might need to find a public toilet."
Suket Jain, an employee at a technology firm said, "It has happened quite a few times that when I am out to meet a client, I need to use a toilet." He said that though finding a public toilet is an issue, he still has the option of finding an empty space and going about his business. "It's not something that I prefer but in emergencies what else will you do?" he added.
Aam Aadmi Party Councilor from Aman Vihar Ward 41, Ravinder Bhardwaj, mentioned that the availability of public toilets in every area is still a distant dream. For the past three years, he has been trying to get a urinal built in his area, in vain. Aman Vihar is one of the many unauthorized but regularized colonies of Delhi which are under the jurisdiction of the Delhi government.
Bhardwaj said that proper cleanliness of existing public toilets will greatly help solve the issue of inaccessible toilets.
Sunil Chaddha, ex-councilor said that "Before making a toilet, they (municipality) need to plan out how they are going to maintain it." He added that current public toilets are mired with issues of proper water supply and electricity.
A survey conducted by the Union Ministry of Housing and Urban Affairs, which was widely reported by the media, found that nearly 645 public toilets out of 1,175 (nearly 55 percent) surveyed were unusable or extremely dirty. The report said that the worst toilets were found in East Delhi Municipal Corporation areas, followed by North and South Delhi municipal corporations.
Another survey which was conducted in December 2016 showed that 71 percent of toilets were not regularly cleaned. Apart from this, the survey revealed that 76 percent of public toilets lacked any ramp facility or signboards in Braille language. The SBM Urban guidelines direct that public toilets should have adequate facilities for the differently abled people.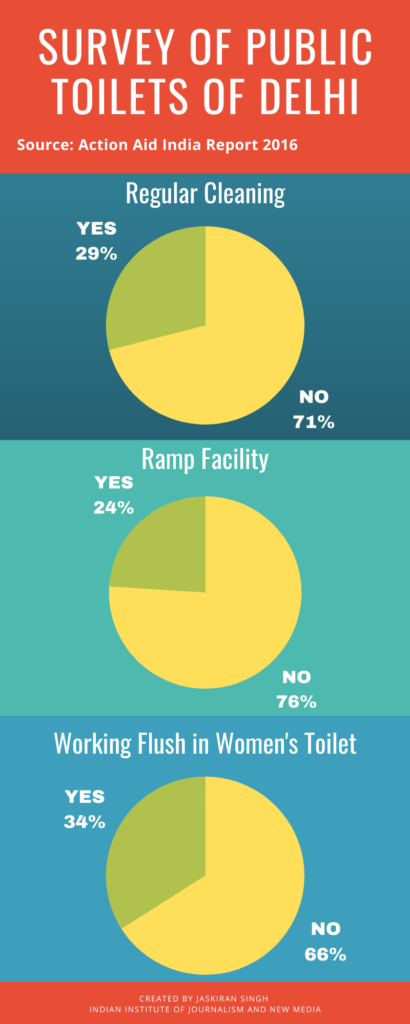 Yogendra Singh Mann, director of press and information at the North Delhi Municipal Corporation (NDMC) said there are public toilets at petrol pumps, guest houses, and restaurants that have been allowed for usage by the general public. The number of public toilets built by the NDMC, in contrast, is very less.
He added that they are outsourcing the maintenance so that adequate hygiene and sanitation is not compromised. "We are creating maximum facilities wherever they are required, and in markets, even if we have to make it on a footpath, we have made public toilets. Under Swachh Bharat Mission, we have taken this as a challenge and completed it," he added.
Jaishankar, press and information officer at the East Delhi Municipal Corporation said that one has to look at Delhi's high population density along with a high number of daily migrants while talking about public toilets. "The biggest issue is land (availability), you don't have a lot of space to build toilets," he said.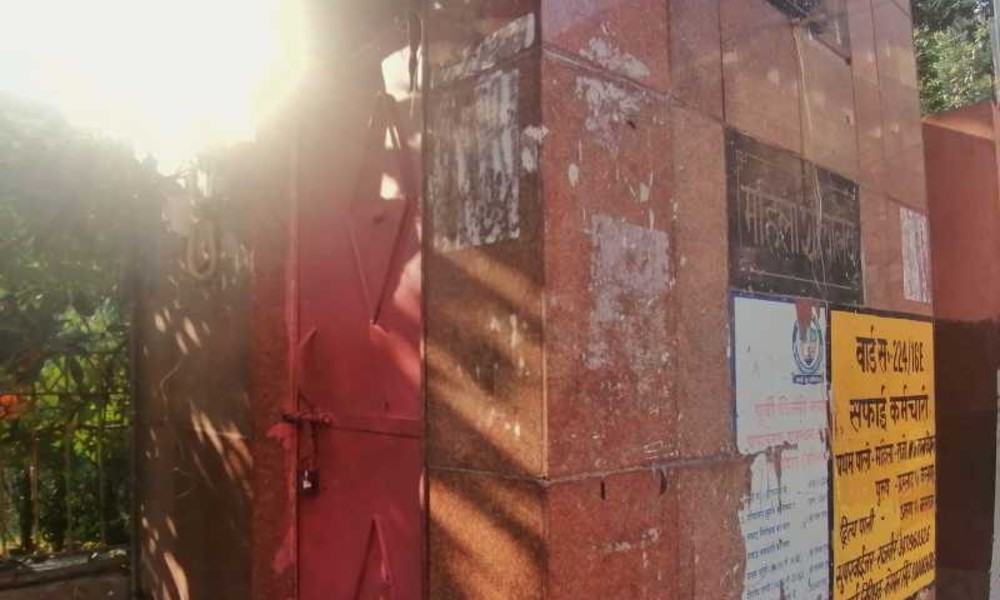 Anjali Singh Kulkarni, public health specialist and adjunct associate professor at the Public Health Foundation of India, said that this is a bigger issue for women. "When women have to go and urinate in some secluded area (due to unavailability of public toilets), there are chances of violence being perpetrated against them. This has a social implication as it leads to violence, attack, and rape."
A report by Action Aid India revealed that 46 percent of public toilets are unguarded and 30 percent of toilets had minimal infrastructure to protect the privacy and safety of women.
Singh also said that when several people are using the same toilets it can lead to various kinds of infections. "People can have heat strokes if they don't consume enough water and people are not consuming water as there is a shortage of toilets," she added.