With the increase in labour, fertilizers and other costs, farmers incur losses as they fail to get good prices.
Mysuru: Tobacco farmers incur losses each year during the auction that takes place between September and March, as they don't get good prices for what they grow.
Farmers contend that corporations in the auction quote very low prices for medium and low- grade tobacco and with no alternative markets, they incur losses.
Tobacco trade is licenced on both ends. Sellers and buyers should have the permit to sell and buy tobacco respectively. Since open market trade is ruled out because of this reason, farmers don't have alternative markets to explore.
"Big companies have monopolized the market and farmers don't get good prices for what they grow and lack of proper regulations on price-fixing leads to losses for the farmers," said TR Devraje Urs, a tobacco farmer in Periyapatna, a town in Mysuru district.
During the auction period every year, farmers' organizations protest demanding the intervention of the government, to fix prices of different grades of tobacco. "Tobacco farmers incur extreme losses during the auction because we don't get good prices for what we grow. Since we have alternative crops, we can survive, otherwise, I'd have been a victim of farmer-suicide by now," said Kumar, a tobacco farmer in Hanagoodu, a village in Hunsur, Mysuru. "We voted for Pratap Simha as our representative in the union government, but he has not done anything so far to help us, he even fails to attend Tobacco Board meetings, we don't know whom to seek help from," he added.
The shelf life of grown tobacco before it is used in the manufacturing of cigarettes is not more than three months. The quality deteriorates with prolonged storage of tobacco. There are 64 different grades of tobacco grown in the neighbouring areas of Mysuru, Hunsur, Periyapatna, HD Kote, KR Nagar taluks. Since bright and medium grade tobacco is bought by big corporations for fairly good prices to export it to foreign countries, low-grade tobacco that does not fetch good prices is used in the manufacture of beedis for domestic markets.
"This year, grades of tobacco that are sold for Rs 170-180 per kg are being sold for Rs 90 per kg, or even lesser. Labour costs and fertilizer costs are high, and we have taken big loans to grow tobacco, and half of the profit gets deducted to repay loans, so we don't get much," said Santhosh, a tobacco grower in HD Kote.
"With Covid-19, the demand for tobacco has drastically come down and if we buy these low grades at high prices, we incur losses, and we don't want that," said a bidder for a corporate house who did not wish to be named. "We quote prices looking at the quality of tobacco, and if the quality is not good, we don't quote high prices. I know farmers incur losses, but if we quote high prices for that, we will incur losses," said Sathish, a bidder for another corporation.
"The Board fixes the price for all grades of tobacco depending on their quality, and on those rates, the auction is held. Lowest of the low grades does not get bid in the auction and farmers take them and bring them back for fresh auctions, but once they take the bales back, the quality goes down and they get lesser prices," said Manjunath, a field officer in the Tobacco Board in HD Kote.
"The board has promised to fix a minimum price for low-grade tobacco this year in the meeting that was held recently, but I don't know if they will," said Rajegowda, elected representative of the crop committee.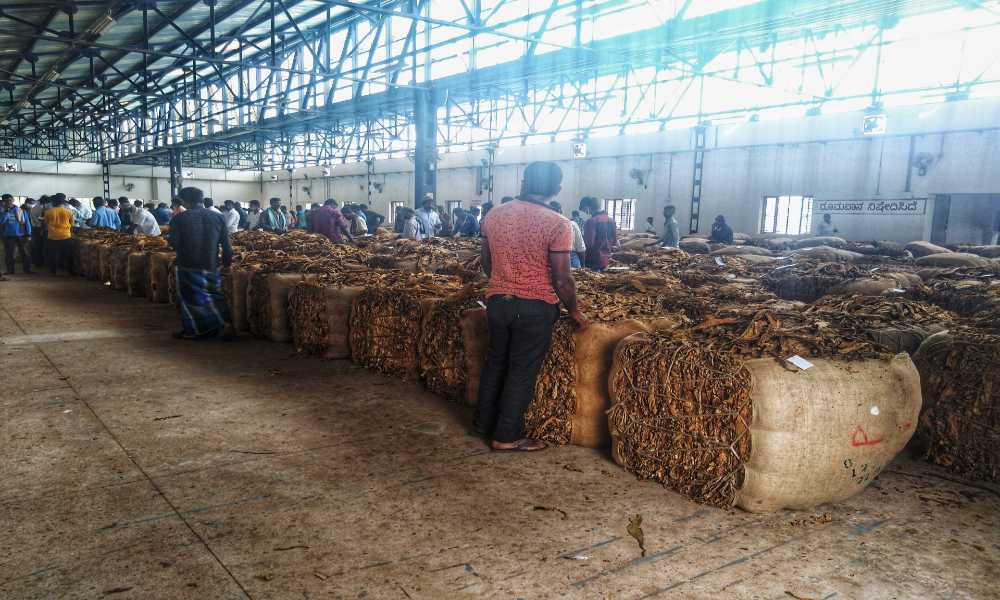 The Tobacco Board was formed in 1975 under the Tobacco Board Act, 1975 replacing Tobacco Export Promotion Council. Since the formation of the board, tobacco farmers have asked for the central government's intervention every year, as the crop is regulated by the centre.
An agricultural scientist based in Mysuru, Dr. Vasanth Kumar Timkapur who is specialised in the field of tobacco said, "This is a problem the farmers face every year. Just like how people don't get rid of tobacco addictions even though they know they're a hazard, the government does not fix prices because that would set a dangerous trend, there's no solution to this problem."
With the pandemic and the World Health Organization (WHO) mulling to ban the domestic and foreign exports of tobacco across the world, the demand has dipped this year to about 50 percent of what it was before. Without any plausible solutions, farmers have nobody to turn to.