Acid is available in various over-the-counter stores across Lucknow for as little as Rs. 200 with no regulations followed. Acid attack survivors aren't happy.
Lucknow: Acid remains easily attainable across the city despite strict regulations imposed by the Supreme Court. "We sell a bottle of acid for Rs. 200," said Raj, owner of a small departmental store in Old Chowk Lucknow, "We are aware of the fact that the purchaser has to show an identity card to make the purchase."
However, according to people who live near Old Chowk, the truth is quite different. "The shop-keepers don't ask for an identity card or reasons for buying acid," said Ayush Thakur, a resident.
Anita Singh who lives in the Maruti Purum area in Lucknow said that it is fairly easy to procure acid in departmental stores under the pretext of using it as a toilet cleaner.
Recently on October 13, 2020, three minors were attacked with acid in Gonda District, which lies in the outskirts of north-east Lucknow. Three sisters aged 8, 12 and 17 were attacked with acid by an unknown person. "Acid continues to be freely sold in rural areas," said Farah Khan, an acid-attack survivor.
The Supreme Court had issued several guidelines with regards to the sale of acid in 2013. It stated that the seller and purchaser must have a government license, while the shops selling acid must maintain a record of sale and purchase. The States and Union Territories of India were also told that the acid attack survivors would be entitled to compensation with regards to their injuries and additional special financial assistance up to Rs. 0.5 Million.
Neither is Khan satisfied with the punishment given by the law nor is she convinced that the enhancement of these punishments will make things better. "I have borne many losses, there is no compensation that amounts to those losses," said Khan.
New amendments were added to the already existing bill on March 13, 2020. They stated that the acid attacker is to be punished with a fine of no more than Rs. 1.5 million and imprisonment of no less than 10 years.
"We now have provisions dealing with the offence of throwing or attempting to throw acid, rehabilitation of the victims of acid attacks, and also with the sale of acid," said Advocate Wajeeh Shafiq, "The investigations in these cases take long, and the conviction rate is low."
However, despite these laws occurrences of acid-attacks in India continue. Adv Wajeeh mentioned several incidents around India that took place this year. In October, an estranged Tripura woman allegedly threw acid on her boyfriend, and two bike-borne masked men threw acid on a woman in Haryana. In November, acid was thrown on a street dog in a rural area in Maharashtra. "This shows that acid is still available for over-the-counter purchase," he added.
In 2017 a Right to Information appeal on the implementation of the Supreme Court Orders in Lucknow was filed by Durga Prasad Shukla, an RTI activist working with Chhanv – an NGO working for rehabilitating acid attack survivors. The commission did not get any complete or satisfactory answers from representatives of the Magistrate office and Superintendent of Police.
"Most district magistrates aren't aware of these laws, leave alone implementing them," said Alok Dixit, journalist and social activist campaigning with Stop Acid Attacks – Chhanv.
According to the National Crime Records Bureau (India) report, there were 240 acid attacks in 2019 and 60 attempts of acid attacks. "There have been unreported cases of acid attacks, but as soon as we find these cases, we get them reported," said Dixit. He added that because most of these attackers are known to the victims, the latter are usually pressurised into compromises.
"Lack of awareness in our society regarding these laws and acid attacks plays a major role in encouraging these attacks," said Rupali Vistarma, an acid-attack survivor. She revealed that her attackers continue to run free since they were never identified.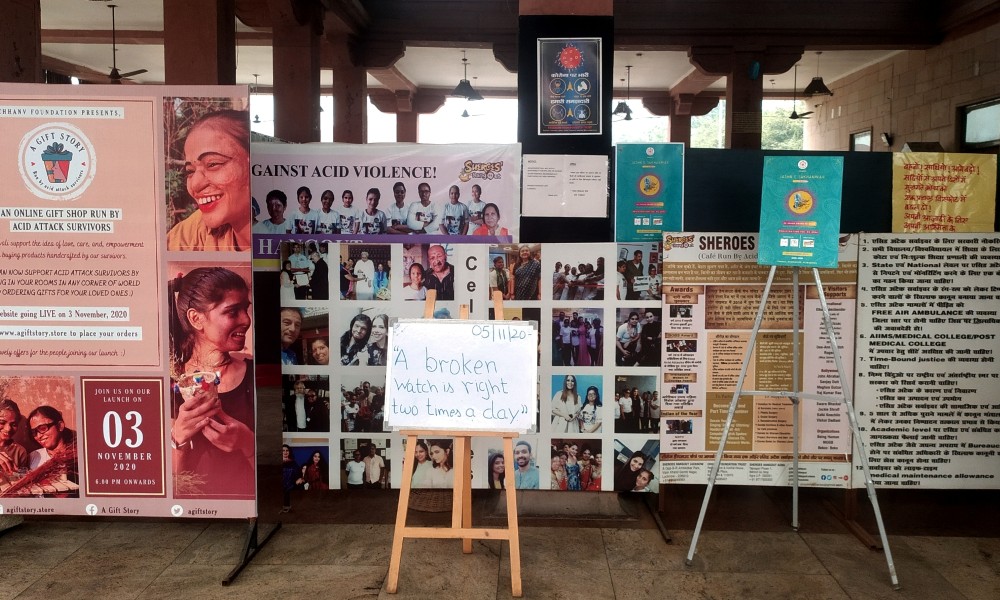 Sheroes' Hangout Cafe, Lucknow, is run by acid attack survivors. Farah Khan and Rupali Vistarma are only a few examples of these strong women who have overcome their attackers and are working towards a better life independently.
Survivors say that India's unregulated acid sales make it easier for attackers to access acid, which can permanently damage someone's life. "If I am not aware of the consequences of crime, the laws around it, and no measures being taken by the state," said Khan, "What will stop me from committing it?"