Over 20,000 Idli and vada makers and sellers in Dharavi look for a way out of the financial crisis caused by the Covid-19 pandemic.
Mumbai: Idli- vada makers and sellers struggle to earn their daily wages due to Covid-19 restrictions and protocols. Many families earned their living by making idlis and vadas. Due to the covid-related cash crunch, many workers returned to their hometowns. Only a few trains are working so it has become difficult for the workers to travel back to Mumbai.
Ganesh, a 40-year- old idli maker from Dharavi said, ''My wife and I cook idlis and vadas from 5 am. Earlier we cooked 500-1000 idlis but now we only make 300 idlis daily. I sell idlis in Bandra. I sold idlis to 400 customers earlier, most of them were college students but now I hardly get 200 customers in a day. I earned Rs 2000-3000 per day before lockdown. Now I earn Rs 1,500 per day."
"I borrowed money from people in my locality to look after my family during the lockdown. I have enrolled my children in a municipality school. Earlier they studied in a private school. I am unable to afford that lifestyle now. Customers who ate at my stalls for years still come to eat from my stall but others fear the spread of Covid-19. I look for kirana stores that give me all items required for making idlis at cheaper rates. All my friends have gone back to their hometown as they couldn't pay the rent here. I stayed back because I have lived here all my life," he adds.
Balaji Nadar, owner of Balaji brothers, a kirana store in Dharavi said, "Idli makers buy all the items required from stores where they get products at cheaper rates. They don't stock items. We sell good quality products at a cheaper rate so they buy more products from us. Earlier, I had 8-10 fixed customers, now hardly four to five idli makers come to buy food items. Customers who used to spend Rs 800-900 are now spending as less as Rs 400 because of which even our business is operating at a loss."
A few idli sellers also partner with wholesale suppliers in town who supply the idlis and vadas to big restaurants. Catering businesses collaborate with these wholesalers for parties and other functions and have a fixed source of income.
R. Mokapandi (52), an idli seller from Dharavi said, "I did not stop working during the lockdown. I sold 200 idlis every day without taking any leave. I earned very less and I had no other choice. The decline of customers due to the Covid-19 situation has affected our livelihood as we have no other business."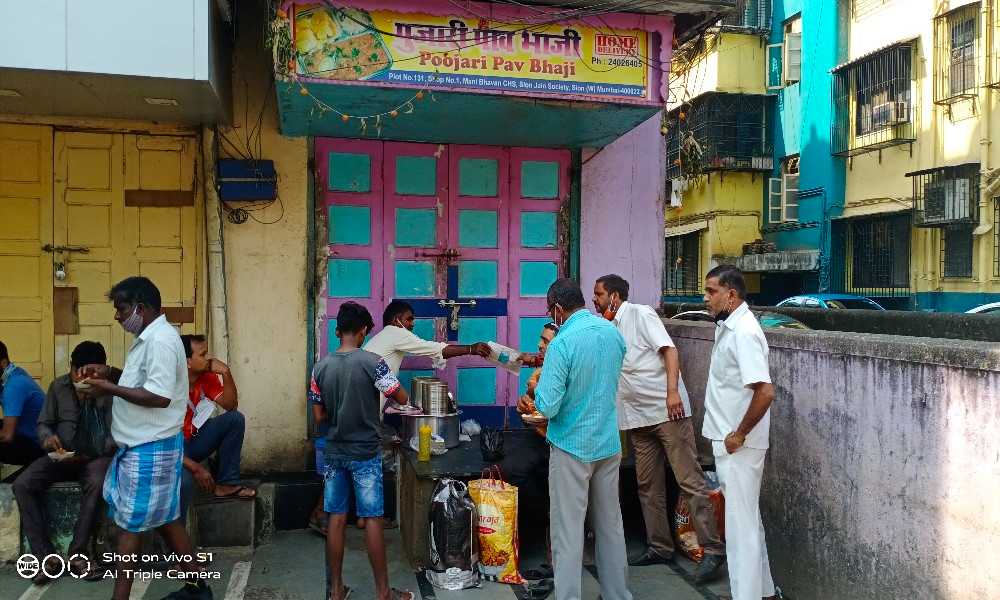 Arakal Swamy (50) another idli seller from Dharavi said, "The main issue is that earlier I paid Rs 300 for the train's monthly pass. Now I have to pay Rs 300 for one way daily to reach the place where I sell idlis. Expenses are high now and my income is less. It is definitely not easy to look after your family when only one person is earning."
Iniyan Thomas (30), owner of Maha Catering said, "This is our second year in this business. When the lockdown was declared we didn't know what to do next as I have no other business. My workers were dependent on me. I have six employees working with me, two women and four men. Women come in the afternoon by 2 pm and work till 8 pm. They prepare the batter for idli and vadas. Men come to work at 10 pm and work till 8 am in the morning. I have 18 customers (idli sellers) who buy idlis and vadas in wholesale. One person who got terminated from L&T (Larsen & Toubro) works for me now. It's a bad situation out there in the market. We made 4000-5000 vadas and 1000-2000 idlis per day before lockdown. We used to get orders in bulk but now there are very few weddings or parties happening so we are at loss but I'm hoping for the best."
"Many bachelors like me depend on these street vendors for our morning breakfast. They never compromise on quality and that is the main reason why people come to eat from his stall in large numbers. After lockdown, it was difficult for me to cook for myself and then sit to work. Now anna comes to sell idlis but not on a regular basis," said Jishnu Nair, a daily customer of R.Mokapandi.
Daily hundreds of idli sellers were seen on the street opposite Kamaraj Memorial School in Dharavi's 90 feet road to collect idlis from idli makers before lockdown and now hardly 50 idli sellers wait in the morning. Three lakh idlis and vadas were cooked every day in Dharavi before the lockdown was imposed. Seven hundred Dharavi families fed Mumbai's appetite each day before lockdown.
T. M. Jagadish, councilor of ward 185 said, "These workers didn't have money to buy food and nobody wanted to come to Dharavi due to obvious reasons during the lockdown. We have two kits for each family which was useful to them for at least two weeks. Daily food was served to 1500- 2000 laborers. My office supplied 2,500 meal boxes.We took care of the sanitization, thermometer, and oximeter test and food for these laborers."
Sampath V Sambasivan, a professor of the economics department, SIES College of Arts, Science and Commerce said, "It is in this national context that we need to see the crisis of micro and household-based business units in Dharavi. The employment of migrant workers in these units would depend upon the financial viability of these units post-lockdown. It is to be kept in mind that many of these units may not be relying on large credit borrowings from banks but on the returns they get from daily sales. During the lockdown, their sales have drastically come down."
"Policy prescriptions to cure and save the economy should focus on demand management. Supply-side measures, as prescribed now, may not be very effective. Sector-specific, state-specific measures that address local realities would be better than the centralized top-down strategy that is adopted now," he said.