The youth of India have taken initiatives to set up community libraries in rural areas due to the lack of facilities provided by the government.
Mumbai:  Citizens of Goa and Bihar have taken initiatives to set up community libraries in rural areas due to the lack of facilities provided by the government.
Sadiya Shaikh, 18, founded a community library in Deora, Bihar. She started working on the foundation of Maulana Azad Library, with her uncle, after noticing inaccessibility to basic study material in the village. In September, Shaikh turned her family's Darwazah into a community library. Every generation in Deora has a Darwazah, a guesthouse for family gatherings and celebrations. It is an open space attached to the main road. The library has wooden shelves and around a thousand books. From October 1, daily newspapers and magazines in Hindi and Urdu have also been made available to the readers. The library aims to provide study material to students of Class I to Class XII and additional books for competitive exam aspirants, said Shaikh.
"There is no other library in the village or nearby except Maulana Azad Library. There was one called Abdur Rashid Library that is shut now due to personal disputes in the area," said Nawaz Rehman, a resident. "The majority of residents have no objections towards the library, but some aren't happy with it," he added. Rehman recently donated books to the library. As of now, Maulana Azad Library is free to all, and a low-cost membership will be fixed shortly to make more books available to the readers.
"Around 30-40 readers visit the library daily," said Akbar, one of the daily readers at the library. Financial support has been hard to find in the village. Shaikh has been trying to raise funds by posting about the initiative on social media pages.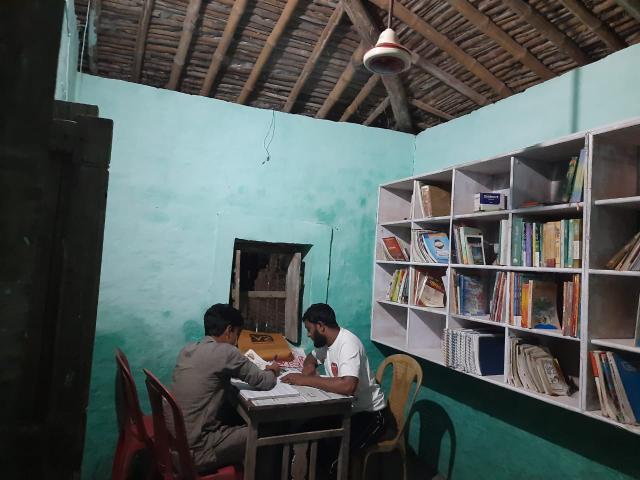 "Children study at government-run schools, but they do not have access to basic facilities that you and I take for granted like good quality books. Many times, they are forced to discontinue studies because they cannot even afford to buy books prescribed by the syllabus. Due to this, they fall into the trap of child labor," said Shaikh, who shifted to Mumbai with her family four years ago in search of better educational opportunities. "Currently, we are getting some construction work done with the funds people have donated."
Bihar is India's third-most populous state, with 99 million people. Bihar has the third-lowest literacy rate of 61.80 percent, in India, which is 6.8 percent lower than the national average of 74.04 percent.
PRAYOG started as a children's library in Gopalganj in 2013. As many as 600 children from 12 neighboring villages were routine visitors to this library. In 2017, it decided to support the government system by strengthening school libraries. Currently, they are engaging with 18 Government schools in the Kuchaikote block of Gopalganj district, Bihar. Altogether, they can reach out to over 2500 children between six and 14 years of age.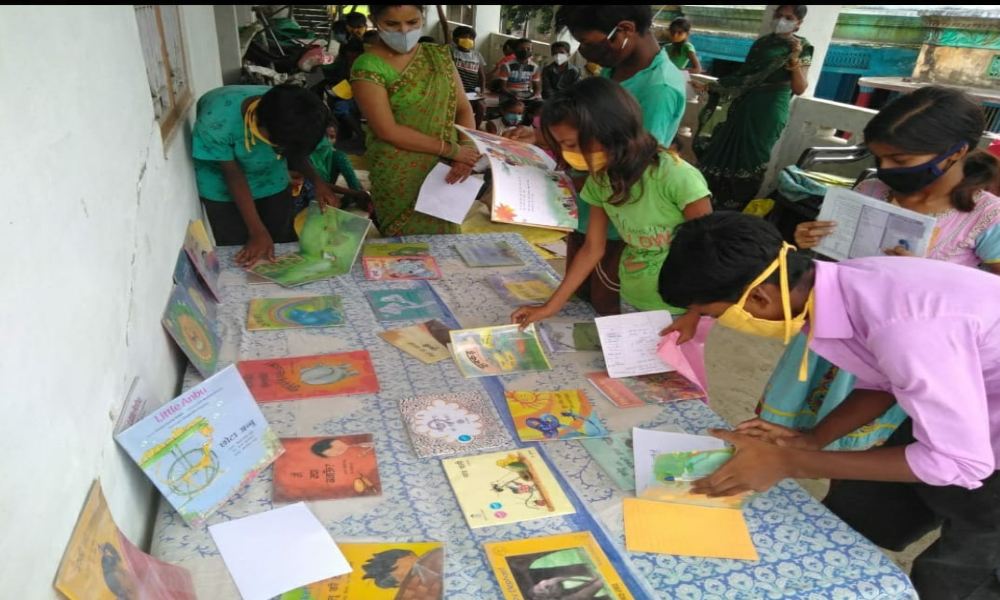 During the pandemic, since schools were closed, PRAYOG re-started a community library in Khem Matihaniya village. The community library initiative started recently after the parents and children demanded it during the community interaction.
In Goa, the Mobile Outreach Programme (MOP) was conceptualized in 2011 to take the Bookworm library into community spaces reaching out to the children. Fourteen areas have been covered ever since, including Vasco and Panjim. 
"It has been a struggle to find a physical space to set up the library in each of the communities. In three of our community sites, we have a room for the library, two other sites are within homes for children, and another is within another organization," said Anandita Rao, an active member of Bookworm. "In the other communities, there is no permanent space, but books are taken, and sessions are facilitated each week in a public space accessible to all. All our community libraries are free and open to every child to borrow, read and engage with all the activities that happen as part of the session," she added.
Public libraries play an active role in fostering an information literate society. Public libraries have been proposed as the obvious and well-equipped agencies for imparting critical information skills to the wider community. The government has set up platforms for libraries, but most of these are either unutilized or non-functional. The Madras Public Libraries Act 1948 was the first to be enacted in India post-independence, and since then, only 19 states have enacted their own public libraries acts. Bihar enacted this in 2008, 60 years after independence, but there are many loopholes. The Act mentions setting up libraries from state level to village level but its execution is a problem because there is no proper financial guideline or lack of priority, said Surya Prakash, founder of PRAYOG.

"Even for government schools, the National Curriculum Framework (2005) recommends libraries/reading corners, and these were set-up as well in middle schools but remained non-functional because of lack of librarians and/or training to school teachers to activate libraries in their schools. The book procurement system is also very centralized, with school principals/teachers depending on the higher nodal department to send them books. As a result, most of the libraries have become defunct." added Prakash.

There are numerous ways to run a library, like setting up a pop-up library where a library can run at any open corner. The only requirement for a library to function is a person (library facilitator), collection of books, book lending, vision to run a library, and of course, the readers. However, to engage with children having a space is critical and that space can be a community space – which can easily be availed through proper engagement with the community from where these children are coming. Bihar has very few focused library efforts, said Prakash.

Membership allows the team to keep track of children and their progress in reading. It's a no-cost membership.