The district administration is keen to implement CPCB's revised guidelines for idol immersion.
Indore: Around 100 families of small scale sculptors, who are already suffering losses due to the pandemic, may be forced to live on the streets if the district administration's plan to completely ban the use of Plaster of Paris (PoP) is enforced next year.
Idol makers are not in favour of switching to mud for making idols, mainly because it is not easy to work with. PoP has more strength and durability than mud. Idol maker Usha Kushwah said that PoP is specifically suitable for making idols of sizes one to four feet high. She added that mud, being softer than PoP, cannot be handled easily. "The idols take a long time to make. They take even longer to dry due to unpredictable weather conditions," she remarked. Her family is making PoP idols this year to bring some money to the household. "We don't know what will happen next year," she said.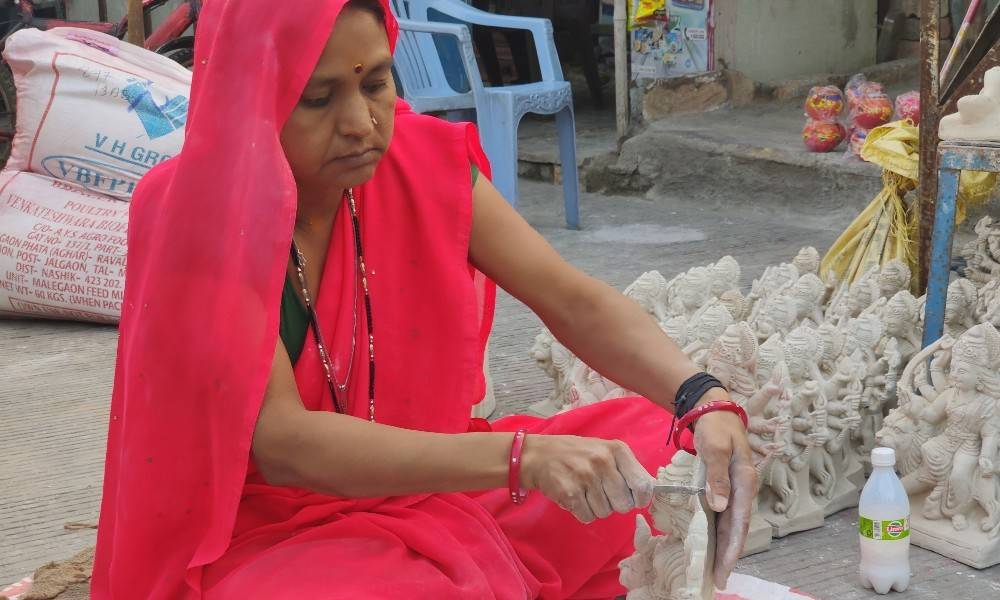 The district administration is keen to implement the Central Pollution Control Board's revised guidelines for idol immersion, which ban the use of PoP in making the idols. These guidelines were issued in May this year. Collector Manish Singh, in a meeting with sculptors, warned them to stop using PoP and stressed on a complete ban from next year.
Along with the increased effort that goes into sculpting, a special mud is used in making idols, which increases the cost of raw materials, said Jitendra Prajapati. The time which goes into intricately detailing these idols adds to the final selling price. "A PoP idol of four feet costs Rs. 1,000. The same idol, if made with mud, will cost around Rs. 12,000 to Rs. 15,000," he said.
Indra Jinwal, a domestic worker whose family has a tradition of bringing a Durga idol home during Navratri, said that they buy the cheapest idol available in the market. "Mud idols are too expensive," she said, "we cannot afford them."
The fact that small households would be unable to afford the expensive mud idols is a concern for the idol makers. Jitendra Prajapati worried that his business would suffer losses if people were not willing to buy the mud idols. "We are already struggling to fill our stomachs," he said, "we cannot continue a business that will only bring losses."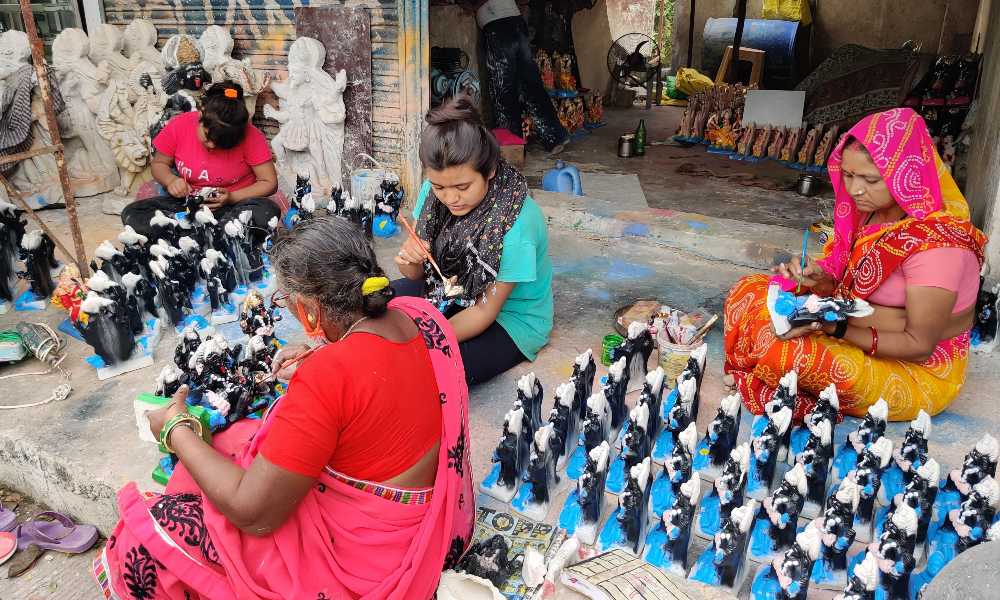 The makers work year-round to make these idols. Their only hope to make money comes during the time of festivals. Due to the pandemic, the idol-making business is only 20 percent of what it used to be until last year, observed Jitendra Chourasiya. "We have a godown filled with unsold Ganesh idols. If the business continues to contract, these Durga idols will also be in excess," he said. Jitendra, like many others, plans on selling these excess idols next year. "All these are PoP idols. We will be in big trouble if they are banned," he added.
According to Dr. Rubina Chaudhary, Professor (Water Pollution and Waste Water), School of Energy and Environmental Science, Devi Ahilya Vishwa Vidyalaya (DAVV), the immersion of PoP idols creates an imbalance in the water body. Marine life suffers, and the water becomes unusable after some time. Foul odour also creates problems in areas near immersion spots. "PoP idols take time to dissolve in water and cause many problems in the due process. We want our water bodies to be clean and sustainable. The ban is necessary," she asserted.
The sculptors continued to make PoP idols after Union Minister Prakash Javdekar stayed the ban till next year.