Saraiya, a village in Barabanki district, continues to practice defecating in the open despite being declared Open Defecation Free.
Manvi Jauhari | October 21, 2020 |
LUCKNOW: Saraiya, a village in Barabanki district has been declared Open Defecation Free, but 48 of the 50 structures built under the scheme have no toilet installed. The villagers complain that they have to defecate in the open as these "toilets" are of no use. Groups of people, women with their ghoonghat (a veil), children, and men can be seen walking towards the field to defecate in the open during the morning hours in Saraiya, a small village in Barabanki district, Uttar Pradesh.
"On paper, Saraiya has 50 toilets built under the scheme, none of which have been functioning since the first day," RS Yadav, a resident of the village says. It has been over two years since the construction of these community toilets. A majority of the villagers continue to defecate in the open.
The women of the village wake up at 4 o'clock in the morning to find a spot in the fields nearby to relieve themselves. There is no other time in the day where they can defecate otherwise. "They built the four walls, no-one came to install the toilets," Sima Yadav, a resident of the village says, "How can we use it?" she further states.
"The Pradhan, elected authority of the village, came to take photos during the construction and no one came after that to finish it," says Ravi Yadav, a resident of the village who had invested his own money to complete one toilet.
It had cost him around ₨ 15,000. Mahendra Yadav, also a resident of Sairaiya had used money out of his own pocket to complete one of the toilets so his family could use it.
The villagers are distressed about having to defecate in the open, given an option they would prefer using the toilets.
The Pradhan's husband who stands in for her, Mr. Ramu however states that Nindura Block, Nindura Farm, Wallipur, Kanchanapur, Saraiya have over 735 complete toilets. They had been fully constructed between 2017 and 2018. "Saraiya has been declared Open Defecation Free and the villagers use it," says Mr. Ramu.
Under the Swachh Bharat Mission, a national level campaign launched by the Government of India in 2014, as a tribute to Mahatma Gandhi, to eradicate the problem of defecating in the open.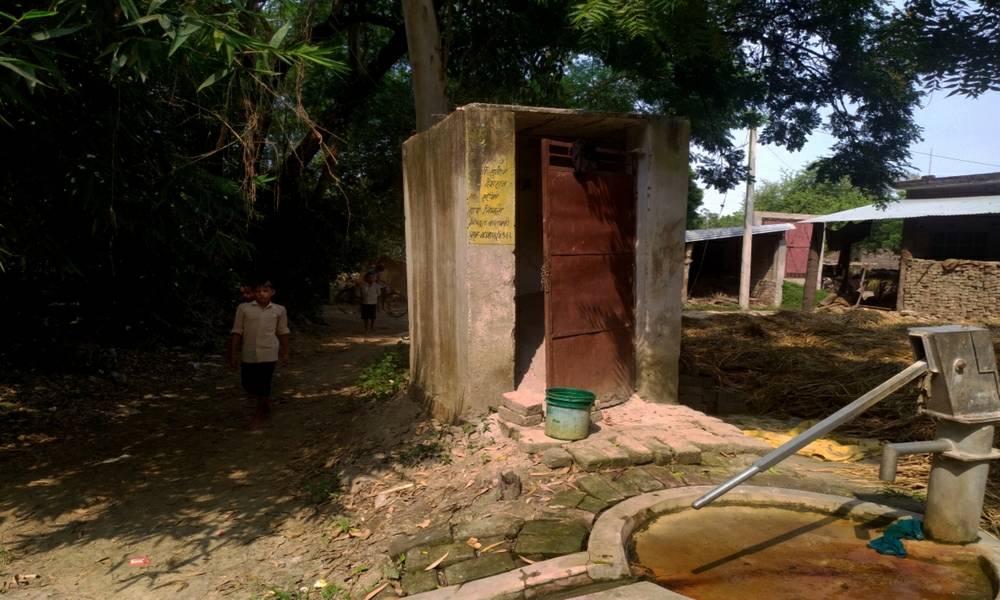 The government came up with two schemes – Open defecation Free plus (ODF+) and Open Defecation Free plus-plus (ODF++). ODF+ aims for proper installation and maintenance of toilet facilities, ensuring safe collection and treatment of fecal sludge along with sewage in rural areas. Making India Open Defecation Free by 2019.
Prime Minister Narendra Modi had declared India Open Defecation Free on October 2, 2019. "In 60 months, we have provided toilets to over 60 crore people by constructing over 11 crore toilets," Prime Minister Modi said on Mahatma Gandhi's 150th birth anniversary.
The government website shows Uttar Pradesh to be a 100 percent Open Defecation Free verified. Further government reports that date back to 2017 show that 77 percent of the households were found to have access to the toilets while 93.4 percent of them used it on a regular basis.
"NGOs try to work in villages, to end open defecation and teach the need of sanitization," says Mr. Palash Jain, an alumnus of Enactus – An international non-profit organization committed to undertaking community outreach projects. "But there is no political willingness from the Pradhan or the Panchayats to work on these projects." There have been many efforts by NGOs, including Enactus to make a village, a smart village.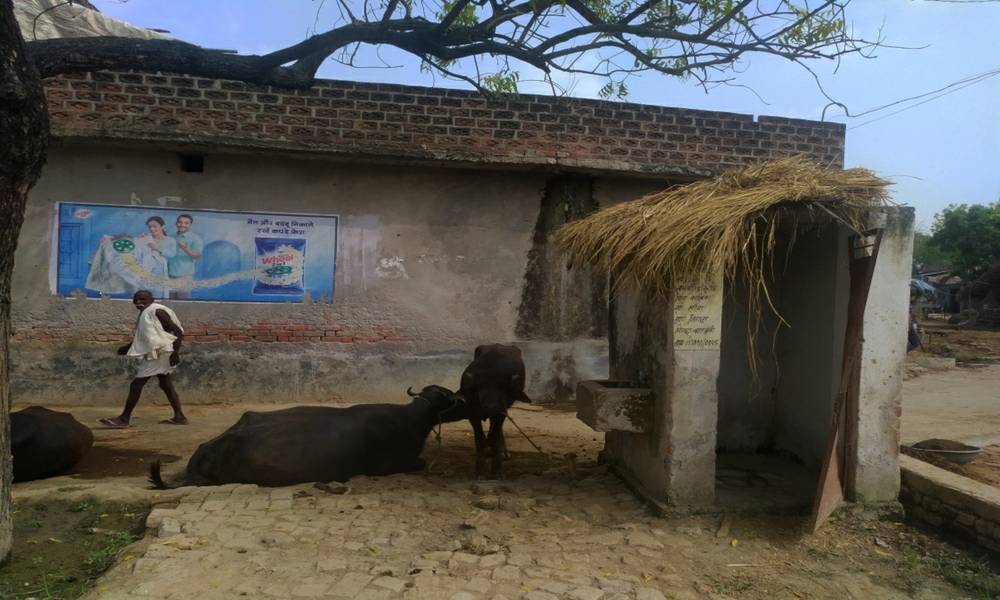 The local authorities have constructed a few community toilets which aren't accessible to many. The poor maintenance of these toilets results in a big chunk of the population, especially women, not using these facilities.
"They don't want to defecate in the open, they have to," Mr. Jain says.
Moreover, researchers say that in the past ten years no one prefers to defecate in the open. "Many diseases – waterborne transmissible diseases usually worm infestations and diarrhea are the leading causes for the death of children under five in India and over the world," Mr. Naveen J.H, Ph.D. Scholar and Assistant Professor, Department of community health nursing, Amity College of Nursing. "This is very much because of the open defecation practice, poor hygiene, and not giving due importance to the need to use water in rural areas."
There is also the problem of harmful reptiles and various dangerous insect bites that also lead to health hazards. The lack of maintenance of community toilets is also a leading factor to defecate in the open. "There should be an agency that can account for the maintenance of these community toilets." Mr. Naveen J.H suggested.
The Indian government's research also shows that defecating in the open has increased the risk of sexual exploitation, threats to women's privacy and dignity, and long-term negative effects on one's psychosocial well-being.
Despite India being declared Open Defecation Free, the ground reality does paint a very different picture.