Improper implementation of Government Housing Schemes in Maski Taluk leaves Below Poverty Line (BPL) villagers stuck in a desperate situation after building pakka houses.
By Yamini Chincholi
More and more farmers and BPL villagers from Maski Taluk are getting stuck in a hopeless financial situation after building pakka houses with their own money and then not getting compensated by the various Government Schemes that promise to do so.
Sharanappa, a 17-year-old boy and the only educated man in his house had recommended his family to build a pakka house as they would get compensated later through the housing schemes. It's been three years since Sharanappa and family built the house. They're still awaiting the funds. The only source of income for Sharanappa's family is Sajji (Bajra) farming.
"We built both our houses under the scheme and haven't been paid for three years now," said Sharanappa, "We put in money from our own pockets for building houses we can't afford. We rely on the government to get the money back but it never comes. On top of that rain is a rarity in Maski, adding even more pressure on farmers to earn their livelihood."
The Government housing schemes promise to pay the entire building cost of a pakka house after its construction, to any villager below the poverty line. Dr. B.R Ambedkar Yojna, Pradhan Mantri Awas Yojna (PMAY) and Rajiv Gandhi Rural Housing Corporation Limited (RGRHCL) are the specific schemes at work in Maski Taluk.
Housing schemes have implementation committees that employ inspection officers. These inspection officers visit the beneficiaries listed in a particular geographical area. They have to inspect the site of construction and assess the quality of construction materials used. After inspecting the carpet area, lintels, doors, windows, cement, bricks and sand used, the inspection officers determine if the house is a pakka house or a kaccha house and the amount to be paid to the beneficiary.
According to data on the RGRHCL website over 629 families have not been paid in Lingsur since 2018, 753 in Sindnoor and 1616 in Raichur since 2017.
Maski is not registered as a taluk on government websites yet, as it became a taluk just two years ago, combining Lingsur, Sindhnoor, Buddhini and Maski village.
Abdul Aziz, a local journalist, said, "Various schemes fail at the implementation stage because the funds are channelled in a faulty way."
Families can choose to receive compensation from such schemes either through an Aadhar based payment or a direct payment into the beneficiary's account. As Maski became a taluk two years ago, combining Lingsur, Sindhnoor, Buddhini, and Maski, the documents and records that exist in these individual villages haven't been compiled in Maski yet. Therefore, most families that choose Aadhar mode of payment don't receive funds because the Aadhar mapping does not exist. Out of the few that have experienced payment failure in an account-based mode of payment, their accounts were either frozen or inactive due to lack of usage. Some have also experienced Issuer Identification Number (IIN) issues.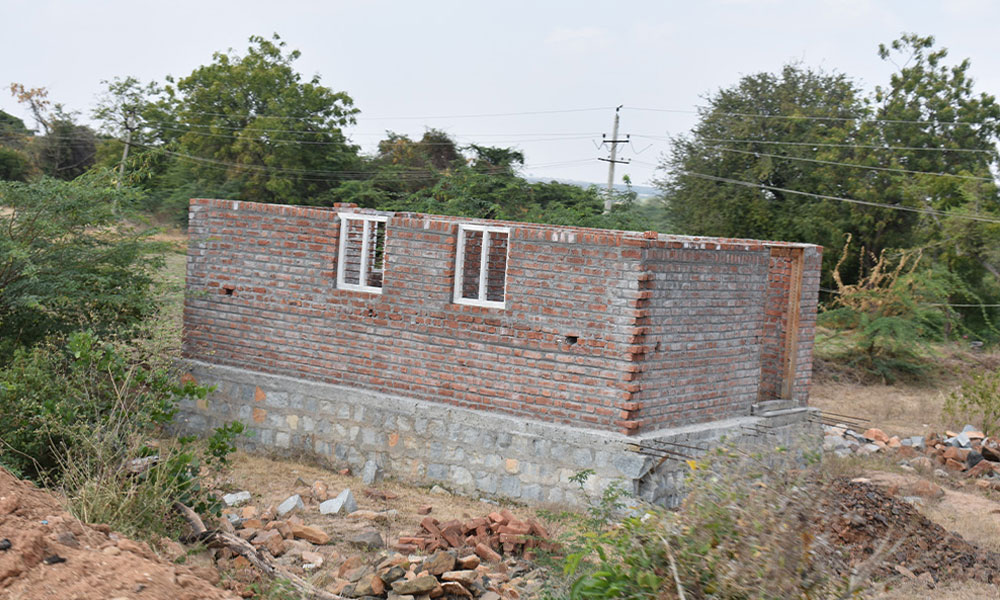 The Panchayati development officer, Mr Basavaraju and Zila panchayat member Mr Ambrish had written several letters to the district office asking for developments and updates on funds under various schemes. "We don't get answers, but assurances are given that all matters raised in meetings will be looked into," Mr Ambrish said.
Satyanarayan Sindhanur, Maski town head said, "Our departments are slowly being established. We are yet to have a treasury. Without a treasury, how can funds be transferred from district to taluks?"
Chandrashekhar M. manages the district level infrastructure department. "The treasury will be established in April in Maski," he said.
Dr Aishwarya S, a political analyst said, "Firstly the government should have a common platform for all housing schemes. The problem arises when the central government has one scheme and the state has a different one. They don't support one another's schemes. So, irrespective of political boundaries or who implements them, all schemes should appear on one platform. This makes tracking funds easier. Secondly, if Aadhar mapping doesn't exist, banks should be more cooperative with these people as they don't do many transactions. If the government wants to encourage citizens to use banks, they should make the process user-friendly. It's a collective effort. Only then we can hold people accountable."