After Mayor Gowtham Kumar rejected Congress party's motion against the ban on protests at Town Hall, both Congress and JD(S) corporators boycotted the BBMP council meeting.
By Vivek Kumar
The opposition parties on Tuesday staged a protest in front of Kempegowda hall at the Bruhat Bengaluru Mahanagara Palike (BBMP) headquarters and demanded revocation of ban on protests at Puttana Chetty Town Hall.
Later at the council meeting, Mayor Gowtham Kumar rejected the motion moved by the opposition party—Congress under Section 52 of Karnataka Municipal Corporation (KMC) Act.
Congress and JDS corporators disrupted the council meet and boycotted the meeting after the Mayor's rejection.
Congress leader Abdul Wajid tore the copy of resolution stating the ban on protests outside Town hall.
On February 29, BBMP banned all kinds of protests outside Town Hall citing revenue loss.
The opposition held placards that read, "Without considering the requests from the opposition parties and associations in BBMP council meet, putting a full stop to protests is against the democracy."
Another placard read, "Puttana Chetty Town Hall is a public property. Everyone has the right to protest here. Ruling party BJP is trying to put a full stop on this."
Opposition leader Abdul Wajid said that a notice period of seven days should have been given before implementing the ban. He also said that it is unlawful on the Mayor's part to take such decisions on Suo Moto.
He said, "Town Hall is the centre for any small and large protests in Bengaluru and by banning protests there without any prior notice, they are violating the freedom of speech and assembly of common people."
JDS corporator Netra Narayanan said that Town Hall has had a history of protests and has provided justice to many over the years. "People from across the state and country come here and protest," she said.
"In the last council meet, no discussion was held on this and a Suo Moto decision was taken. If today this decision is not withdrawn, we will definitely take the protests further," she added.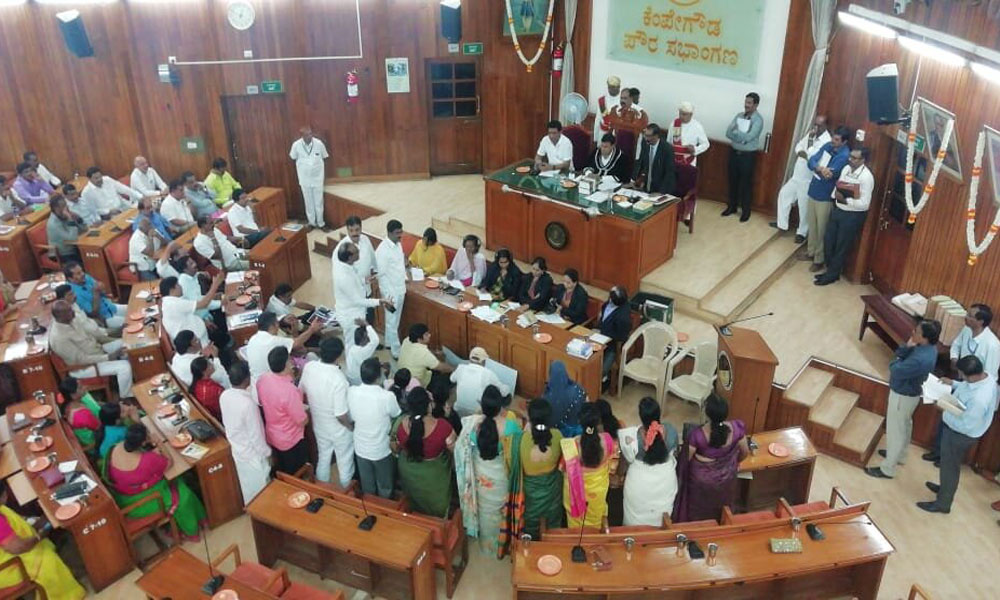 B H Anil Kumar, BBMP Commissioner said that the Mayor has the right to take these decisions and he (BBMP commissioner) and the city police commissioner were consulted before this decision was taken.
He said, "There are other places like Freedom Park and Mourya Park where people are allowed to protest. Protests outside Town Hall are causing revenue loss to the corporation. and as there are many public hospitals around, it becomes problematic for the common people."
Former Congress corporator Mohan Reddy, who was present at the protests outside Kempegowda Hall, warned the authorities of city-wide protests.
He said, "This is just a signal protest so that the Mayor can understand and take back his Suo Moto decision. If the decision is not taken back, we will be forced to launch city-wide protests in large numbers."
In another protest at the BBMP head office, several BBMP workers put up 13 demands regarding Cadre and Recruitment (C&R) Rules, 2018 and asked Commissioner BH Anil Kumar to fulfil them.