Eucalyptus trees still cultivated by farmers for easy money, despite Karnataka High Court ban.
February, 25, 2020
By Bibek Baidya.
Nilgiri/Eucalyptus trees can still be found growing alongside farms in Yelahanka near the Yelahanka Airforce station.
Sideshwara, M, one of the farmers in Yelahanka growing Eucalyptus trees, elucidated the various benefits of growing one. "These trees grow really fast and there's not much maintenance required. So it is really cheap to grow these trees. After 1-2 years I get a decent amount as well by selling these trees," he said.
A single Eucalyptus tree may yield 150Kg of wood approximately and the current market price is about Rs 3-4 per Kg, according to data from Vikaspedia.
Although a master of Eucalyptus cultivation, Sideshwara M, was oblivious of the ban on cultivating the same by the High Court.
Mr Ragunath from The Forest Conservation Department of BBMP said,"The ban on Eucalyptus tree was a rollercoaster ride starting from 2011 and finally concluding in 2017. Currently it is officially banned to cultivate those trees."
On 30 January 2019, a division bench of Justice Ravi Malimath stayed an order banning the cultivation of fresh eucalyptus. This decision overturned a Karnataka High Court ruling of 2017 wherein the ban had been enforced. Starting in 1980s, after more than three decades, this issue was resolved and a final decision taken by the Court.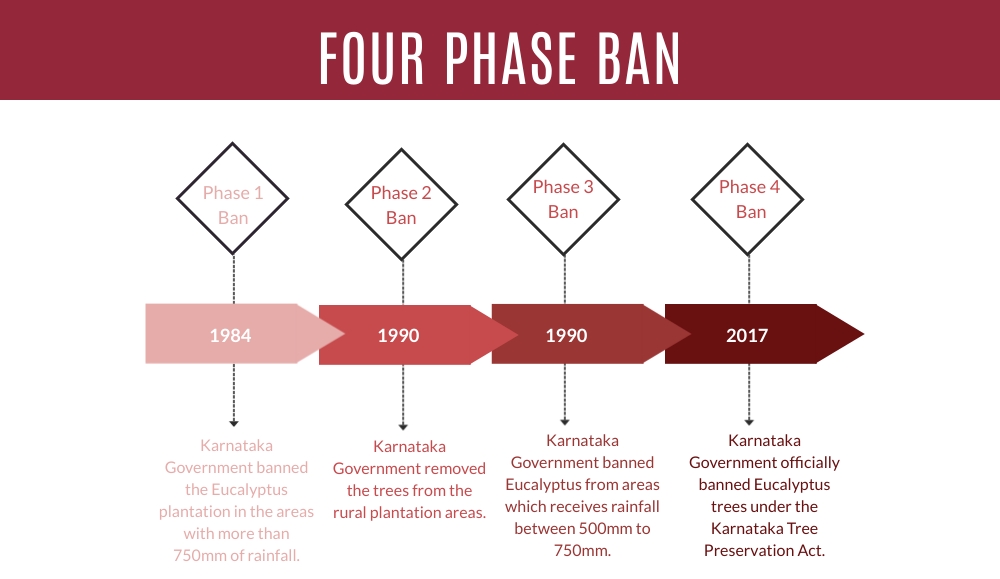 The High Court along with the National green Tribunal banned Eucalyptus cultivation in Karnataka citing the reason— depletion of groundwater levels. Eucalyptus trees need a lot of water during it's initial growing stages. One of the papers cited by the High Court during the passing of this decision explained the 'Adverse impact of Eucalyptus plantations on ground water availability in South India'.
According to Section 27AA of Karnataka Forest Preservation Act of 2016, trees causing harm to it's surrounding andnature can be banned from cultivation by the Forest Department.Mr. Chandrappa, Forest Conservation Officer in Yelahanka, said "In 2019 we stopped several cultivations of eucalyptus in the area. In a month or so a survey will be conducted to look out for new cultivations in the area. Major steps will be taken."
Mr. Suresh Heblikar, environmentalist and founder of Eco Watch said, "The trees are a truly good source of income for the farmers. But areas with low levels of rainfall can have their groundwater depleted if Eucalyptus is cultivated. These trees need 60-90litres of water per day. As Karnataka is facing a lot of problem regarding water the ban was placed on any new cultivation of these trees"