Dog owners of the city still ignorant about and reluctant to get licenses for their pets.
By Riddhiman Roy
Bengaluru: Scooby Doo is a great dane. Scooby Doo does not need to prove his citizenship in this country like the rest of us have to. So why should Shaggy bother getting proper documents and licenses for Scooby Doo?
Many pet owners in the city are in a similar situation.
 Shashikant Hegde is a professional dog-walker (people earning a livelihood by taking other people's dogs out for a walk). He shed some light on the various reasons a dog-owner avoids getting license for his/her furry friend. "The license needs to be renewed every year, and this discourages a lot of people. On top of that, there is no strict implementation of the licensing rule. Nobody comes to check if the dog is licensed or not," said Shashikant. He walks eight dogs on Monday, Wednesday, Friday and Sunday, and six dogs on the rest of the days of the week. He said that only three out of the 14 dogs he walks have proper licenses.
For licensing a pet, one needs the original copy of their dog's vaccination card along with the parent's ID and address proof. The license expires every year on March 31st. Pet owners are supposed to renew the license every year. BBMP charges Rs 110 for the entire process.
Another dog owner Mr. Swarnabha Gupta, who was oblivious of the dog-licensing rule before The Softcopy contacted him, said, "Just like I won't show papers to prove my citizenship, I will also not get papers to prove my dog's existence."
But not everyone has such extreme reasons for not getting their dogs licensed. Lack of accessibility and inconvenience are also reasons why pet owners avoid getting licenses. Not every BBMP (Bruhat Bengaluru Mahanagara Palike) office has officers for animal husbandry. "I go to the nearest BBMP office and I find it's a ward office without officials for issuing pet licenses. They ask me to go to a BBMP zone office to find an officer. The nearest zone office is 33kms away," complained Mr. Akash Chakraborty, a dog lover, and owner of three beagles.
But getting a license for your furry friend is not totally pointless, said Dr. Manjunath Shinde, Assistant Director of Animal Husbandry, BBMP. "The health and vaccination status of the dogs are checked while licensing. This ensures the dog is safe for society. A free microchip embedded with GPS is also provided along with the license to help find the dog if it goes astray," said Mr Shinde.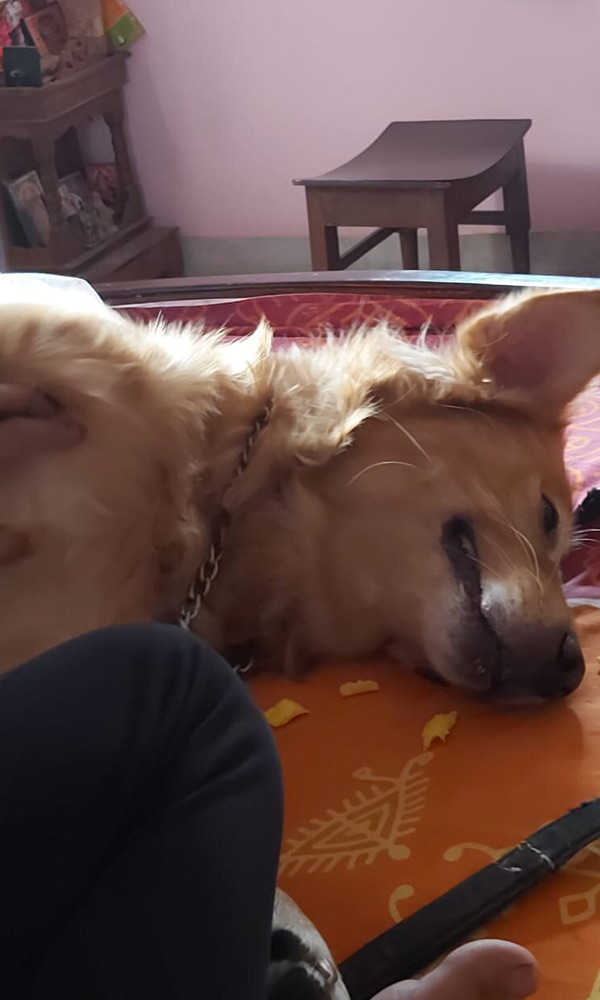 If an unlicensed dog is found on the streets, it is taken to the Municipal Animal Shelter. The shelter then tries to find the owner of the dog or get it a new family. If not, the dogs are euthanized. However, if a licensed dog is picked up by the shelter, they are kept longer before euthanization and extra effort is taken to locate the family of the lost dog.
Section 344 of the Karnataka Municipal Corporations Act says that keeping and feeding animals and birds without the permission of the municipal commissioner or the concerned officer is strictly prohibited. "BBMP is working on making this mandatory and strictly implementing the Act throughout the city. Roughly, 1200-1500 dogs are registered every year. We are aiming to get those numbers even higher," said Mr Shinde.
Two private organizations are working to tackle the problem of accessibility. Cubbon Park Canines(CPC), a Facebook-based organization for dogs, along with BBMP, holds pet dog licensing drives in Cubbon Park on alternate Sundays, every month. Till date, the CPC has organized 13 such drives. Write in the active voice. CPC also provides free medical check-ups and subsidized rabies vaccination on campaign days.
Another private organization, Bangalore Pets and Animal Licensing (BPAL), along with BBMP, provides an online platform for pet-licensing. Puneeth Kumar, the founder of BPAL, said, "It is good to have a license for your pet. The benefits are not apparent at first glance, but when your dog gets lost, or you get news of someone dying of rabies because your dog bit him, you cannot help but wish you got that licensing done."
"A license provides you insurance against such mishaps.  So, the only reasons for pet licensing not being too popular among pet owners are lack of awareness and accessibility. Our target is to do away with the problem of accessibility," he added.