Bruhat Bengaluru Mahanagara Palike is planning to install 200 biomethanation plants, one in every ward. Experts say that awareness about segregation needs to reach more people, to make this step a success.
By Shalu Chowrasia
Bengaluru: Shanti, who lives with her husband, Krishna, near a biomethanation plant in Jayanagar, has been out of work for more than a year now. Her work involved dumping wet waste with her bare hands into the crusher every day, she says, after which the waste automatically got converted into gas.
Shanti still cooks her family's meals using the remaining gas from the biogas storage though the plant has been shut down. She has been told that the plant is going to start in a month.
Bruhat Bengaluru Mahanagara Palike (BBMP) is planning to install 200 biomethanation plants, one in every ward, a senior official from BBMP Solid Waste Management (SWM) department said.
Ashoka Biogreen Pvt. Ltd., a company that operated 11 plants on a contract with the BBMP, filed litigation against the corporation for non-clearance of dues that in turn, prevented the company from paying the workers and led to the plants shutting down, according to the SWM official. She said, "On-time payment was not done for one year; some Rs. 7 crores were due. The matter is solved now; work is in progress at those 11 plants. They are being revamped and will be restarted soon."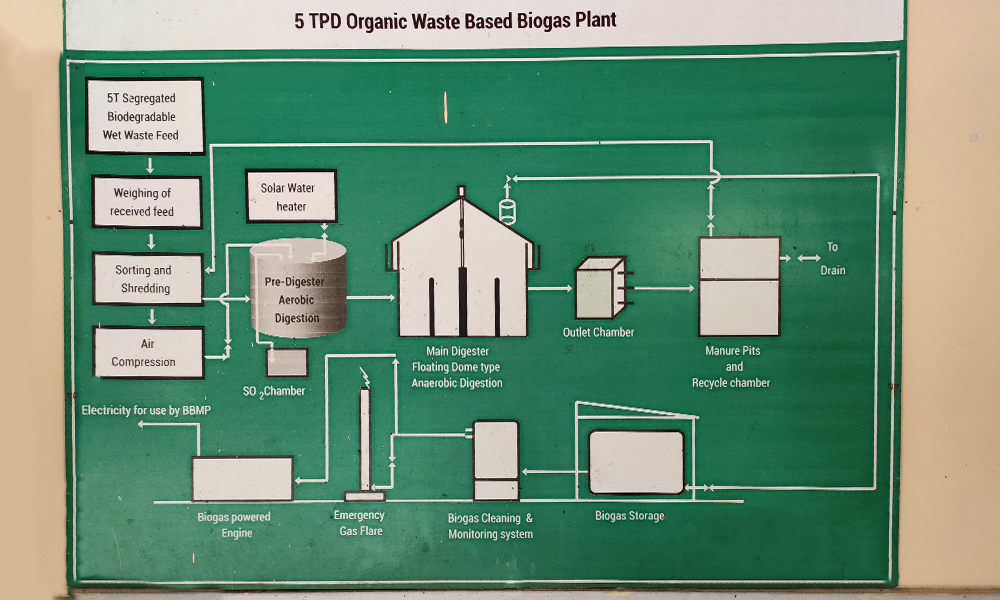 A biomethanation or biogas plant treats segregated wet waste and converts it into a source of energy, either bio CNG gas or electricity. BBMP is responsible for delivering the wet waste at the plants, from where workers of the selected companies are given the responsibility of operation & maintenance.
"There are 16 plants in Bangalore, out of which, five are running successfully," the BBMP official added. The five plants, which she said are working, are located in Jayanagar, Madikere, Kuvempu Nagar, Koramangala, and Freedom Park.
Nalini Shekhar, who worked as a sub-contractor to Ashoka Biogreen Pvt. Ltd. for two years, confirmed that the plants were shut down due to a payment issue. She stressed that the Koramangala plant has been a success story and said that the BBMP and Bangalore citizens should take lessons from it.
"There is a governance issue. We were managing about five centres before, but it closed down because a payment was not made," she said.
A representative of Go Green Enterprises, the company which manages the plant in South End Circle, Yediyur ward, said that the officials in the area have taken an initiative and that is why the plant is running successfully. He said, "If we get approval from BBMP, we are ready to run all the plants. We have also proposed to supply electricity to BESCOM; we are currently working on the agreement terms."
The South End Circle plant reportedly powers 17 buildings, 13 parks and three kilometres of footpath with electricity. It runs every day in a week except Sunday. About five tonnes of segregated wet waste is delivered to the plant by BBMP's waste vans in the morning. Two workers transfer the waste into the grinder, after which the process is automatic and takes nearly 15 days to finish, according to the representative of Go Green Enterprises.
The plant also generates waste slurry, which can be used by farmers as organic manure. "We have to add five litres of water to one litre of slurry to convert it into manure. We sell it to nurseries and gardeners," a worker at the Yediyur ward plant said.
Waste management expert, Vaidehi Jadeja, who works with Saahas Zero Waste stressed upon the need to segregate waste. "A biogas plant produces two sets of direct outputs, gas and electricity. It not only manages waste responsibly," Jadeja said, " but converts it into renewable sources of energy."
BBMP plans to make bio-methanation plants a success. The official from SWM department said, "In a processing unit, we have to keep the waste for 45 days, but in bio-methanation plants the process is easy and does not stink." BBMP wants to cut down on the transportation cost of the waste and utilize it to convert the waste into a source of energy, she added.
A biomethanation plant is a leading technology to manage wet waste. When unsegregated waste is dumped into landfills, the wet waste is the root cause for the formation of toxic leachate, methane and other harmful pollutants, Jadeja from Saahas Zero Waste said.
She said that if BBMP restarts all the plants, residents also need to co-operate by segregating waste, and restaurants, like Truffles in Koramangala, need to be responsible towards the environment and opt to use bio-gas.
While five biomethanation plants are running successfully, eleven others are yet to be operational, leaving behind workers who used to operate the plants, out of work. Krishna, Shanti's husband who now earns a living by working at a grocery shop says that he hopes that the plant restarts soon so that they start getting paid again.