A check on wall paintings, proper installation of CCTV cameras and deployment of marshals to monitor — was a part of the BBMP's anti-garbage drive. The drive fails miserably as people continue to throw garbage at undesignated spots.
By Nikita Arora
The nauseating smell of garbage has been filling the city for a long time now. Heaps of garbage with flies hovering around at almost every bend is common for Bangalore as even Bruhat Bengaluru Mahanagara Palike's (BBMP) an anti-garbage drive fails miserably. Residents complain of piling garbage that makes them nauseous at the very sight of it.
Ajay Shenoy, a resident of Hulimavu is disgusted at the heap of garbage he has to witness daily, right outside his building. He said, "Despite multiple complaints, nobody from the BBMP has come to monitor this dump yard that the people have created right in front of my building. People come and dump garbage during odd hours every now and then. What is the point of painting, "Do Not Litter", on the walls if BBMP is least bothered to keep a check on people who litter?"
The guidelines of the BBMP Solid Waste Management Bye-Laws (SWM) state that fines will be levied on people who litter at undesignated spots. If the person fails to abide by the laws 'in case of second non-compliance' s/he is liable to be fined 'up to twice the amount'. While, if the failure of compilation continues for the fourth time, BBMP 'shall have the power to suspend/cancel trade license or take any other appropriate legal action against the offender, including the filing of cases'. All the more, BBMP has been time and again revising this fine so as to ensure that people abide by the rules and dispose of the waste as per the prescribed means.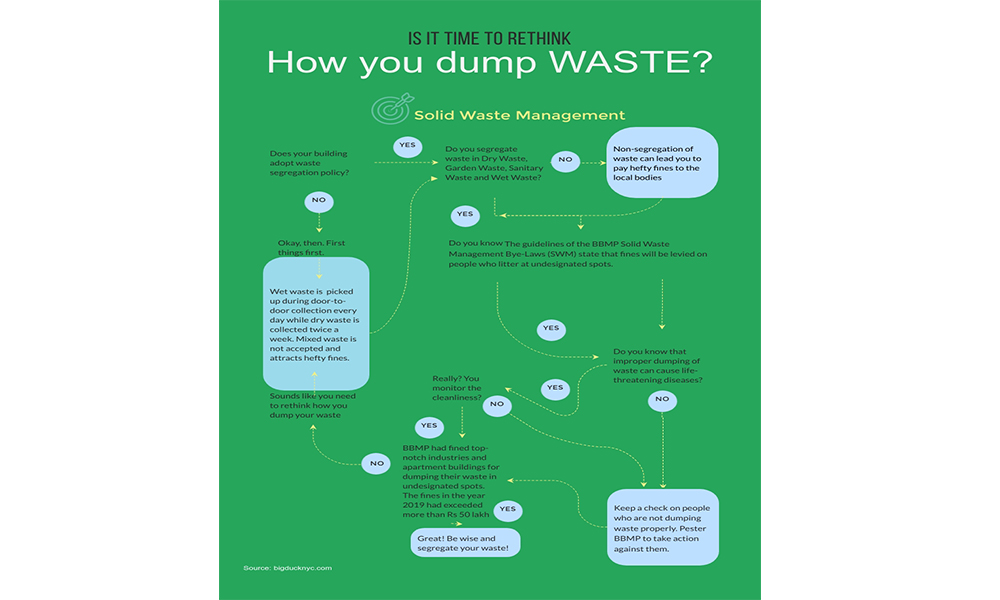 P Vishwanath, Chief Engineer, Solid Waste Management (SWM) Department, BBMP, said, "We are trying our best to penalise people for littering as per their own whims and fancies. But, we cannot do it excessively as generating awareness is the primary step, and not looting money in the name of fines. Moreover, it is impossible to have marshalls/CCTV cameras in every nook and corner in the city. We are doing what we can. It is high time people take this onus upon themselves to keep the city neat and tidy."
Residents of Arekere complain that BBMP lacks marshalls and CCTV cameras that would keep a check on people who litter. Aditya Pillai, a resident of Arekere area, said, "The issue is, labourers come one fine day and paint the wall saying that fine will be levied if you throw the garbage here. However, that just stays on the wall throughout. No one comes to levy fines for real. It is not just the stink which is bothersome. It is the diseases too which are caused because of this unattended trash. Every now and then, someone in my house is suffering from the flu or something because of the germs."
In the past, BBMP had fined top-notch industries and apartment buildings for dumping their waste in undesignated spots. The fines in the year 2019 had exceeded more than Rs 50 lakh, a BBMP official stated.
Sandeep, an environmentalist, said, "Local body, as well as the citizens of the city, need to join hands to make the city clean. If we expect either of the parties to solve this problem, then we will probably never find a solution to it."