Though the number of organ donations in Karnataka has increased, the ratio of demand and supply of donations is quite low.
Shubhangi Mathur
If you are suffering from a disease and intend to go for an organ transplant, chances that you will find a donor have slightly increased but cannot be guaranteed.
Swati Upadhyay, an acquaintance of a person looking for a donor said, "My friend's mother suffered from kidney failures and required a kidney transplant. Since there was no donor available, her husband had to donate his one kidney even though there were some matching issues. After some years, her condition started deteriorating again and a donor couldn't be found on time. She passed away due to medical complicacies last year."
According to MOHAN Foundation, a non-profit charitable trust, the number of organ donations in Karnataka has increased but the gap between the number of people waiting for organ transplant and number of organ donations is still huge. The foundation also says that the number of organ donors in the state are increasing but need a catalyst.
The foundation states that the data provided by Zonal Coordination Committee of Karnataka (ZZCK), Jeevasarthakathe, the government body overlooking the entire transplantation process in the state of Karnataka shows that 982 patients are waiting for a transplant.
Statistics provided from Jeevasarthakathe shows that the number of donors have increased in the recent years. In 2017 there were 68 donors, which has increased to 89 and 101 in 2018 and 2019 respectively.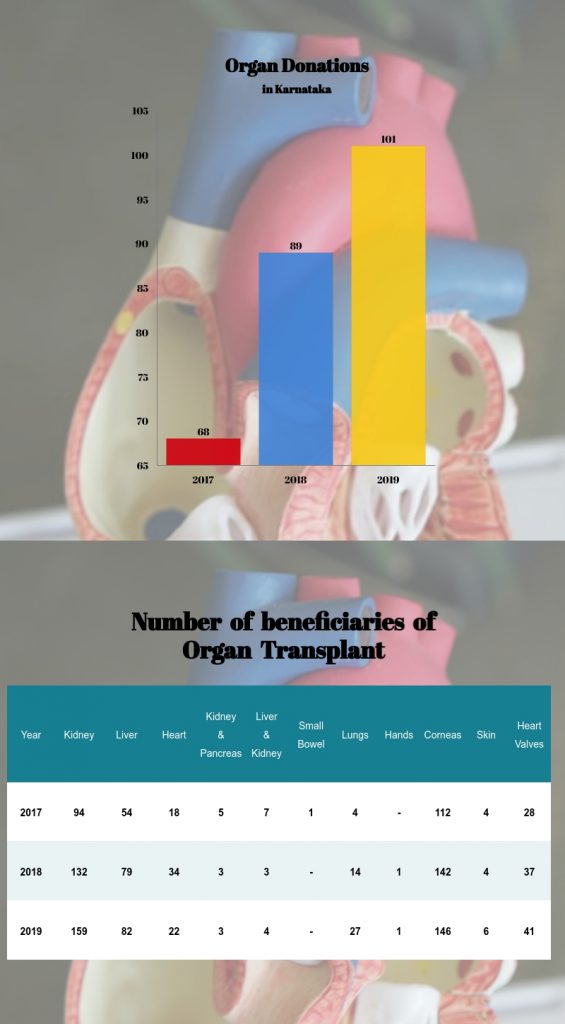 Manjula, Chief Transplant Coordinator, Jeevasarthakathe said, "Though the number of organ donors is increasing, the difference between the demand and supply is huge. The main reason for this, is lack of awareness among people. They are not educated about the need of organ donation. But with the help of mass campaigns, even at village level, this problem is also addressed."
Manjula also spoke on transparency in the process of an organ transplant. "We cannot reveal the identity of the donor or recipient as it can collapse the whole initiative but we provide some minimal information to the family of the donor. They are informed about the age and the gender of the recipient," she said.
Shrey Bijawat whose friend had a bone marrow transplant said, "My friend has gone through a bone marrow transplant last year. His mother donated her bone marrow with 50 percent match as they were unable to find any other donor. He went through two operations, as the first one was unsuccessful; he is on standby for one year."
Ram Nath Kovind, President of India, in an event 'Dehdaniyo ka Utsav' in 2017 said that body/organ donation is true to ethos of our ancient civilization. He also said that an estimated 5,00,000 people die every year in our country due to unavailability of organs that can be transplanted.
Dr. Sanjay Negi, Liver Transplant specialist said, "Many people are dying because of lack of organ donations. Organ donation is as good and safe as blood donation. To solve the issue, public awareness is the key. People need to understand the importance of organ donations."
Negi added that, "Religious leaders can take a step forward to create awareness among people. They can help in dispelling all the myths and taboo of people. Educating people on the issue is an important step."
Many religious leaders in the past like Jaggi Vasudev popularly known as Sadhuru and Baba Ramdev have come forward to encourage people for organ donation and dispel myths about the same.
A report by 'The Organ Receiving & Giving Awareness Network (ORGAN)', an NGO based in Delhi says that deceased donations can only be increased by awareness programmes and campaigns to educate people about benefits of organ donations, clearing all prevalent myths and misconceptions.
Anil Mathur who has signed in for eye donation says that he considers it noble and feels that everybody should atleast consider donating organs which can save somebody's life and help them lead a better life. He also says that there are a lot of people who are afraid of donating organs because they think that it can be a fraud.
The report by the Delhi-based NGO also says that a central organ sharing registry or recipient registry should be maintained so that donated organs can be shared in a fair and transparent manner.
Transplantation of Human Organ Act (THOA) was passed in 1994 which aimed at regulation of removal, storage, and transplantation of human organs for therapeutic purposes and for prevention of commercial dealings in human organs.