Deployment of more RPFs in Karnataka railway stations prove beneficial as the crime rates drop down the ladder.
Ritam Chatterjee
The Railway Protection Force (RPF) has pulled the chain on train incidents of stone pelting, chain pulling, etc, by deploying additional forces at some stations in the state, bringing the registered cases down from 2017 to 2018 by 10 per cent.
The National Crime Record Bureau (NCRB) data shows that in May 2018, the rate of registered cases filed by the RPF department came down to 34,396 in 2018, as compared to 37,873 in 2017.
Incidents of men traveling in women coaches along with unreasonable instances of chain pulling were recorded and complaints were filed against them. which led the Railway department to take necessary actions against the cases.
Abhishek R, a daily commuter from Mangalore railway station, said: "I've been traveling in trains for four years now. I often see people traveling in ladies compartments at night while returning from office. Somehow, they manage to escape from the RPF officers."
"In February, 2018, we had filed a complaint to the DCM Office, SWR Bengaluru Division. The letter was signed by 70 people who witnessed this day in and day out," he added.
N S Sridhar Murthy, Senior Divisional Commercial Manager (DCM), South Western Railways, Bengaluru, said, "We received a large number of cases regarding men traveling in women-only coaches and frequent chain pulling without any emergency purpose. That's why we need to take action against these incidents."
Following the cases registered, the RPF deployed additional forces at the railway stations.
DCM also mentioned that around 230 officers were recruited in Karnataka RPF in the last couple of years. They were mostly sent to Hubli, Mysore, Shimoga and Mangalore railway stations.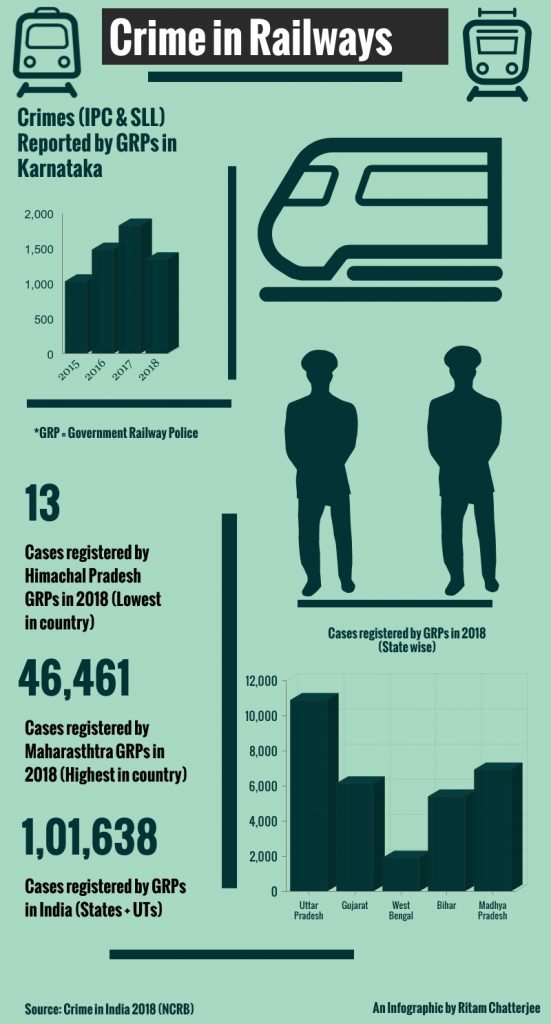 Apart from Karnataka, some other states have also managed to bring down their railway crime rates. The highest rate of decreasing registered files by RPFs is in Bihar (around 30 percent). They had registered 60,056 files in 2017, whereas, the number of cases filed in 2018 was 41,400.
M Venkatesh, head constable of Krishnarajapuram RPF department informed that they do not deal with the cases related to IPC (Indian Penal Code) or SLL (Special and Local Laws). "We often register cases against the people who steal properties of Indian Railways. After we catch the accused, we register their names under the Railway Property (Unlawful Possession) Act, 1966, and therefore, they are prosecuted in the railway courts," he told the Softcopy.
Mr Venkatesh said that if any person is caught committing crime under the IPC or SLL (such as unnatural deaths or theft of mobile phones belonging to passengers etc.), the Government of Railway Police (GRP) department takes over the case from the RPF.
Maharashtra registered the highest number of cases (2,23,289) in 2018, followed by Uttar Pradesh (1,40,386) and Madhya Pradesh (89,036).
The most number of increasing rates of cases are in West Bengal. A 43 per cent increase of cases was registered as 37,612 cases were filed in 2017, while, the number of cases reported in 2018 was 54, 107. On January 15, 2020, a news report stated that 21 miscreants have been arrested so far by the RPF departments for being involved in damaging its property during the anti-CAA protests in Assam, Bihar and West Bengal.
Soumen Ghosh, an ex-police inspector who handles the law and enforcement department, said, "People have no shame for what they are doing We can expect stricter rules from the government in the near future to stop such crimes."