While every child deserves care, not all parents are able to pay for day-care as their workplaces don't have daycare centres.
By Yashasvini Razdan
Bangalore: Many organisations don't provide creche facility in the workplace, as mandated by the Maternity Amendment Act of 2017 which came into effect in Karnataka on August 8, 2019, creating inconvenience for the parents with kids aged six and below.
Ramanya, who works at Tata Consultancy Services highlighted the importance of having a daycare centre in the workplace. She said, "I have a young daughter and the only reason why I am still able to work is because my workplace has a daycare centre where I leave her. I can visit here during the day and that is reassuring."
However many other organizations haven't complied with the rules. Employees who did not wish to be quoted from Accenture and Zolo, both of which employ more than 50 employees, confirmed that their office buildings did not have a day-care centre.
Under Section 11A of the Maternity Amendment Act, 2017, it is compulsory for every establishment employing 50 or more employees to provide a crèche facility for its employees. Section 28 of the Karnataka Maternity Benefit (Amendment) Rules, 2019 were implemented on August 8, 2019 which establish the guidelines for setting up a crèche in an organisation.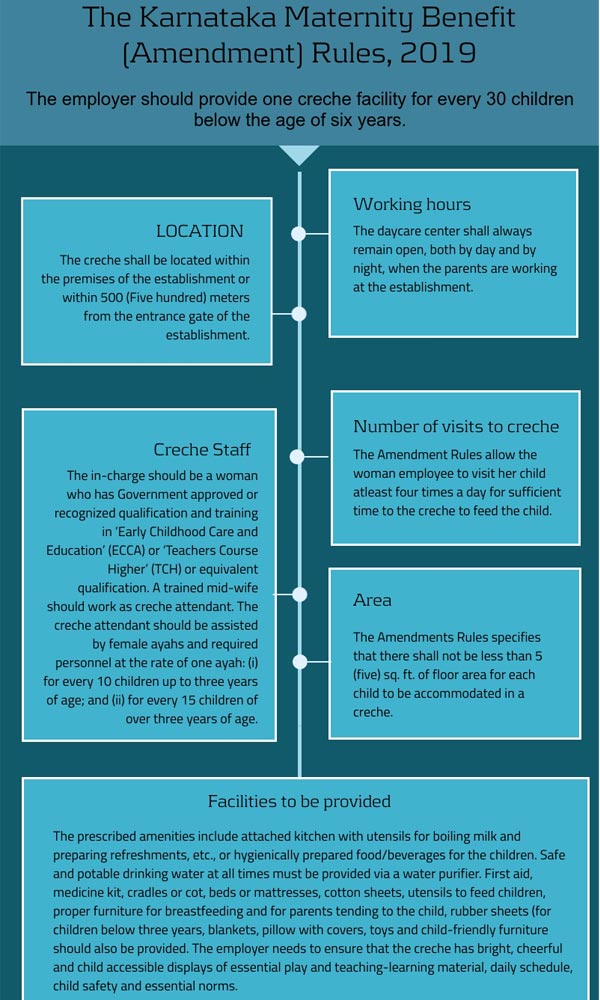 An employee from Accenture said that even though the company did not have a day-care centre, they had tied up with a pre-school. The employees could get their children enrolled and pay a discounted fee.
Mr Girish Nagpal, director of Early Innings, a private daycare centre in the city said that their organization had tied up with various IT companies. "We have six offices. One of them is in a company called Subex and another is in a residential complex. The rest are independent offices which have tied up with various IT companies," he said.
He added that the average fees for admission ranged between Rs. 6,000 to Rs. 10,000, depending on the number of hours. "Our clients are usually parents working in the IT sector with children aged between six months and three years," he said.
However, employees in software companies can still pay for a creche facility unlike the non-teaching staff in the many schools that continue to flout these rules.
Mr Santosh, Assistant Level Commissioner, Department of Labour said, "The Karnataka Maternity Benefit (Amendment) Rules, 2019 apply to all organizations including schools and all these corporate offices which employ more than 50 people. In schools, however, the rules are only applicable to the non- teaching staff. The teaching staff is covered under a separate act."
He added, "Those organisations who do not follow the rules will be taken to task and will have to pay fines as mandated by the court."
Mr Gopinath, founder of Sparsha Trust, an NGO which provides free daycare for children of construction labourers explained the importance of having day-care centres in offices. "Middle-class families cannot make ends meet if one parent has to leave their job. With the Maternity Amendment Act, if day-care centres exist in every building, then women wouldn't have to leave their job or pay extra for private day-care centres."
He also added that builders should provide daycare centres in the residential complexes. "These daycare centres should be maintained and looked after by the builder itself, the cost of which can be incurred from the maintenance charges paid by the residents," he said.